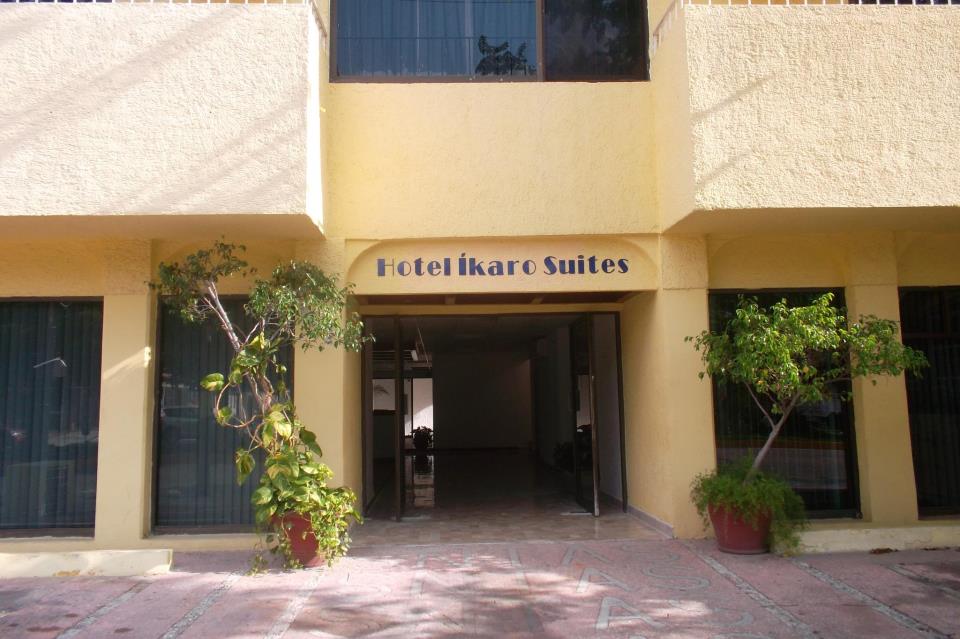 I'm a working professional, not a backpacker, and professionals require a certain level of service in order to ensure that their businesses stay afloat, no matter where in the world they happen to be. And if you are going to be in downtown Cancun for a few days and need a solid hotel to hang up your hat, you could do worse than Ikaro Suites.
Traveling to a new city for the first time means getting out of your comfort zone. It also means staying in a new place where you aren't familiar with the surroundings and where you need a "home away from home" to set up shop. While in some instances you can line up accommodations before you even arrive, sometimes you need something when you get your feet on the ground, and that's where places like Ikaro come into play.
This isn't a traditional hotel where there are individual rooms with a twin, queen or king-sized bed to choose from. It is, as the name suggests, a building dedicated entirely to multi-person suites, making this a great option if you are traveling with a group of friends or family, or if you are a couple who appreciates a little extra space.
While the rooms themselves lack any office amenities such as a desk or chair, there is WiFi throughout the building so you can work from the comfort of your bed if you desire. However, there is also ample sitting room in the lobby downstairs, so if you don't mind heading down and getting a little bit of coworking action on while you enjoy the views out onto Avenida Sunyaxchen, you can hang out there and work.
One of the things that struck us as unique was the layout of the rooms, which don't have just standard beds. They also have old Roman-style layouts where there are raised platforms lining the walls of the rooms with mattresses laid out on top of them to serve as beds, giving an old-school feel to the place. I haven't ever seen that before, and while it might sound odd, it actually gives the rooms more living space since it isn't cluttered up with a bed.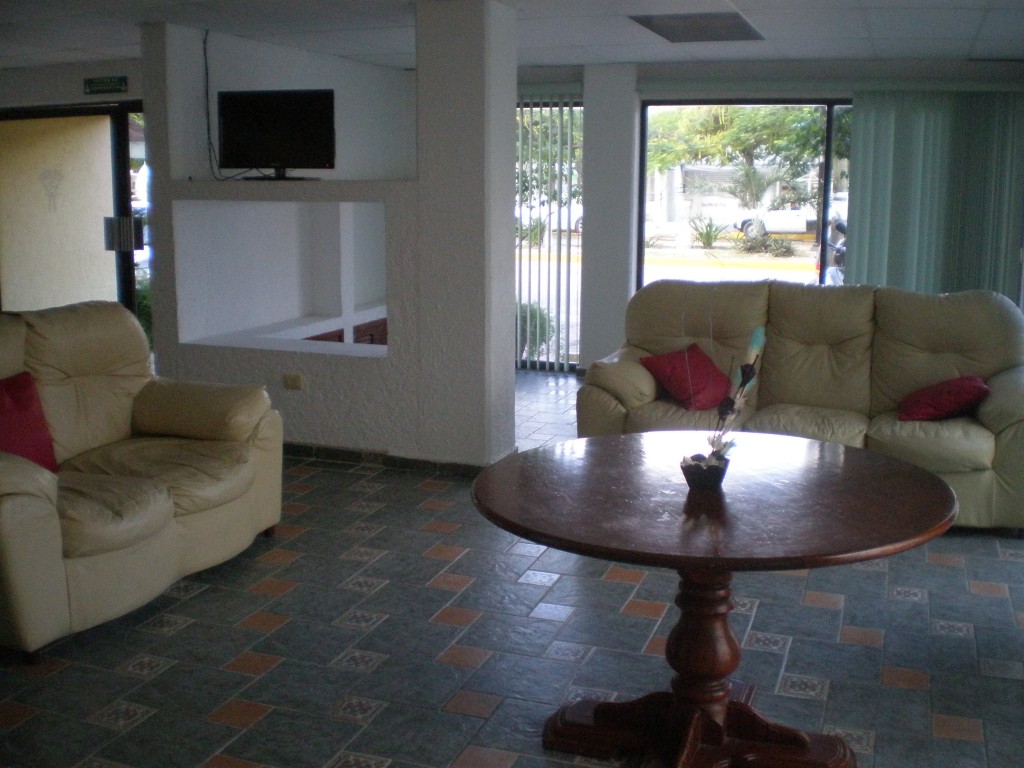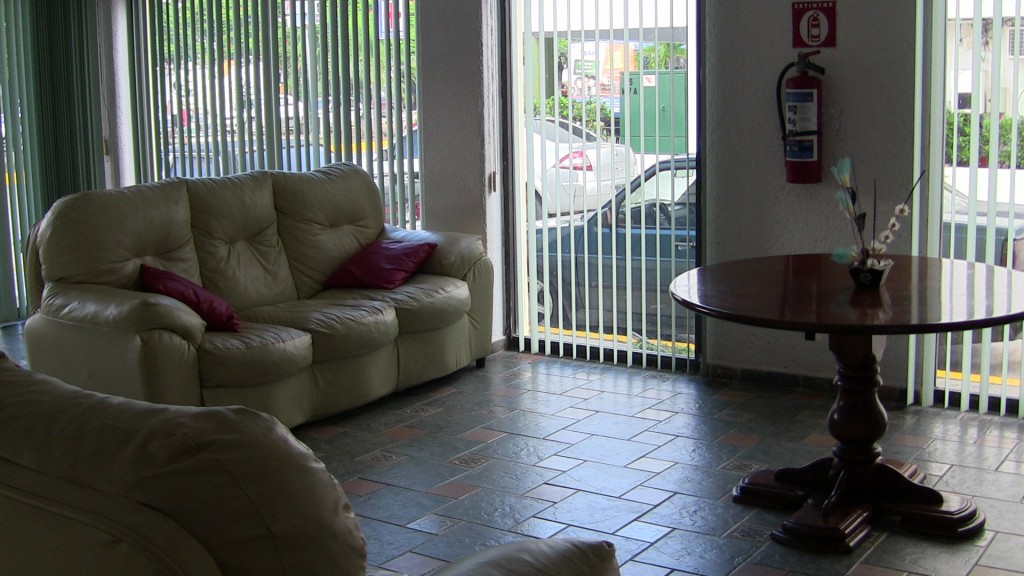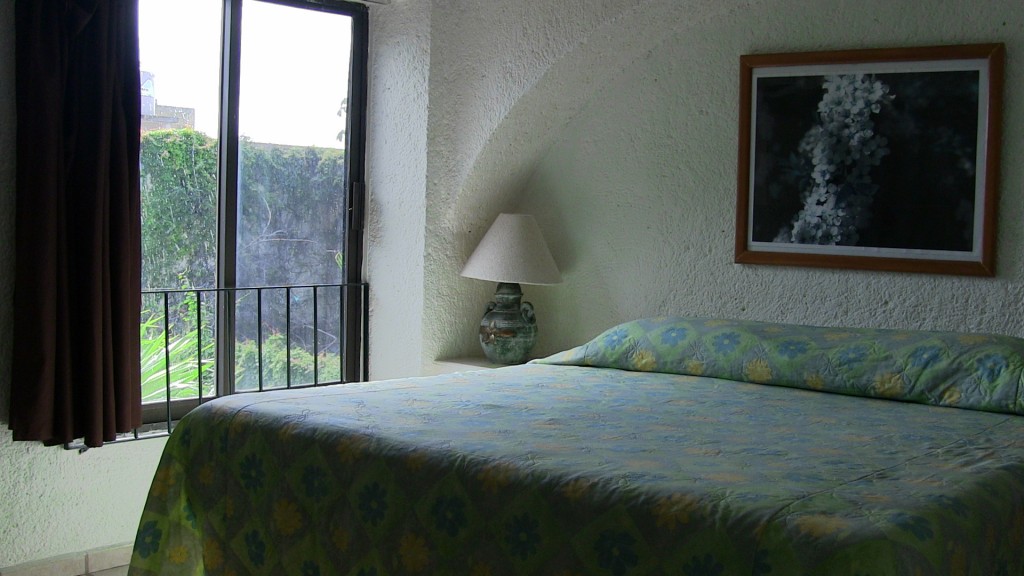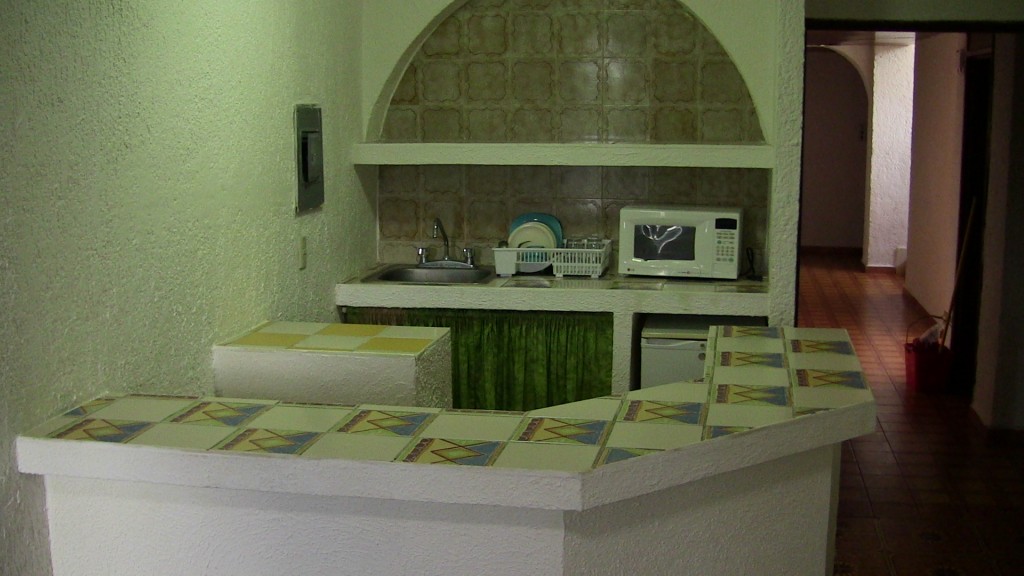 Each room comes complete with a kitchenette; microwave, small fridge, and there is the option to get an electric burner installed if you need to get your flame on. There's plenty of views out over the surrounding city and all of downtown, and they are centrally located so you have direct access to Market 28 as well as all of Yaxchilan, Tulum, supermarkets, restaurants and beyond.
While they don't have an on-site kitchen, they do have two pools out back as well as a beautifully designed patio area with lounge chairs, a BBQ grill and in-pool seating for those who enjoy kicking back a few cool ones in the pool during the heat of the day. It's surrounded by tropical growth that is currently working its way on providing ample shade around the entirety of the property, and it's sheltered from prying eyes by the surrounding buildings.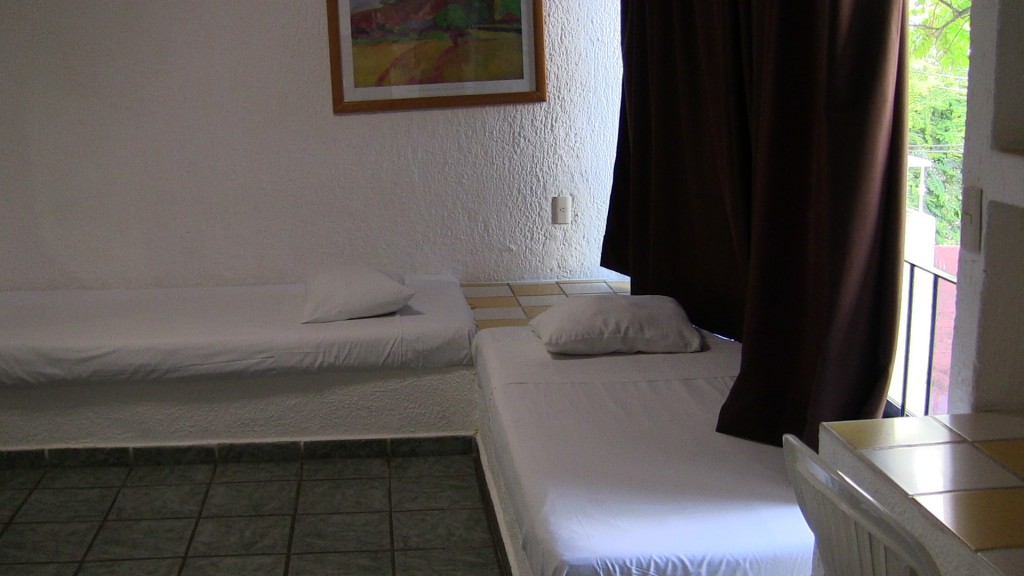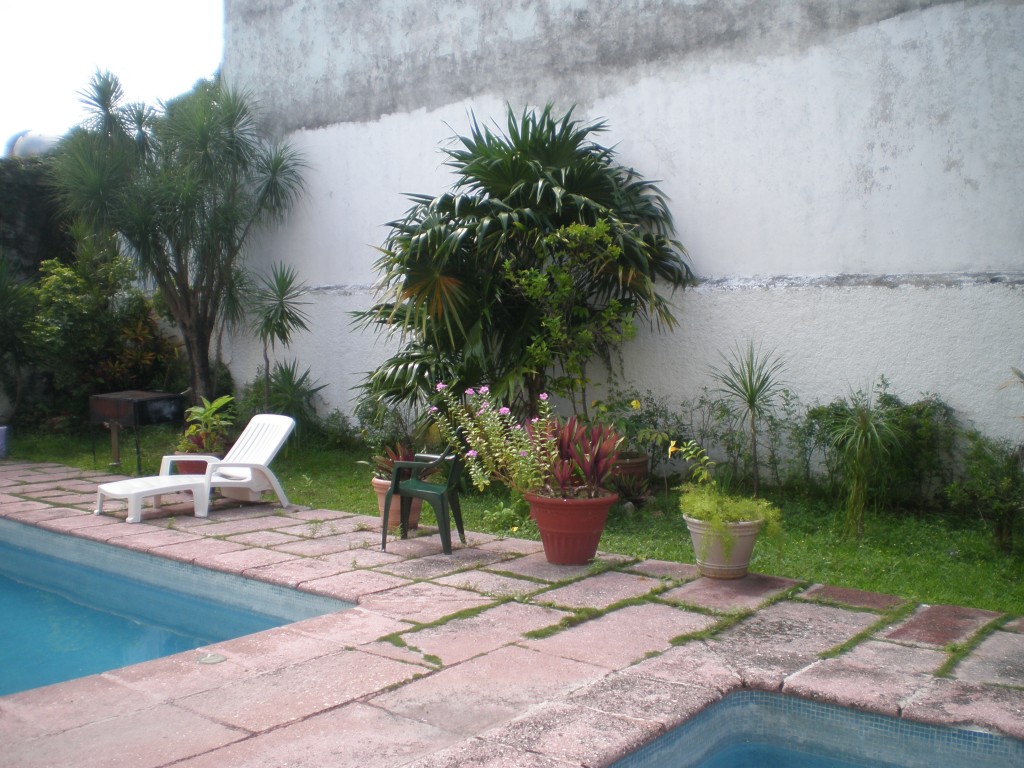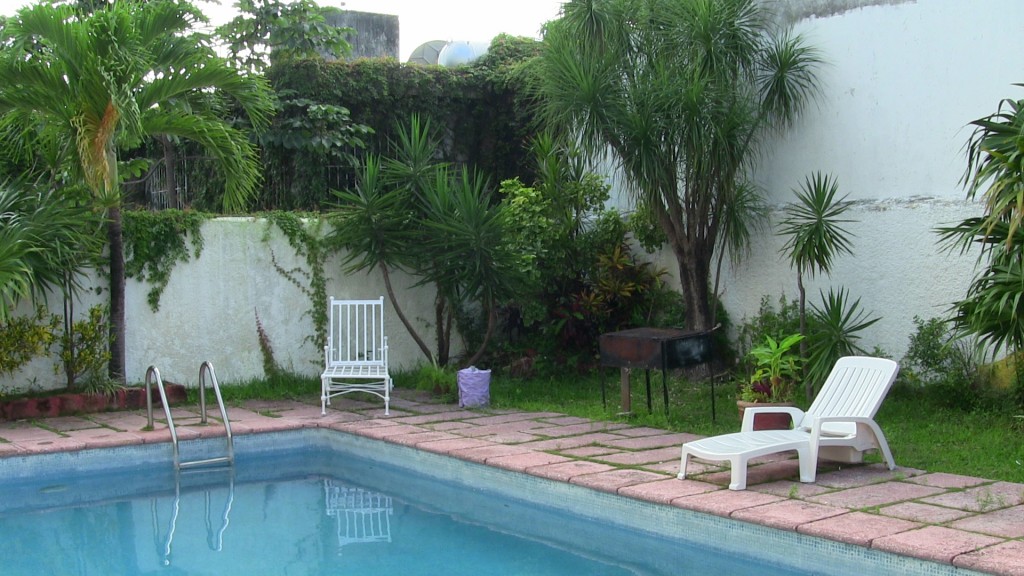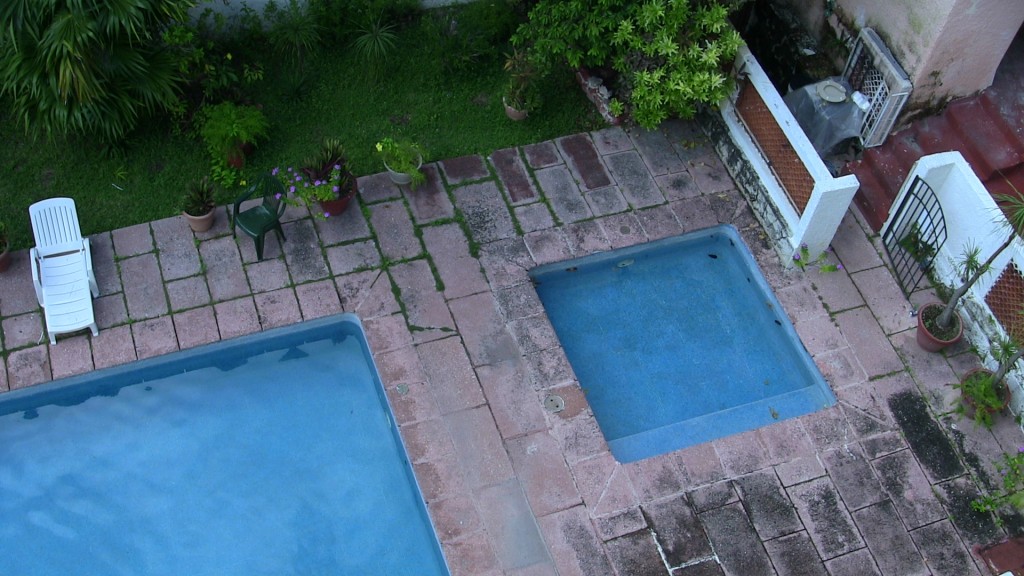 They have only been in place since 2012 and are still looking to really make a name for themselves in the hotel industry here in Cancun, but the staff are very accommodating (we ended up sticking around and talking with the manager, Aida, for a good two hours after our video shoot) and they are comfortably priced within the budget category, making them a solid choice for the backpacker crowd.
While they cater to short-term stays, they do have a monthly option available for those of you who would want to stay on for more than just a couple of nights, so don't forget to ask when you are visiting. For more information you can take a look at their Facebook page, or you can contact them directly at (998) 8 84 56 27 / (998) 884 59 28. Don't forget to tell them that Tim and Cristina from Marginal Boundaries sent you along!
For more Mexico-specific posts, don't forget to check out:
If you are looking for more information on Cancun or Mexico in general, you can pick up our Live Like a Local guide for the city, packed with other restaurant recommendations, apartment and condo referrals, tips on navigating the public transportation system, local negotiation tips and strategies, market and discount day overviews and more!

With over 1,500 copies sold, our flagship 568-page eBook is what started it all. Learn how to travel the world like I do: without a budget, with no plans, funded completely by your website and online ventures.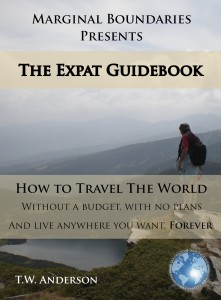 Get Your Copy Today!
Unplug from The System, cure yourself of The Greedy Bastard Syndrome, tap into your universal potential and create your own reality. Build a brand, travel the world and realize your cosmic consciousness.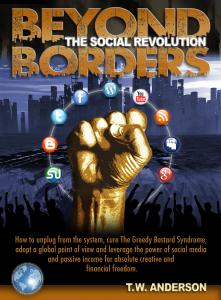 Get Your Copy Today!