Cancun. To most travelers this is one of the premier beachfront destinations on the planet. White sand stretching as far as the eyes can see. Brilliantly turquoise-blue waters. And while it's true that there are more all-inclusive 5-star resorts in Cancun than there are in Las Vegas, there is so much more to Cancun than just the Hotel Zone and the all-you-can-eat buffets and pool-side bars. There is a living, breathing city beyond the carefully manicured and manufactured visage that is the tourist area, and it is here where the heart and soul of Cancun beats…and where the locals, as well as us, actually live.
If you do a Google search of the city you will only ever find information about the beaches, the Hotel Zone, Spring Break parties and the all-inclusive clubs and resorts that make up the tourist section. What the vast majority of people don't realize is that there is a living, breathing city behind the hotels and resorts.
This city is where we live, and it's where hundreds of thousands of normal, middle class, everyday Mexicans live as well. It's a thriving hub of culture, industry, infrastructure and a colonial atmosphere that is completely ignored by the search engines. Our guidebook is dedicated to showing you the real Cancun, the city that exists beyond the walls of the all-inclusive resorts, the restaurants and the plazas, the parks and the theaters, the cultural centers and the apartments, the condos and the off-the-beaten-path beaches, and the life that exists here on the ground. The Mexican way of life.
These are all personal recommendations from Cristina and myself after living in Cancun since 2011 (and we're still based here until at least the end of 2017). If you want boots-on-the-ground information on the REAL Cancun, not the Hotel Zone, and how to get the most out of your money in the time you have here…no matter if it's two weeks or two years…this is the ultimate guidebook you've been waiting for.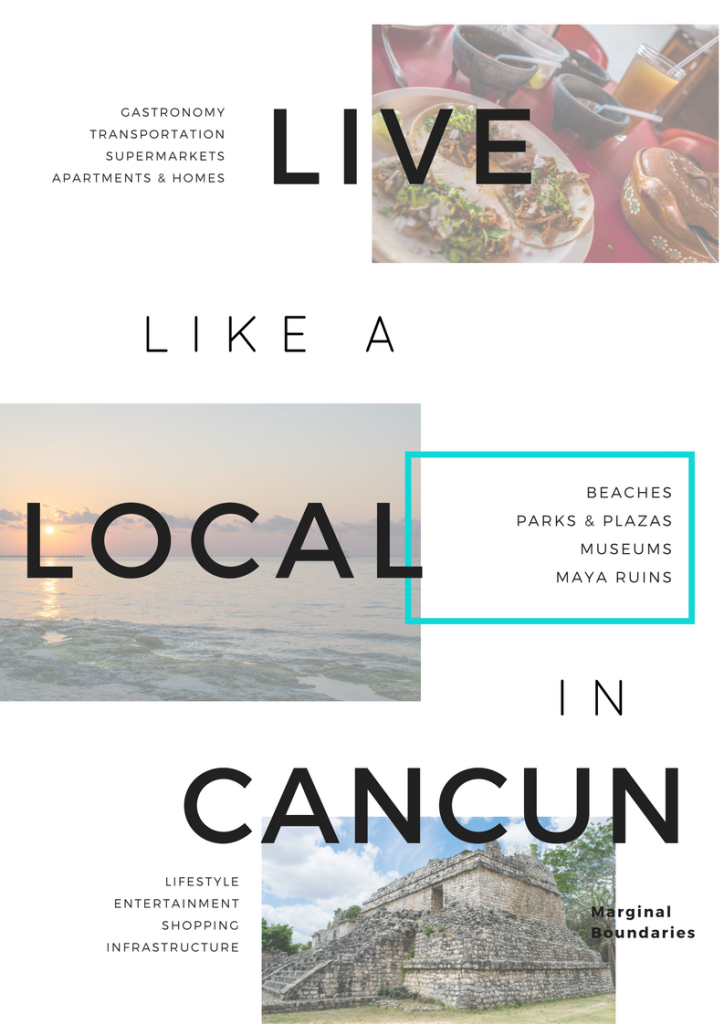 Our Videos of Cancun
The following videos have all been shot here locally, and most of them have an attached blog post full of information. We want to make sure our readers get more than "just the basics", so we've made sure to not only provide you with detailed information to read, but also photos and videos for you to follow along with as well!
For more Mexico-specific posts, don't forget to check out:
Additional Services
We have two rooms available for rent in Cancun for those of you in the market for something quick and easy to enjoy your holiday.
Cancun has been our home since 2010, and we are intimately familiar with the city. If you need help above and beyond the information provided in the guidebook, we offer a number of additional solutions. For start, Cristina has a boots-on-the-ground apartment finding service to help you get your accommodations lined up here in the city for local prices, not tourist rates.
We offer private tours to Chichen Itza, Coba, Tulum and other Maya ruins, as well as to places such as Isla Mujeres, with Cris and myself as your guides. We can also develop a personalized tour for you at your request based on your time and budget. Just send us an email with what type of tour you are looking to enjoy!
On top of that, we also operate special half day and full day-tours to help first-timers get their bearings in Cancun. We give you a personalized tour of the city and act as your personal guides, taking you to the major banks, plazas, supermarkets, show you the transportation routes, where to find the movie theaters, help you get your Internet or chip for your smartphone from one of the local providers, show you some our favorite restaurants, and introduce you to the mainland city that we have come to know and love over the years, not the tourist traps that Google or the average travel agency will guide you to.
We'll meet you at your hotel or at a central location here in Cancun and go from there. Half-day tours start at 10 a.m. and last around 3 – 4 hours and include a coffee break. Full tours (get your cell phone set up, complete circuit of the major amenities and hotspots of Centro, etc.) take between 6 and 8 hours, depending on the length of the lunch break around 2 p.m. If you'd like us to give you a personalized walking tour of the city, just send us an email and we'll get you set up!
With 41 pages of in-depth information that is designed for digital nomads and expats as well as savvy adventurers, travelers and pensioners who enjoy getting the most out of their travels and experience life on the ground like the people who live there, our Cancun guide gives you everything you need to know to explore and live in the city just like the locals do, ranging from:
Tips on navigating local immigration policies
Detailed breakdown of the various residency visas and how you can apply for them
Local market breakdown, plus a detailed overview of discount days so you can get the best prices on groceries (check out our YouTube video on saving $5,000 a year on your grocery bill by shopping like a local)
Negotiation tips and practices specific to Cancun, and Mexico as a whole, as well as local discount rates to avoid paying the gringo tax
Detailed overview of transportation options in Cancun
Local customs and culture advice to avoid making social errors
The ONLY boots-on-the-ground guidebook. Click the image or the "Buy Now" button below!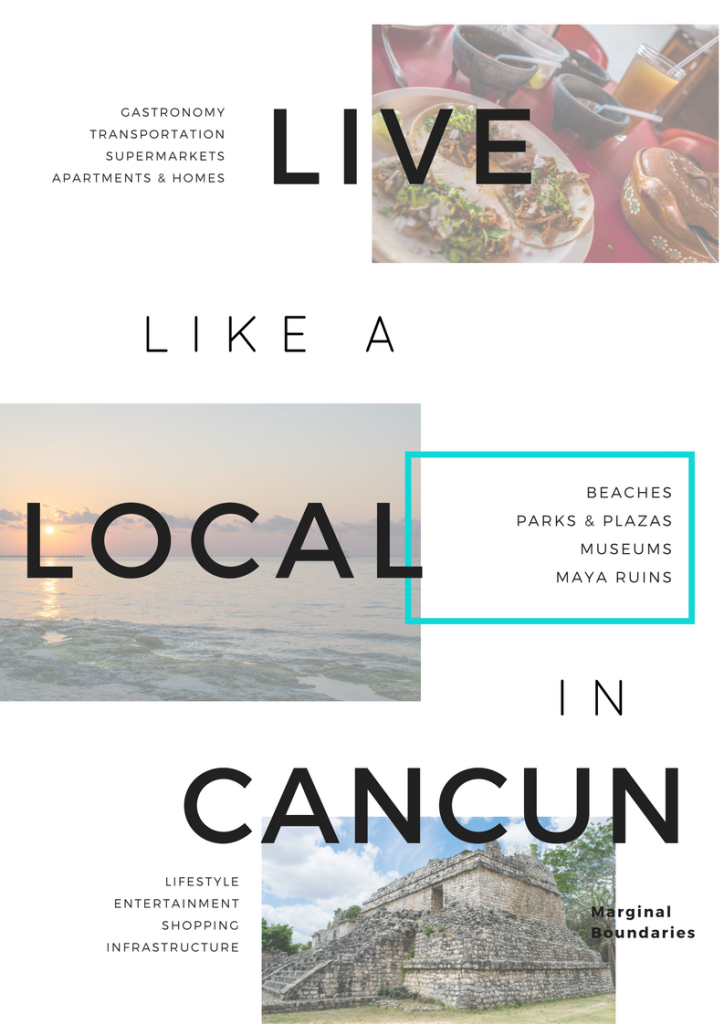 Medical Tourism
Much like many other countries around the world, the cost of medicine in Mexico is drastically less in comparison to the United States and other countries where doctors use the excuse "You can't put a price tag on human life" to charge obscene rates for their services. Most people these days are familiar with medical tourism, and Cancun is no exception to the rule. Services that you would pay thousands of dollars for cost literal pennies in comparison, yet the quality of the medical treatment is exactly the same as what you would expect in the United States.
For a full list of the available hospitals, clinics and treatment centers in Cancun, you can visit the Health Tourism website here, or you can check out Medical Travel Cancun. They have a fairly comprehensive list of the highest-quality centers in the city.
Schools and Education
Cancun may not be a major city on par with New York, London, Bogota or Paris, but it still has its fair share of universities and schools. If you are someone who is concerned about the quality and availability of education for your children while you are living like a local in this Mexican coastal destination, have no fears. There are plenty of English-speaking schools as well as universities which focus on English curriculum alongside universities and schools that focus on Spanish or a mixture of both.
If you plan on branching out from Cancun you can visit the Association of American Schools in Mexico, as they have a comprehensive list of English-speaking schools throughout the country, including here in Cancun. You can also visit the International American School's website to find more information about their programs (which go from 7th grade through the end of high school), as well as partnerships they offer with other schools in Cancun.
If you are interested in your children having a multi-cultural experience, you can visit the Solexico's website for more information about their range of language classes.
While Cancun is primarily known as a seaside resort destination, there have been an influx of higher education institutes in recent years, which means it is entirely possible for you to settle down here and have your kids educated all the way from kindergarten up through college. Currently, these are the universities offering higher education:
The Mayan Culture
Within the last decade there has been an explosion of information blasted out on the Internet regarding the Maya culture and the relevance of the date 12/12/2012. With that in mind, it is impossible to cover in any one place all of the information regarding the Maya people, culture and history. Cancun may not be the most important Maya area, but it is a starting point for people interested in the northern section of the once-great Empire.
The first mistake people make when they think about the Maya people is that they are no longer in existence. They are still here, and very much a thriving people, although they have evolved over time. There are around 7 million of them scattered throughout Mexico, Belize and Guatemala, but in much the same way the Italians still exist despite the fall of the Roman Empire, the Maya people are much reduced. While there are some in and around the Cancun area, the majority of the Maya people now live south of the Yucatan in the Chiapas region of Mexico, along with Belize and Guatemala.
With that being said, Cancun is still a starting point for people interested in getting to know the history. There dozens of ruins that serve as day trips, ranging from the ancient resort city of Tulum to the massive ruins at Chichen Itza. While they are normally packed full of tourists, there are hundreds of more elusive ruins scattered throughout the Yucatan, although getting to them will require a combination of Spanish and investigative know-how, or some local contacts and tour guides who specialize in the secret places of the Maya.
There are two options if you choose to explore the Maya way of life. The first option is to take the tourist route, which is simply ruin-hopping and touching on the ancient history, either on your own or with a tour guide/group. The second options is immersion. The Maya people are a very spiritual people, very much in touch with nature and very keen on sustainability and the symbiotic relationship between humans, plants and animals. The second option is suited only for those who are already in touch with their spiritual side, and who are interested in the true, shamanic nature of the Maya culture.
If you are looking for a relaxed, slow-paced Mayan adventure, I highly recommend Snail Adventures, based out of Cancun, Mexico. Ran by a group of professionals who have years of experience taking groups through the Mayan ruins and immersing people at a relaxed pace so you get the most out of your time spent exploring this amazing culture, Snail Adventures is one of the premier Mayan tour groups in the Yucatan. Don't forget to tell that I sent you in their direction!
Or, if you prefer the solo traveler route, you can check out Mayan Smart Guide's website for downloadable guide apps straight to your iPhone so that you can have your own tour guide walking alongside you as you explore the ruins at your own pace and on your own schedule!
For more general information on the Maya people, their history and their culture, the Wiki page for the Maya history and civilization is chock-full of quality information and links. You can also visit the Wiki page on the Maya people for more information on the Maya people living in the modern era. (More links to come in the future)
General Links
There are literally hundreds of various websites out there dedicated to people's blogs and quick little vacation stories regarding their time in Mexico. And while the purpose of theMarginal Boundaries: Live Like a Local in Cancun, Mexico guide is specifically targeted for this city, there are many other resources for the country as a whole.
While the Lonely Planet forums and section for Cancun are without a doubt a good place to start if you are looking for generalized information about Cancun and being here on a short-term basis, hands-down one of the ultimate resources for anyone planning on spending a significant amount of time in Mexico is the Mexperience website. Initially founded in 2002, the website has grown into one of the ultimate resources for information specific to living, breathing and immersing yourself in the country of Mexico.
Above and beyond that, you can also visit the main website for the Cancun Convention and Visitor's Bureau, which lists a variety of local events and hotspots to keep you entertained throughout the year regardless of what type of cultural activities you prefer.
There's no time like now to start enjoying the perpetual sun and fun that is Cancun, Mexico. From the beaches to the food to the culture to the Mayan Riviera, everything you could ever want starts here. Click the image or the "Buy Now" button to get your instant download copy today!