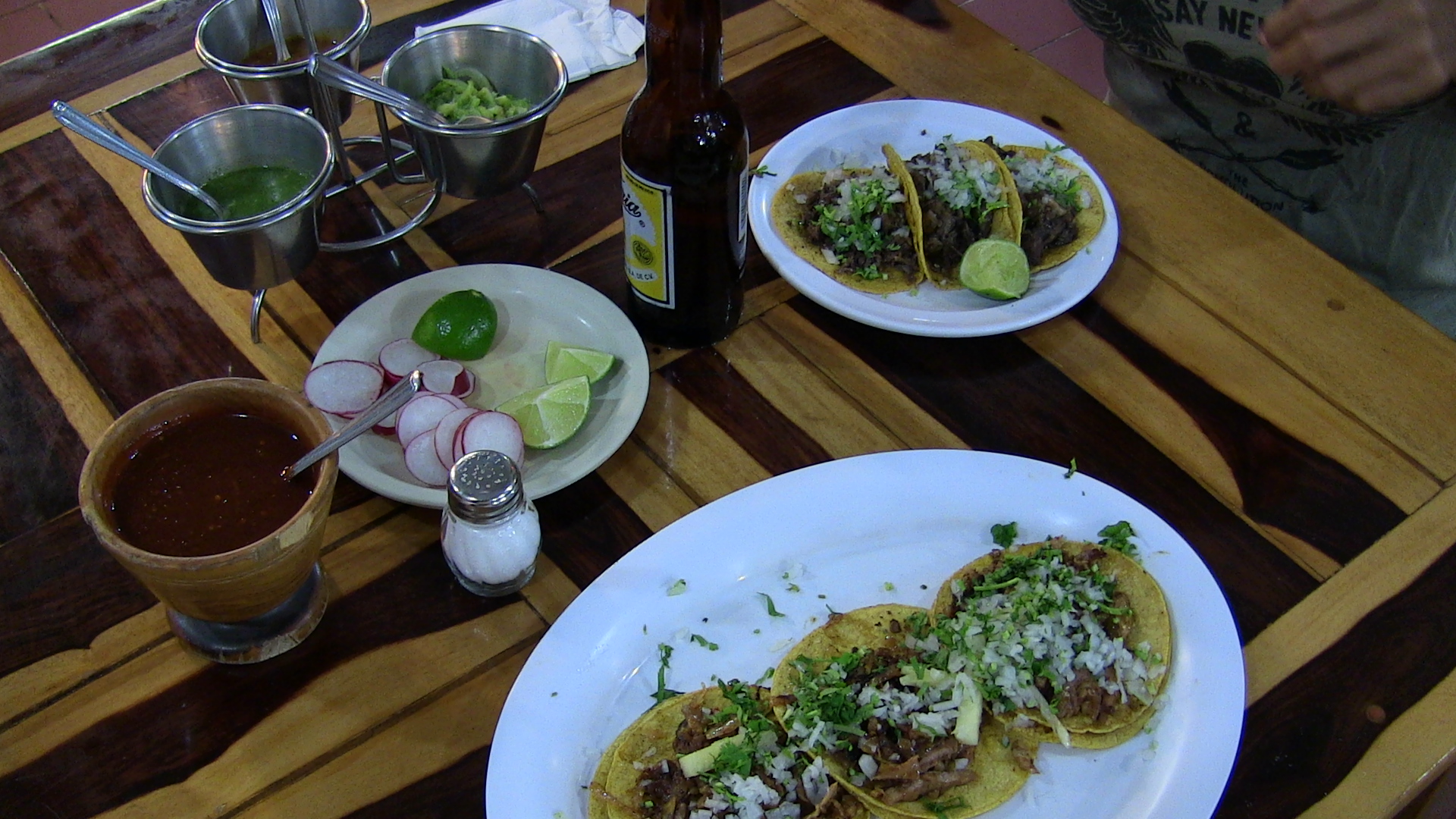 Welcome to the Tacos in Cancun series from Marginal Boundaries. We explore some of the best taco eateries throughout the city, ranging from street vendors to taco stands to restaurants and delivery places. You can't visit the heart of the Mexican Caribbean without sampling some of the real food, and we're here to take you to our favorite restaurants in the heart of the Riviera Maya, far away from the Americanized Hotel Zone with its watered-down salsa, steak and hamburgers.
This week's installment focuses on one of our favorite taco restaurants in the city, Tacos Rigo. 
There's certainly plenty of restaurants throughout Cancun to choose from if you are looking for the "real Mexico" as far as tacos are concerned. But for my money, I'll put it on Tacos Rigo every night of the week. In my opinion this is the hands-down, best place to get tacos in Cancun. Most of the locals agree, considering the place is always packed in the evening hours, weekdays and weekends. There's nothing like an ice-cold cerveza and some fresh-made tortillas stuffed with juicy meat to take the edge off a long day of blogging and beaches.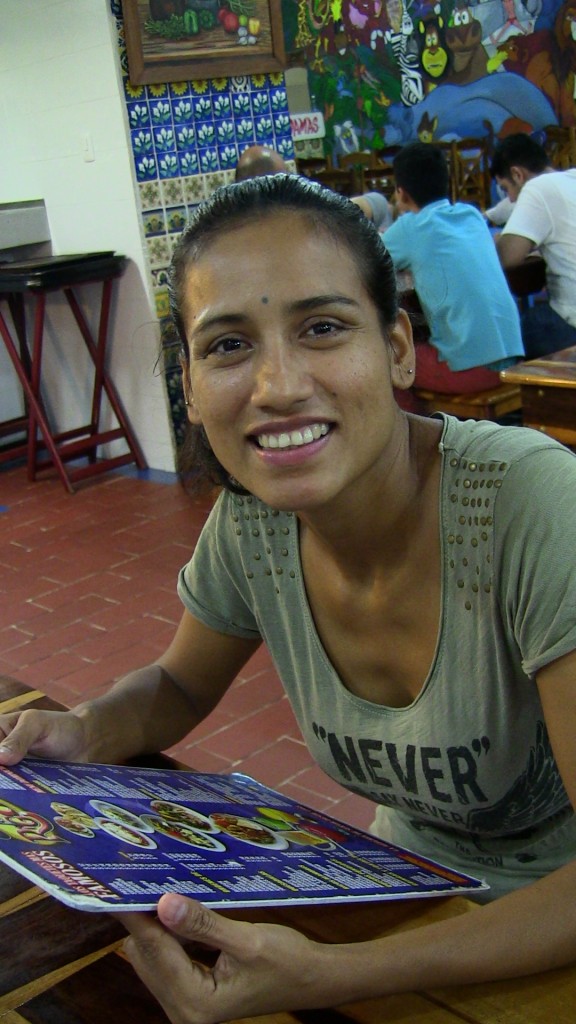 It's a family-friendly restaurant that has a lot more to offer than simply tacos, plus they are open for a breakfast buffet every morning. As far as the menu goes you have an array of Mexican dishes to choose from, ranging from gringas to tortas to quesadillas, sopas, chalupas and full-on meat platters that are great if you are going with a group and just want to dig in without being shy. Prices are in the mid-range bracket, and it also depends on what type of meat you want. This isn't your average street vendor where they are selling only the lowest-quality cuts for a discounted rate, like three3 tacos for a dollar. Tacos Rigo is all about the quality.
Standard fare includes pastor (pork on spit), arrachera (marinated skirt steak), chicken and plain old pork chops. Then you get into the more cultural meats that most Americans are terrified to eat (more for me!), things like beef tongue, cheeks, eyeballs, pig and cow stomachs and beyond. As a general rule, if you sit down and have three tacos and a beer, you'll spend about five USD as of this writing (including a tip). It depends on the type of tacos you order; pastor is the cheapest, while arrachera is the most expensive, and if you want cheese it's extra. And delicious. You can never go wrong with cheese!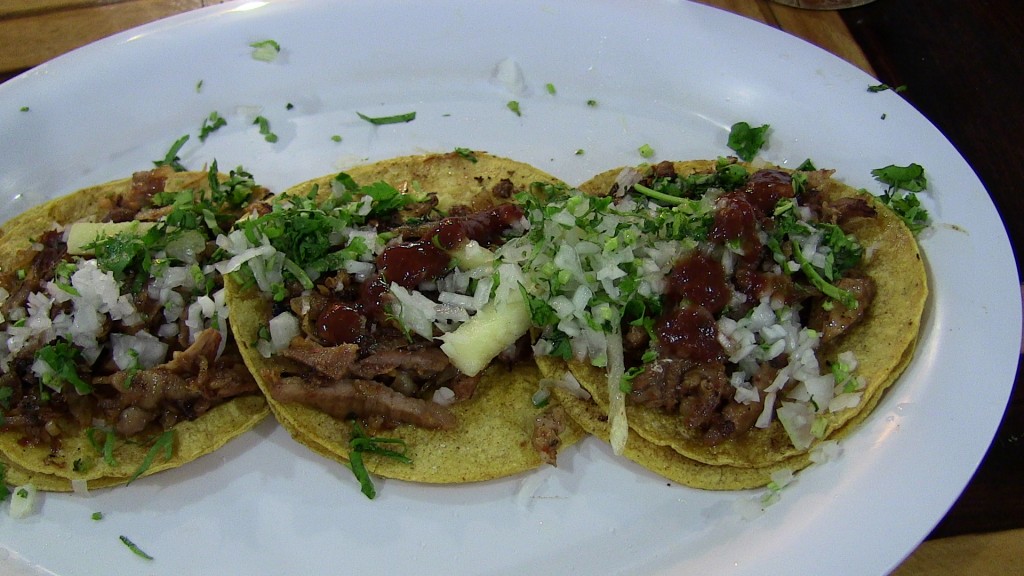 Tacos Rigo also has an express option, located just to the side of the main restaurant, where you can order to-go rather than sitting down at a table. Plus, they also offer a delivery option (just about every restaurant, no matter how large or small, has a delivery option in Mexico) which means you can get your tacos delivered right to your door without ever leaving the comfort of your home. The staff has always been incredibly friendly when we've gone, they are quick to serve (we've never had to wait more than five minutes for the food to arrive, piping hot, on our table), the drinks are cold, and there's always a crowd in the evening hours. Mornings and lunch are less busy, but once people get off work in the evening hours the place is packed.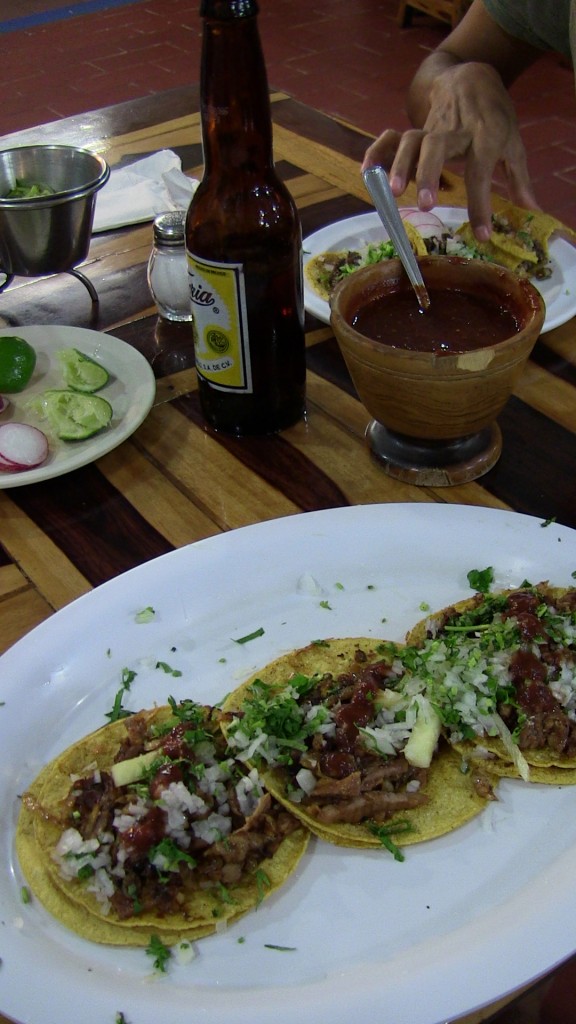 It's also a great place to just hang out with friends and watch a footie match on the telly, or catch some of the latest Bandamax hits if you are into it. Cris and I usually hit Tacos Rigo up at least once a week, and we are often here with friends and family, such as when her brother-in-law and nieces came, or when we went over with Jason from Breakthrough Adventures on his inaugural visit to the city before heading out to Isla Mujeres.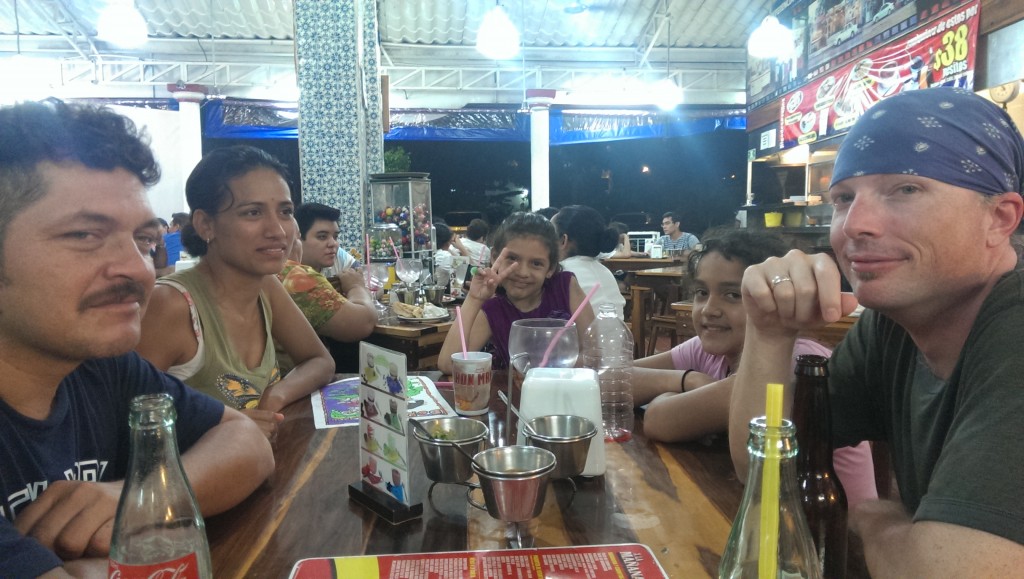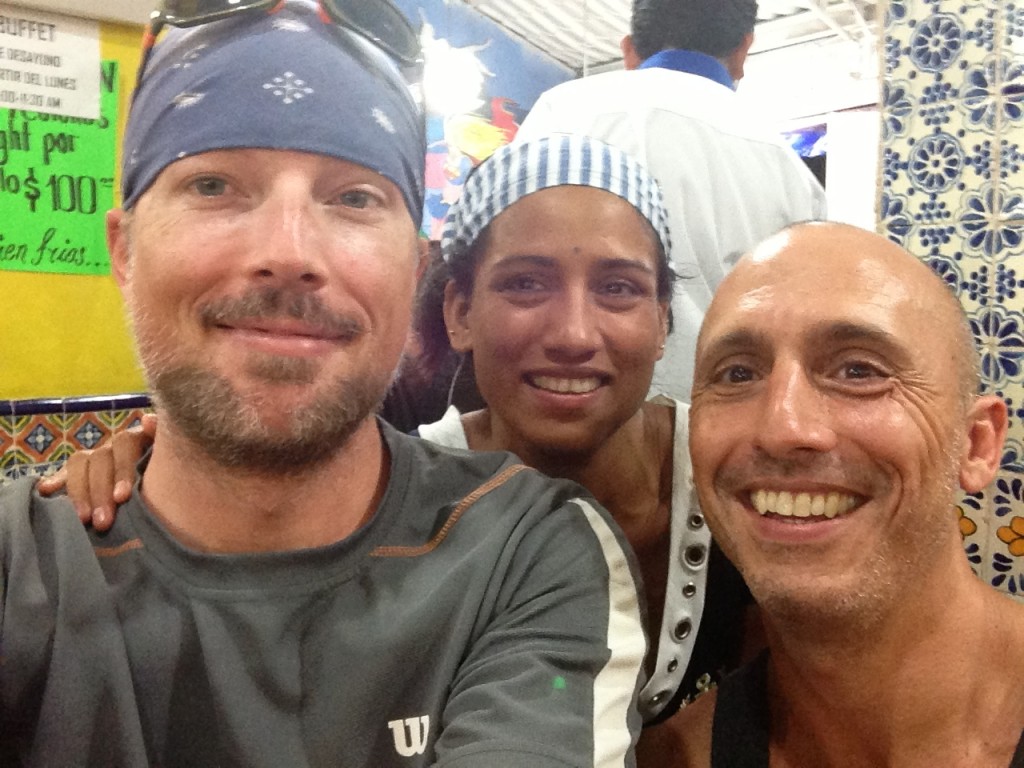 For more information on Tacos Rigo, you can visit their Facebook page. Or, if you happen to be in town you can hit us up and we'll be more than happy to tag along for some brews and grub

And don't forget, they are open seven days a week so you can always get your fix for real Mexican food while visiting Cancun, plus they have specials that are only available on certain days of the week. Check out their page for more information!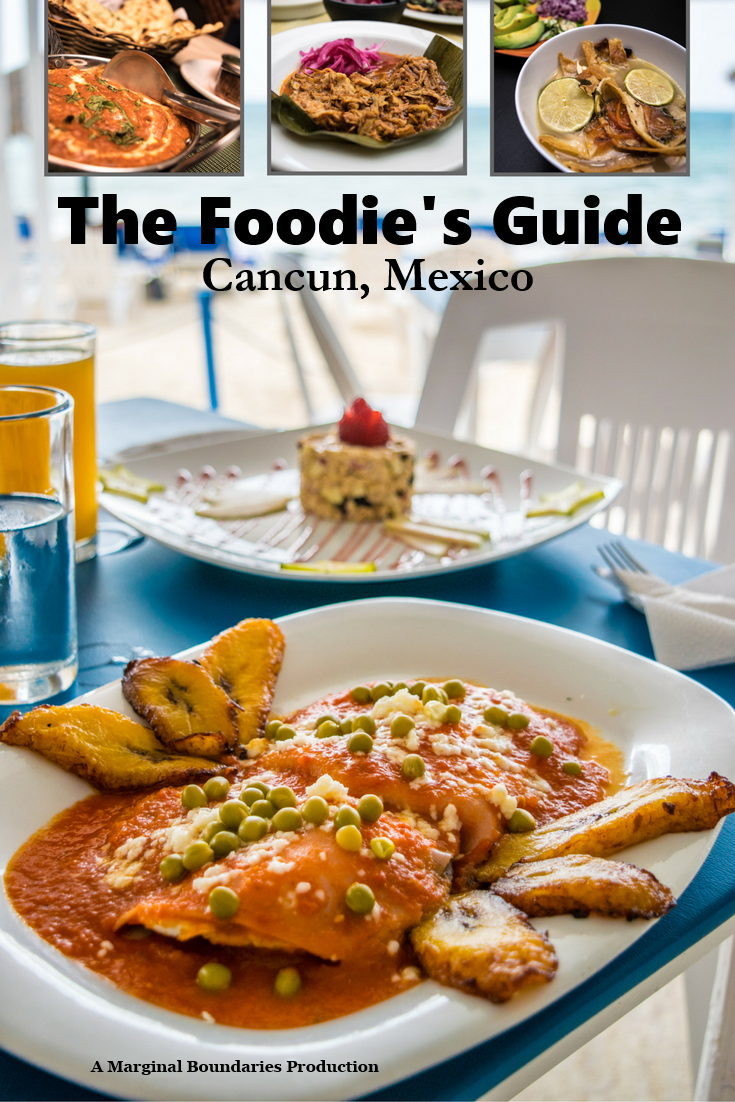 Don't Go Hungry!
For more Mexico-specific posts, don't forget to check out:
Follow along our Instagram, or our Facebook page. And don't forget, you can head on over to our Cancun page for more information on life on the ground, or pick up a copy of our best-selling Cancun travel guide (on sale since 2011!)