Cancun is primarily known for its beaches and turquoise waters, and while some of the resorts in the Hotel Zone have decent buffets and restaurants, the gastronomy market in the tourist strip is fairly lacking. If you're looking for the best restaurants in Cancun, most are going to be left grasping at straws (no pun intended) because there just isn't a lot of information out there on the Internet.
This is largely due to the fact that tourists rarely leave the walls of their all-inclusive, 24/7, all-you-can-eat buffets. And who can blame them? But if you are a foodie, someone who thrives on authentic Mexican food, who wants to experience Yucatecan cuisine, chow down on the best tacos in Cancun, find an authentic Indian restaurant, or even go down the route of a quick pizza or pasta…how do you know where to go?
After living here since 2011 and regularly going out to eat + running our food tours + being Superhosts since 2015 with our Airbnb and regularly taking our guests out to our favorite restaurants in Cancun, we feel pretty confident we're one of the few content creators in town who actually know where to get good food in Cancun outside of the all-inclusive resorts in the Hotel Zone. So without further ado we give you: The Foodie's Guide to Cancun!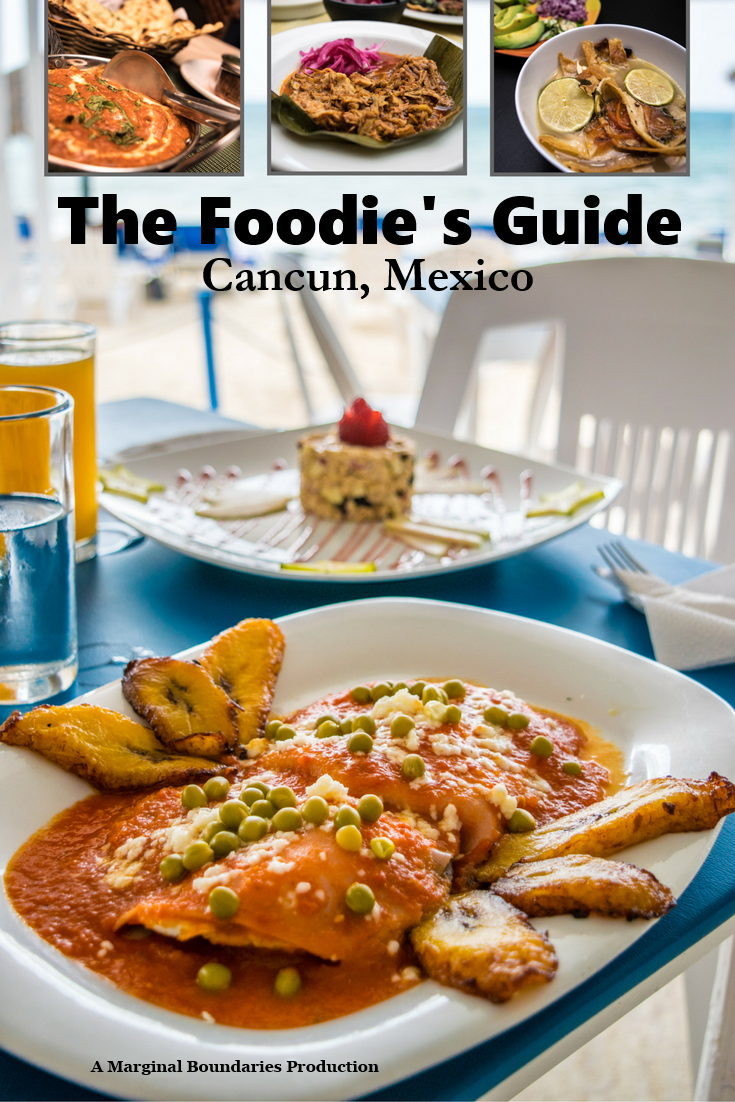 The bulk of the book focuses on a listing of the best restaurants in Cancun, laid out in category format, and below you can see some of these places in video, which we started producing in late 2016. Our best-selling Cancun travel guide had long had its own section on some of our favorite places to eat, but some of those places had closed their doors since we first included them back in 2011, so in the summer of 2016 when we were doing the latest updates for our city guide, we decided to strip the restaurant section out and expand it into its own book, complete with a list of restaurants that is up-to-date as of 2016/2017.
So if you appreciate good eats like we do, and you're looking for tacos, tortas, sopas, micheladas, pizzas, pastas, steaks, Yucatecan dishes, and beyond…the only guide you need to where to find the best food in Cancun is here!
But you probably want a taster first, right? A glimpse into a few of the places where Cris and I enjoy going on a weekly basis when we decide to go out and find a restaurant for lunch or dinner. No worries! That's why we started filming some of our favorite restaurants in Cancun to include them here on this page! Take a look, and we hope you decide to visit these places the next time you are in town!
So what are you waiting for? If you're a foodie like we are and you want to experience the best of what Cancun has to offer in terms of Mexican food and beyond, this is the ultimate backdoor guide to letting your tastebuds explore places where your heart has never dared to dream before. Pick up your copy today, and let's get something to eat!