There are high points in your career that anyone who does something long enough will recognize as turning points. Completing a difficult degree. Earning your first promotion. Landing that dream job. Earning your first published piece with a respected publishing outlet. Landing your first sponsored gig…and then getting to the point where your sponsorships continue to roll in. And for those of you who are in the blogging world, getting an invite to speak at the TBEX travel blog convention is up there on the list.
So for me, personally, it was a definite high point of the year to receive my invitation to speak at the convention as one of the featured speakers covering a session on day one just after the opening keynote on advanced Facebook marketing and management tactics, as well as being able to cover a pair of blog posts for them on Cancun beyond the Hotel Zone and its numerous parks and plazas. But even though the event itself was another notch on the belt in an already adventure-packed series of gigs and opportunities in the past few years, I would be remiss if I didn't cover both sides of the coin.
The Good
First of all, the staff behind TBEX were without a doubt some of the most professional I've ever worked with. Every step of the way they were going above and beyond to help make me feel like a rockstar and VIP on the same level as Brad Pitt and Angelina Jolie. A recurring joke after folks saw me running around with my blue bandanna on was "OMFG who is that guy? What band is he with?", and then Songi kept poking fun at me because I was given a private suburban ride in from downtown when I got in on the ADO from out in Emiliano Zapata from where Cris and I are currently based near Palenque.
Note: I totally got her back because I'm not afraid to drop a short joke (that's the only way to get a joke to a short person, you know? "Drop it" on them. Ba-dum-tiss) and yes, there were witnesses. /highfive (seriously, this girl is a BADASS at what she does. I made sure to tell Chuck and Rick that if there was one person that I had to pick as a favorite from the staff on hand, it was Songi. EVERYONE was owning their shit, but she was above and beyond IMO)
So yeah. I was pimped out, hardcore. By far the most VIP treatment I've ever received in my career, and after the amount of work that's gone into getting us to this point, I felt more than a bit of pride and, I'm not ashamed to admit it, chest-pumping adrenaline as a byproduct of being able to see my hard work justified by more than just paychecks. This is epic, bucket list shit we are talking about.
Rick and Mary are only the tip of the iceberg as far as the people who make TBEX possible and spend every waking moment (and I'm sure some of their sleeping moments as well, twitching in the middle of the night as their brains keep on going even during REM mode) keeping the machine going, and if you didn't get a chance to meet the rest of the folks like Chuck and Carrie and Stevie and Patti and everyone else…it takes an entire crew of professionals to pull an event of this magnitude off. Top-notch. Glad to have met them, and can't wait to work with them again in the future.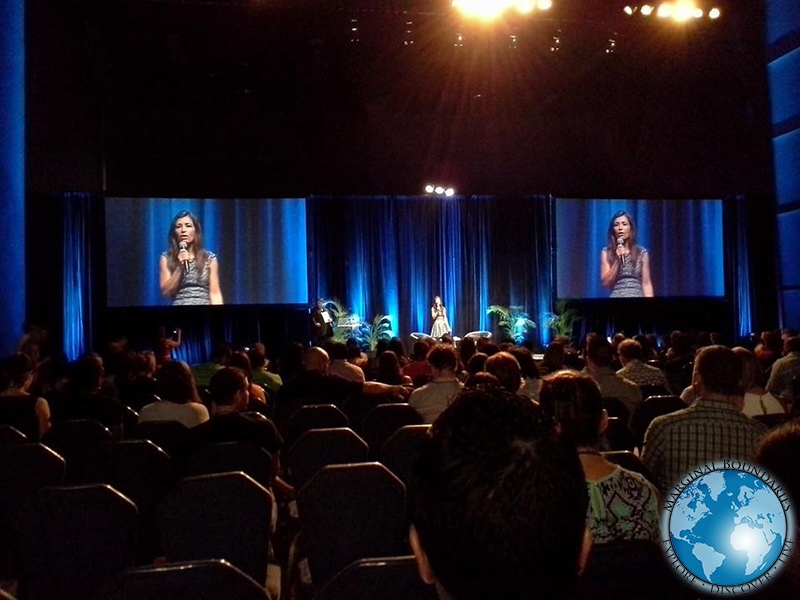 I'm still high and I still haven't really slept since TBEX, not even on the overnight bus to get back home to Cris and the decompress that's going to happen over the next few weeks as I go through all of the amazing invitations and contact points and beyond that came about as a result of being part of this prestigious event.
Which also goes to emphasize something that I've been telling my followers and readers of my books for the past few years: the only way to get your business to the next level is be willing to spend money to make money. Find a mentor. Go to boot camps and workshops. Buy books. Attend conventions. Rub shoulders with those higher up the food chain, all the experts and industries that are in attendance.

These events aren't free, and if the only amount of money you are willing to invest in your business is zero, you can't expect to get anything but zero back out, nor can you expect followers, readers or clients to be willing to invest in you or your products as well.

I was having a conversation with Tim Leffel, he of Perceptive Travel and The Cheapest Destinations Blog and one of the world's most respected travel writers, and he mentioned that even if he had paid to be at this event (he was a fellow speaker and was thus VIPed as well), he felt it was the best TBEX to-date and would have been worth every penny as far as the business contacts he made during the time on-site.
Also, on a side note, stay tuned for a future blog post from us on our ongoing work with him, as well as a special offer on his latest publication, plus an upcoming video interview he did with me for his own website, coming out soon once he gets back to his home office and has time to get back to business as usual.
But, back to the main event: TBEX!
I want to thank Best Day, one of the official sponsors for the event, who also happened to be covering transportation. And I'd be lazy in my coverage if I didn't talk about the epic nature of the Moon Palace resort; major shout-out to the Palace Resorts group for their hosting of our convention, as well as to the team over at the Cancun tourism board who helped put all this together + come up with the events + tours that everyone was able to take part of as part of the convention, as well as global sponsor Expedia.
Upon arrival, it was off to the room, where I was in absolute awe. I mean, a fucking Jacuzzi in the bedroom with a ground-level beach view and a fully-stocked, all-you-can drink mini-fridge + fully-stocked liquor cabinet! From there, 24-hour-a-day room service, over a dozen restaurants and bars to choose from, and prime beach views along with an epic sprawl of property that showcases some of the best of what the Riviera Maya has to offer. Even after four years in Cancun, I was impressed.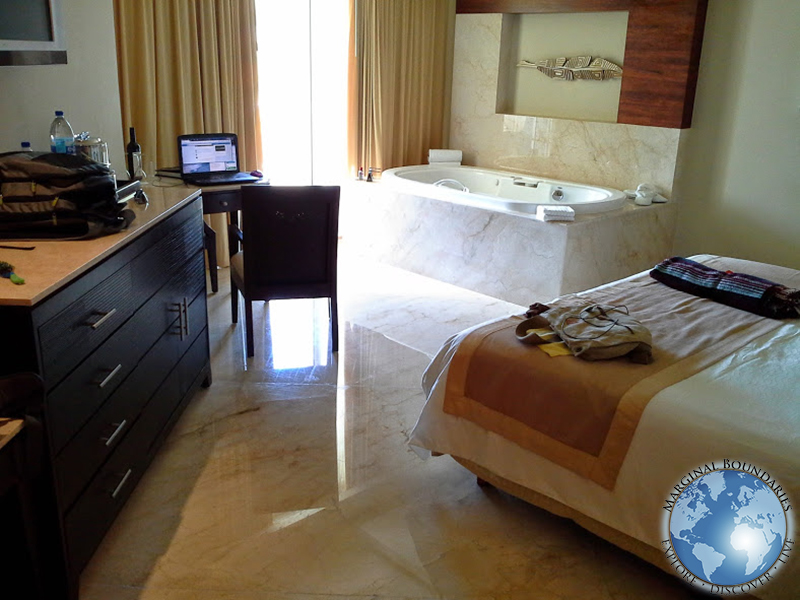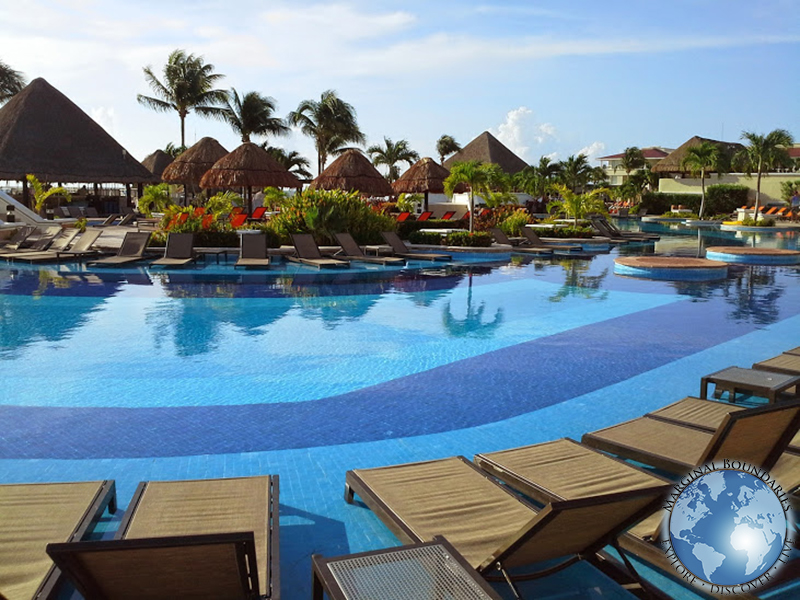 I've never blogged about all-inclusive travel before. Traditionally, I prefer to be able to be out and about hanging with the locals and the culture, but I've stayed at a few places like this when I was on vacation; the last was a resort in Bodrum, Turkey a few years back before I buckled down to build up Marginal Boundaries. (yes, my last vacation was in late 2009; you gotta work hard to play hard) So even though I was here to work, kick ass and take names, let me tell you: despite the Disneyland nature of an all-inclusive, there is absolutely nothing wrong with being pampered.
The entire time I was there from the 10th until the 14th was a blur of networking and no sleep. Even though I was there on TBEX's dime,  it wasn't time to just soak it up and revel in the rewards. These events only happen a couple of times per year and you've got a limited window of opportunity get yourself out there and meet as many people as possible; you can't afford to be a home-body or an anti-social introvert during a convention. Put on your push-up, pluck and tuck and 'scape what you need to, stuff your shorts, get your hair done, and get out there and use what you've got to your advantage. It's time to stay up late and get up early; you can sleep when you're dead.
After a shower, I headed out to lunch at one of the beach-side restaurants and mingled in the bar and one of the restaurants throughout the rest of the afternoon with Erin from Our Tasty Travels and Dorian from Ambergris Today while waiting for the special speaker-only event that took place out at Rio Secreto, meeting some of the early arrivals as well as my fellow speakers before we headed off down the road to kick off the TBEX convention in an unofficial, private fashion.
I keep using the phrase mind = blown on social media regarding my time at TBEX. Rio Secreto was one of the first mindgasm moments of the entire event. Photos DO NOT do this place justice. It is, quite simply, a natural wonder that is a once-in-a-lifetime discovery, and every moment you spend in the belly of the Earth is spine-tingling.
On the ride down was when I got to meet David and Veronica from over at The GypsyNester. All I'm going to say is this: Veronica is a crazy, bubbly girl who is hilarious and fun and friendly, and if there was one person I connected with on a personal level about archaeology, adventure and a general sense of "to hell with the consequences", it was Dave.
Have you ever met those people who remind you so much of yourself that you think "That's the younger version of me"? Dave was 100% the "holy shit, this is me in the future". From then on, every time we met up it was good times, good brews, and good old conversation.
I opted for the dry-route because I wasn't in the mood to get wet, but I'll be going back with Cris, especially after Otto (the owner and man who discovered and has been at the head of the conservation of the caverns and the land above from development, as well as the driving force behind the ongoing exploration) invited us back and explained that there are over 30 kilometers of tunnels and you can take private tours with couples that are four to six hours beyond, or even more if you are truly adventurous, delving into the deeps and swimming/crawling/spelunking your way through the depths.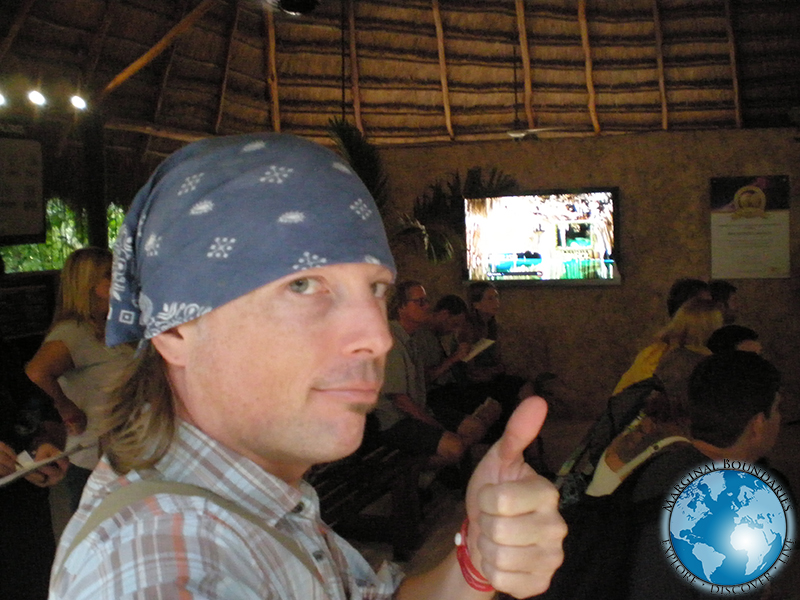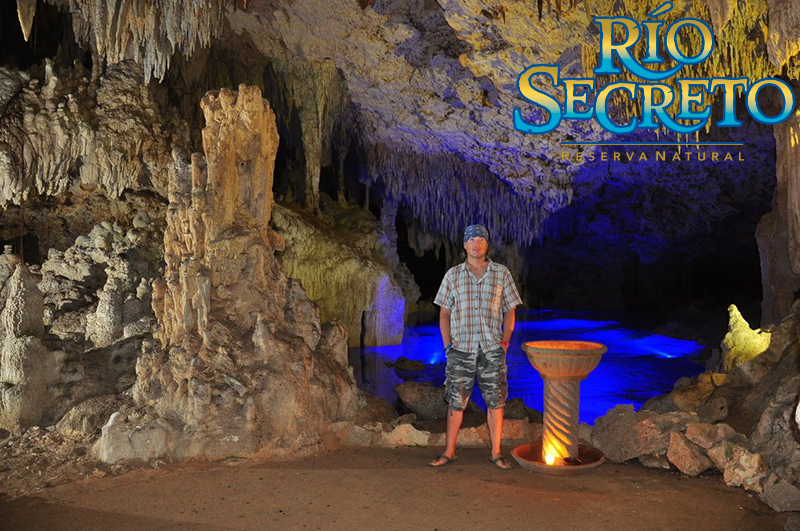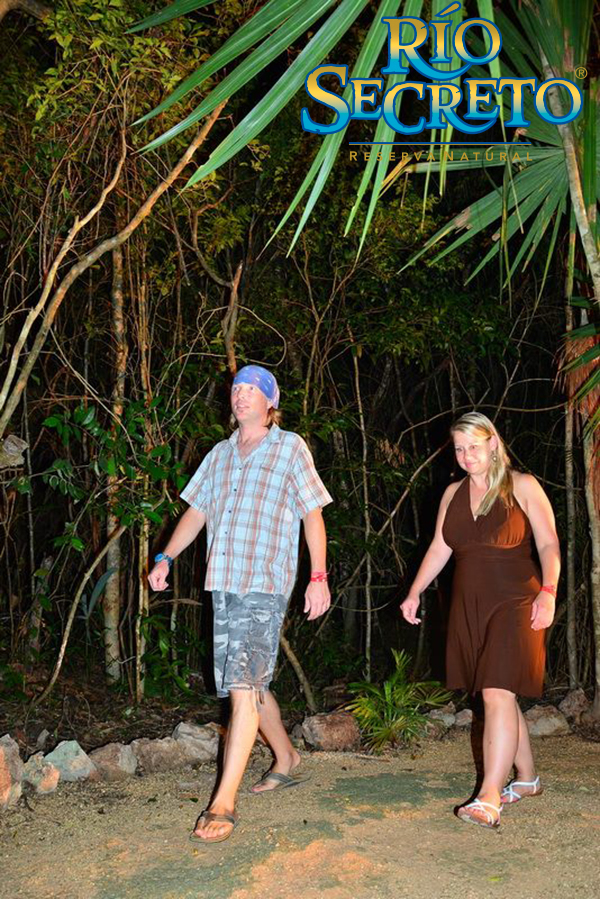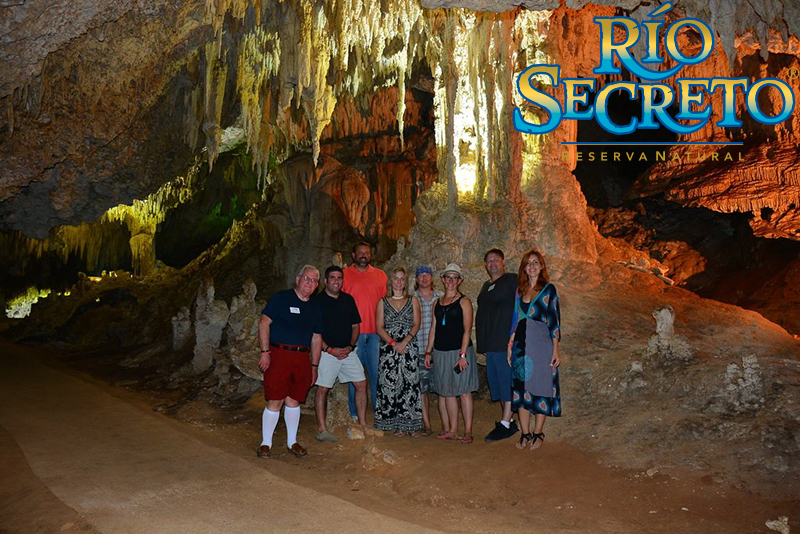 From there, we had an epic spread at the buffet at Rio Secreto, and I was blessed enough to be placed at the end of the table with the marketing heads of Rio Secreto, as well as a couple of girls from ADO, our official transport for the event. This is where, once again, something I've been talking about for the past few years came into play. While everyone else was doing a lot of blogger-to-blogger talks in English, I was able to hit it off with the folks at my end of the table in Spanish. I'm not perfect, but conversationally fluent goes a long way at making business connections and friendships and opportunities that would otherwise be lost because you'll never make those connections.
If I can give you one piece of advice, it's to learn as many languages as possible. Without them, you'll never have the cultural aptitude to branch off into the diverse world of business that exists beyond the virtual walls of your blog.
The bus ride back was groovy and I had a good talk with Rick, and we both discovered our shared passion for MMORPGs; we both played EverQuest at the same time back in the day, and for those of you who haven't been following along, I'm currently heading a 7-man development team working on an independent high fantasy game called Saga of Lucimia and we are building the team to 15 guys in total by January; we're currently looking for five more C# Unity programmers and two or three more artists, so let us know if you have the skills and want in!
From there, it was back to the resort and to the lobby bar, where I met Dan Hernandez from www.danskids.org and www.sport-fishing.com. Amazing guy who has been around the world making TV shows on sport fishing as well as running his children's organization, and was at TBEX to meet some government reps to continue his expansion in the film industry as well as get to know what this whole travel blogging thing was about. I hung out with him several times over the event and look forward to more face-time in the future. 
I met him at the bar along with Kerwin McKenzie, another co-speaker (who also happened to be covering Facebook ads, but for the beginners) an amazing guy who I didn't have nearly enough time to hang out with. He runs Cruising Altitude and Travel Blogger 101.
It was late when I finally made it back to the room; around 2 a.m. I was wiped out, but that's not important; I showered, hung up the room-service breakfast order for the morning, and passed out for a few hours.
I woke up a few minutes before the tap on the door for room service and was able to get some work in while crunching down on some tasty, tasty bacon, something I rarely eat these days but figured what the hell, I'll indulge. (aahhhh, bacon, the marijuana of meat!) A quick shower and few social media blasts later, and I was out the door to pick up my badge for TBEX.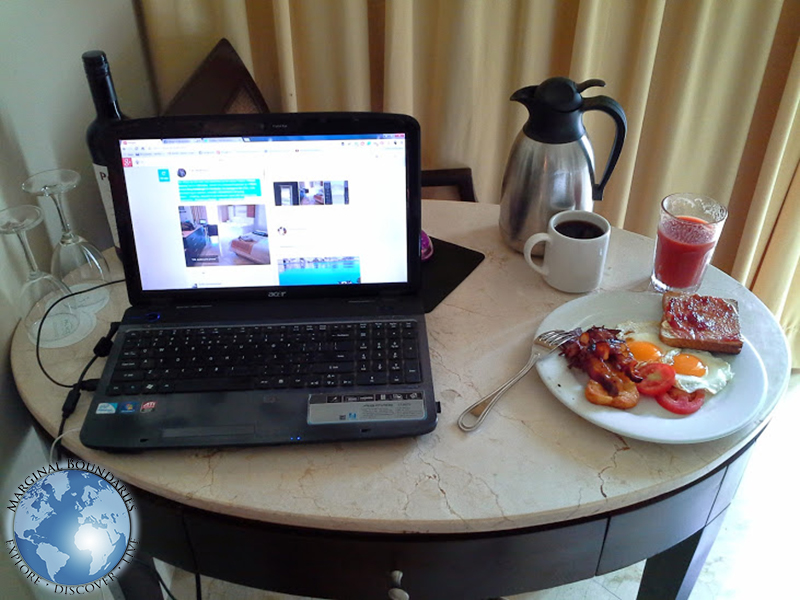 Rick was there on hand and pointed me in the direction of the press conference that was taking place in the next room over. I also got interviewed by Novedades on the way there (a local newspaper from here in Cancun), before finding a seat in the back.
I need to pause here to go over the power of cultural understanding and speaking other languages. I've touched on this in the past with numerous articles on the importance of language immersion, and it's one of the core chapters in our latest, gift-culture publication, Life on the Road – The Business of Travel Blogging.

Nowhere was this more evident than my time at TBEX Cancun where I was able to speak the language, understand the culture, and be in the middle of conversations with Latin American businesses that others could not. Without the ability to speak, you lose the ability to enhance your business and make the connections that are there, lurking underneath the surface.
Especially after Rick pointed me out during the press conference and all the cameras turned towards myself (as well as Chris Christensen from the Amateur Traveler, who was the only other blogger/speaker from TBEX that I saw in attendance; the rest were locals). From there, I did several television interviews as well as mingled for the next hour or so after the event meeting people like the head of Delphinus, and an up-and-coming blogger, Suzanne from Suz Paseos (who was simply amazing; I hung out with her several times during the convention, during lunch, at the Expedia party, and beyond. Can't wait to see more from her as she builds her blog and moves it to WordPress!).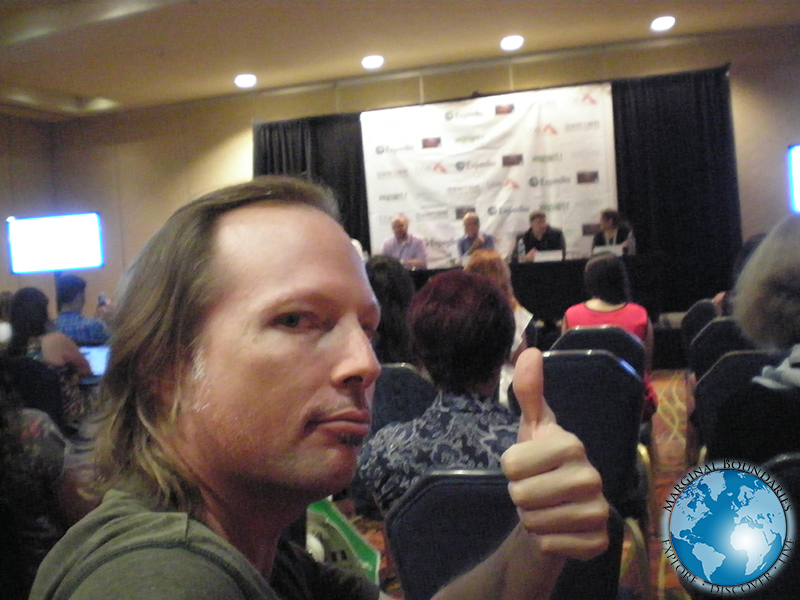 Another note: if you are truly serious about your business, press conferences are something you should be attending. I was honestly shocked that there were only two TBEX speakers at the event; myself and Chris. Apart from that, no one else was there taking advantage of the publicity. Something to keep in mind for future attendees.
After that, I met Sandra and Marisa from Best Day, who invited me to the breakfast party the following morning (the official first day of TBEX). After that, things sort of became a blur for the rest of the 11th; I went from bar to bar, from restaurant to restaurant, meeting and hanging out with various other speakers and presenters and early attendees until the first official event bus took off to take us all to Xcaret for the dinner and show.
Epic. Event. Enough said. So much so that we (TBEX) were actually trending on Twitter for a few minutes because of all the live tweets going on during the two-hour dinner event. Every last moment of which was phenomenal. Especially the soup, which was queso Oaxaca ahumada, or smoked Oaxaca cheese.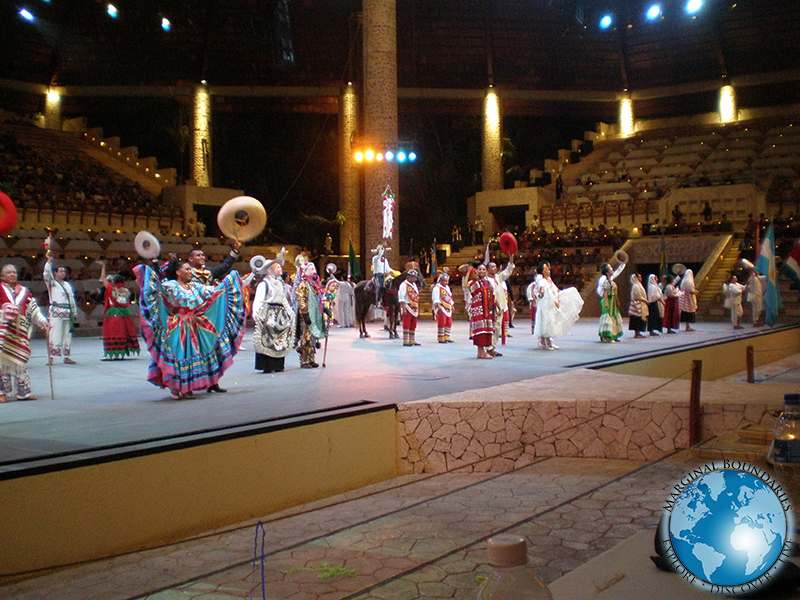 I met Dave from Gobackpacking.com and Travel Blog Success on the bus ride down, and Katja from Globetrotting.com, then went to the afterparty where I mingled with a bunch of other people and met Nick from  Yallah'Bye (currently rebranding to his name), a guy who wanted to talk to me more about our travel blog boot camps and had a pretty awesome story about being an archealogist and working on a book for years and blogging from the Middle East until things got hot. I also finally got to meet Kelly from A Canuck In Cancun, a local blogger who I recommended to Rick a few months back (along with a few others) when I first got the invite to speak at TBEX and he was asking me about others in the area.
Then it was back on the bus, back to the bar, and more networking and mingling. However, I was speaking on the following day + had an invite to the Best Day breakfast, so I headed back to the room for an early night.
Of course I didn't get to sleep right away, but got caught up in writing and brainstorming until finally passing out at 3 a.m. only to wake up at six, just in time to get a shower and then head over to the breakfast where I was about 45 minutes early, perfect to spend some time talking with Sandra and Marissa before the event started and we were invited to take part in the Mexican initiative that Best Day has going on with local bloggers.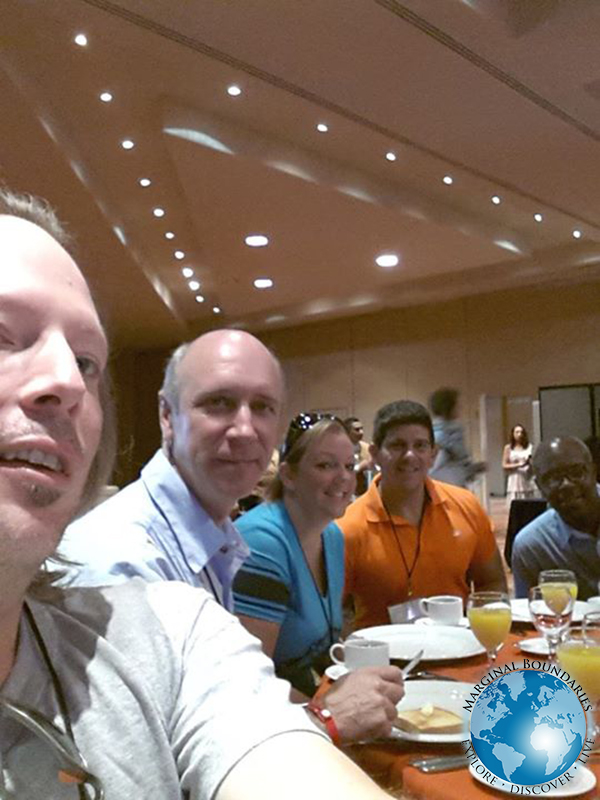 After that, I went to the keynote…which I'm not going to mention here, but you can head down to the "bad and ugly" section to read about. Yes. The keynote was, in my opinion, worthy enough of an entire section in this blog post dedicated to the negative, and since I'm not an animal rights activist and am a meat-eating omnivore, well…you can read my overview of that particular section down at the bottom.
I headed out early for my own presentation, which took place just down the hall. Had a lot of fun, learned a lot, and as always, I'll be analyzing my footage + taking feedback from people on how to improve my own performance. One more step on the way up (this was my fourteenth presentation since starting doing them in 2012, and the largest event I've done, though not in terms of audience size; the largest was my keynote at the Last Tuesday social media event in January of 2014 in Playa del Carmen, Mexico. Larger audience, smaller venue).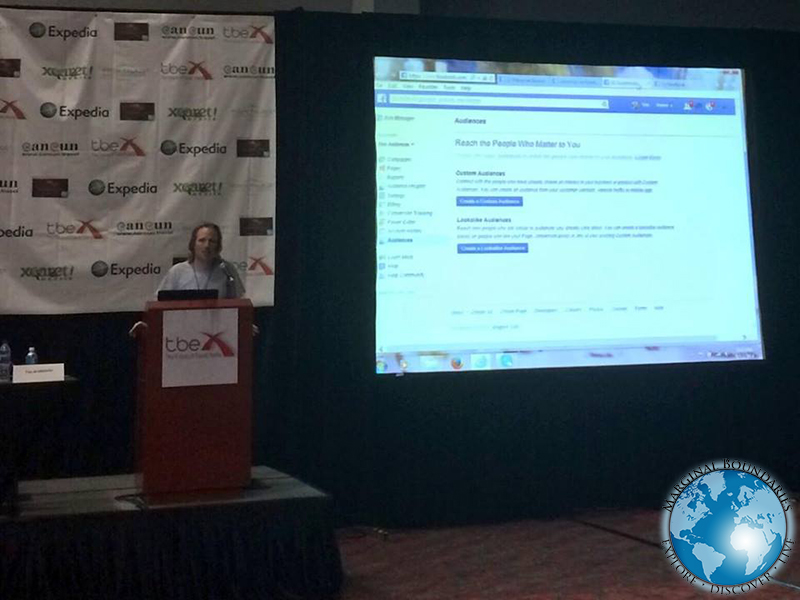 After the event, I spent the rest of the day mingling and having conversations with as many people as I could. No offence to many of the bloggers out there, but I wasn't at TBEX to meet and mingle with you. Sure, I was happy to do so at the afterparties and in between sessions and the like, and I met and made some amazing connections with some of you, but my purpose for being at TBEX was to kick ass and take names and network with businesses and potential clients and customers who could help me increase my income and the potential for the blog…so my job was to meet as many movers and shakers as possible who could do so.
While the speed networking is groovy, I only set two appointments; instead, I took the time while everyone else was in sessions to mingle with the folks at the tables. Much more intimate, and I was able to spend 30-45 minutes with each person instead of the limited 10-15 minutes that you generally get with the speed networking. Even so, there were only a handful of businesses there who I was actually interested in talking to; we aren't doing sponsored travel in Europe or the U.S. at this point with our blog, so I spent my time instead focused on the Latin countries and those who I can work with on a local basis or within Mexico/Latin America.
After a few conversations I had lunch, made some more connections for business, and then went back down to the speed networking room and made the rounds before Rick found me and told me that the Expedia table was empty and I should head on over to talk to Pablo and his crew.
I had seen Pablo at the press conference the day before, and he's on top of his game. He has to be, since he's the head of the Mexico and Central America marketing management department. But here's the thing; as the official rep from Expedia, the guy was getting bombarded by dozens of bloggers one after the other, and during my first few minutes it was obvious he was a bit tired of hearing the same old introduction from blogger after blogger and he was giving me his elevator reply with his eyes somewhere off to the right and above.
So I started talking about my time living in Tabasco and Chiapas and being married to Cris, a Mexican, and how one of the things I really appreciated about working and living down here was the old-school need for meeting a person before doing business with them; of courting them through meals and dinner and beers and good old conversation, and let the numbers be damned; it's about personal connections more than anything else.
Everything changed at that point. Suddenly he made eye contact and I got involved with not just him, but also the other two people from his team at the table, including Adriana from their Cancun marketing department, and we went from "just another blogger and elevator pitches/replies", to spending the next hour plus shooting the shit about life in Mexico, traveling, the culture, the ups and downs and life on the ground.
Now, I know it wasn't my pretty face that made the transition during this conversation; it was the fact that I was down here, living it, speaking the language and, more importantly, making that local connection of knowing the importance of how to do business in Mexico and Latin America; through handshakes and conversations and dinners and courtship, not simply through pitches and emails and traffic and Analytics reports and beyond. Traffic means nothing without a personal connection.
Beyond that, it was off to the Expedia selfie party where everyone proceeded to get well and truly sauced up. I met Paige from over at All Over The Map, plus hooked up with Amelia and her hubby Jason from The Everyday Journey (you remember her; she was our most recent student at our travel blog boot camp in Palenque), and yet again I met someone who was an instant kindred spirit.
Especially when we started talking about growing up as rednecks who think Rocky Horror Picture Show is one of the greatest creations on the planet. We also met up with Dave from the GypsyNesters again (one of many such meetings; can't say enough good things about Dave, and his stories are fantastic!), and proceeded to go even deeper into the cups.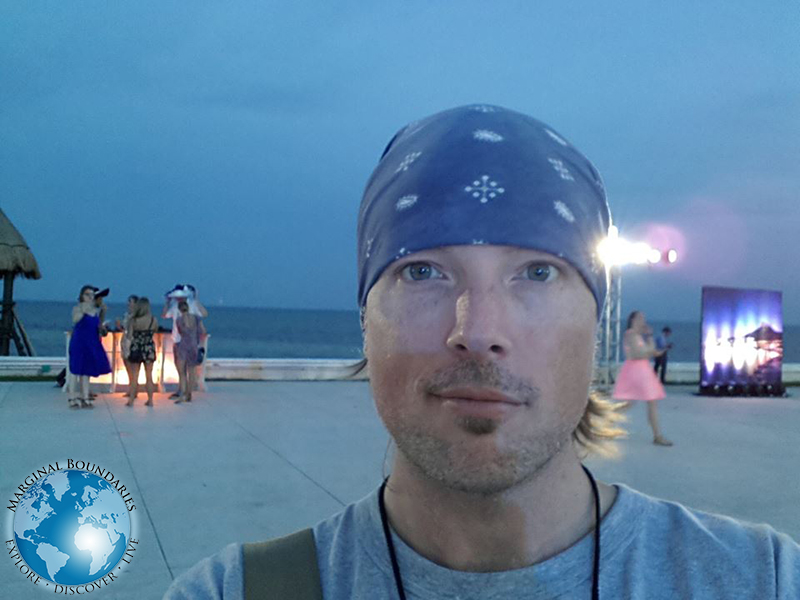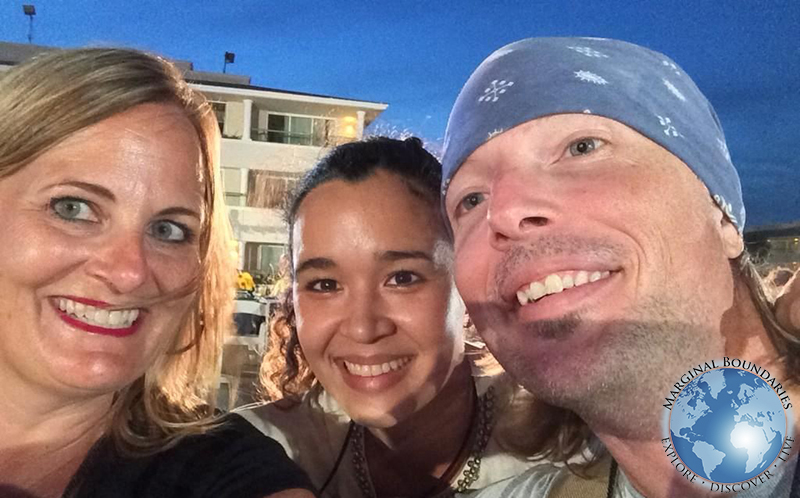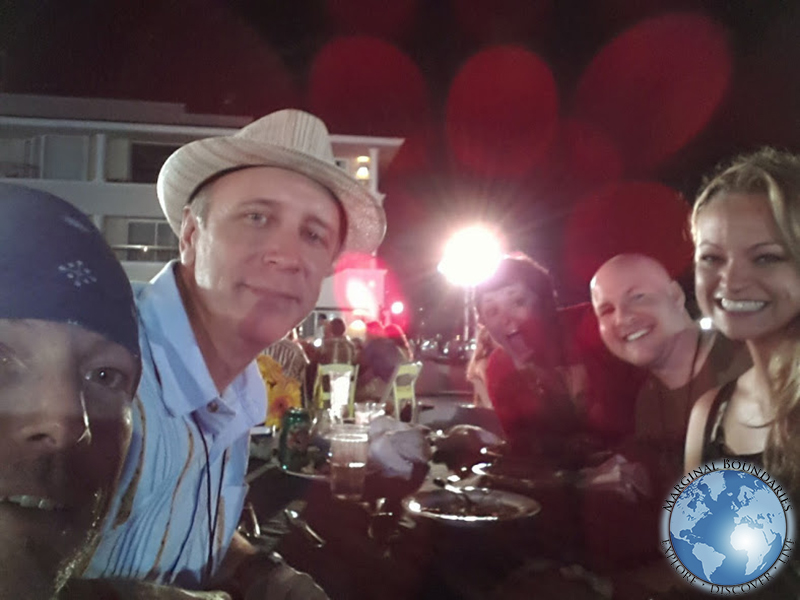 From there I met up with Dan again for a little bit before I saw one of the guys who had been in my presentation walk up with his girlfriend in tow to look out over the beach. I left Dan to his devices (he was surrounded by several women at this point, so it was a good time to sneak away) and made my way over to ask if this guy had any questions about my presentation and BAM, I found another kindred spirit/brother in arms.
His name was Eric, and he and his amazing fiance (Shannon) have this incredible story of traveling together the past 2.5 years and just finished walking the entire Camino together and how he's also an atheist and they were heading to Bulgaria (a place I lived for 2.5 years and traveled to for six years and have a deep passion for)…I could go on. Needless to say, another great connection here! These are the two from over at 2 Travel Everywhere, and we hung out more the next day (and I can't wait to meet them again in the flesh!)
Somewhere in there, Patti and Carrie and a few of the other TBEX girls were dragging me off to the bar, where I met up with Stephen from over at Walks of Italy. Best. Dude. Ever. Honestly. He was live-tweeting my advanced Facebook presentation and pinging his marketing head "are we doing this!?!?" and is obviously on top of his marketing game and we both hit it off when we started talking about hobby bloggers and vanity traffic (something I've become a bit infamous for mentioning on Facebook because it offends hobby bloggers), and how that needs to become a catchphrase in 2015.
More drinks. More conversations. Finally had to head to pass out for a few hours before the official day two kicked off.
Day two started off slowly. I had breakfast by myself up in one of the bars and just took it easy before heading back to shower and then make my way to the arena. I popped into the keynote for a little bit, but spent much of the first segment talking to Lou Mongello of the Walt Disney World Radio show, another fellow presenter, about podcasting and finding those niche audiences that blow up on you and give you an entirely new way of thinking/working.
Side note: this is something I've been doing with the Spanish brand I'm helping manage since I was brought on to brand it in early 2014 and have grown it from around 65,000 followers when I started the new campaign in May to 127,000 just the other day on our Facebook page and as of this writing are breaking 175k daily views with 60% to 80% engagement ratings.

We launched the first product in August, started an associated web comic at the end of June, and are now building three new additional products to launch in November/December to take advantage of our exploding community and tightly niched market. The page is growing at an unbelievable pace; 500 – 600 followers per day and rising, and as long as we keep feeding the beast, it keeps growing.
There were a few presentations I wanted to hit on day two, the first being a Pinterest one, another on Podcasting, then Gary's on six figure blogging, but I totally got sidetracked after the keynote when I was wandering through the networking room and this cute girl approached me and told me this story of how she and her marketing assistant were up from Belize and forgot to change their clock so they walked into my presentation during the last five minutes as I was finishing up the Q&A.
And it was worth every minute getting sidetracked

I still don't believe Trinity regarding how old she claims she is, but her and Stephanie were up from the San Ignacio Resort in Belize and she only asked me for about five minutes of my time, but I told her not to worry and gave her a private, one-on-one version of my presentation over the next hour and a half or so…which led to us making a meeting for later in the afternoon and a business connection that I'll be talking about about later this year here at the blog and our social media outlets.
Remember; presentations are only part of why you are here at TBEX. The personal connections with businesses are (IMO) far more important, so you shouldn't dismiss people. Everyone is a potential friend, ally and business partner, and the only way you'll find out is by meeting people, making connections with them and networking! While your blogging peers are important, business connections > all at networking events and conventions like this.
From there, I went to the presentation on multi-destination platform marketing, which was not a blogger course, but rather a high-end marketing session for DMOs and agencies. I went to further educate myself, but it was also incredibly rewarding to see so many of the things I'm doing down here under the radar in Mexico validated by a team of people working on multi-million-dollar campaigns. I took a few things away, but also had several of my own strategies verified, which was good to know that I'm on the right track, just working with much smaller budgets.
Ironically, that's also what Stephen from Walks of Italy told me; I tried not to let it go to my head, but he mentioned that my presentation would fit in perfectly in New York or San Diego at a convention of startups and companies with 100k+ marketing budgets. More verification that I'm on the right track, and it was also another rewarding moment.
Being down here out of the startup scene and working with small businesses can be somewhat frustrating sometimes, due to the limited budgets mostly, and honestly it's got me thinking of my long-term strategy of whether or not to stay in Mexico or head back to the States for business relations and to enhance/expand my marketing resume + client list. Obviously we are down here for our own enjoyment + hunting for property in San Cristobal de las Casas or Palenque to set up a more permanent base of operations with a B&B/restaurant/tour headquarters, but we aren't going to limit ourselves to just that concept for our retirement plans.
Feedback from your peers + betters and even those below you is a vital component in your growth as a professional, and you should *never* be above listening to and heeding advice from those who have something to say. I'm a firm believer that I can learn something from everyone due to their unique point of view, even if they are lower on the food chain than me. Arrogance suits no one in business, and everyone has something that can potentially benefit you, your company, and your growth.
From there it was off to lunch where I met the team from Ignite as well as Eric and Shannon again, and a few others. Good times, good crew, and then it was time to sit on on Gary from Everything Everywhere's six-figure blogger presentation.
While most of what he had to say was fairly basic and mirrors the message I myself promote through our eBooks, travel blog boot camps, internet marketing courses and the presentations/etc. that I've been doing down here in the Riviera Maya the past 1.5 years, there were a few interesting takeaways and things that made me think outside of the box. One is that he works with sponsors as a result of his level of success; I'm still not doing so. It hasn't been a goal of mine and to be honest, I hadn't really seen the potential in being a brand ambassador until hearing him talk about it and the gold mine that there is to be found.
Obviously, a brand ambassadorship has to be a two-way street, so finding the right connection is vital; you don't want to represent someone just for a paycheck. It has to be a good fit. But it was a good thing to think about and add to my "what I need to be doing in 2015", along with getting a podcast going and starting to focus more on our video content (especially with Cris' Viajes Con Cristina episodes, but also our English content); I plan on being at NMX in one form or another as well (huge shout-out to Pat Flynn, by the way, who will be keynoting in April. Been following him since 2009 when I was living in Bulgaria, so it's been amazing to see him rise to the top!)
Also, another side note; if you truly want to succeed in business, there's another takeaway from Gary's presentation that is vitally important, which I also mentioned earlier up in this sprawling post: attending conventions, networking, being a part of as many professional organizations as you can, is all part of your rise to the top. All of these things cost money to attend or be a part of. If you don't have a budget for your business, you need to get one sorted out: NOW! The only way to meet thought-leaders and the people who can help you rise to the top is to be where these folks are hanging out, and that ain't at the freebie, bottom-feeder table of Wikipedia pages and "how to master SEO and blogging" free pamphlet downloads.
Afterwards, I was back to hanging out with Trinity and Stephanie (these two girls are lucky I'm married; both are incredibly sweet, beautiful and just bubbling with personality as well as the smarts to go with it. They are hungry to learn more, on the right track, and I was absolutely rapt for the next hour or so we talked) before more time with Eric and Shannon and then it was time to say goodbye and head off to enjoy the rest of the evening with Amelia and Jason again at the beach-side restaurant.
While it was my last night of the "official" event, I hadn't met everyone just yet! After I got to the restaurant I met the rest of the crew that Amelia and Jason had been getting to know over the event, including Dez and his wife from Worldwide Adventurers, a pair of bloggers up from New Zealand. Dez has a background in public speaking/development, and was one of those in attendance at my presentation. He gave me some brilliant feedback during dinner that I'll be taking to heart in my ongoing development as a public speaker and presenter.
From there, I met up with (for the second time!) Alicia from Boy De Viaje and Julio from El Souvenir, both of whom were from Mexico City (Spanish language skills again; seriously folks, learn another language…or two or three or four…), as well as one of their colleague, Mariel from Mariel de Viaje. A couple hours and several drinks later, it was time to head to the lobby bar where it was more mingling and winding down the night before we parted ways and I went back to sleep things off.
The next morning most folks were heading out at random times, but my bus wasn't until 5:30 in the afternoon, so I was at the resort until four. I went and had breakfast and met up with Dave and Deb from Planet D; great people, and we had a great conversation (albeit short) before it was back to the room for shower, packing, and heading to checkout.
I then hung out in the lobby and got to mingle with David Lee again for a bit before he headed down to Playa del Carmen, as well as Dave and Veronica from the GypsyNester side of life, who were off to Cancun and then Valladolid. Made sure to load them both up with plenty of links to our blog content on those places and personal recommendations for restaurants/activities/etc. for the area, and from there it was only a few more hours until I was on the bus headed back home to Cris.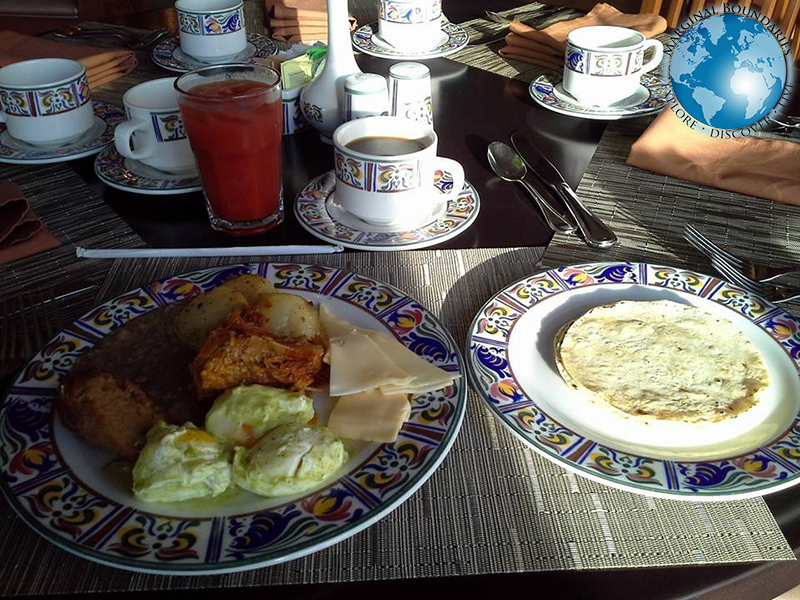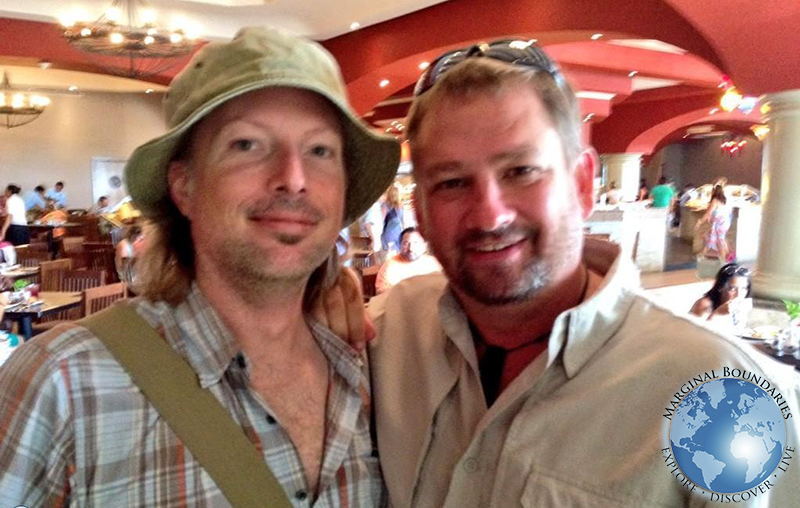 The Bad & The Ugly
This year's TBEX convention was marred by the inclusion of a series of dolphin tours from one of the local businesses, Delphinus. For those of you who have been living under a rock, from day one I was on the side of those who said "so what?", and apparently was a bit infamous for having sarcastically mentioned on Facebook that I was going to do a food porn shoot with a big, juicy dolphin burger (everyone kept coming up to ask me where the picture was; I now totally regret not having done so!)
This was only partly in jest. I'm a meat-eater. I can't very well eat one type of meat and yet be against another type of meat. I'm an all-or-nothing kind of guy. It would be hypocritical of me to eat beef and chicken and tuna, but yet not want to eat dolphin or dog or turtle or elephant meat. So. Since I'm not a vegan, and I'm not a hypocrite, I eat whatever people put in front of me. Which will at some point, some day, likely include a juicy dolphin burger.
Having lived for four years in the Riviera Maya, I know for a fact the heavy emphasis that ALL of the conservation companies have in place, and the various government and conservation certifications required for companies like Delphinus to operate. In fact, when Rick Calvert, the co-founder and CEO of TBEX's operational side of things, posted his point of view on the TBEX Mission & Programming Ethics, I was there to post my own opinion, which included the following (you can read my full reply in the comments section over at the post):
Should we boycott ranches because they ride horses?

Should we boycott Middle Eastern Bedouin tribes and their lifestyle because they ride camels?

Should we boycott Taste of X (insert city here) events because some of them serve meat and you are vegan? Or some of them serve beer and you are religious and don't drink alcohol?

Why aren't these same bloggers up in arms over child brides in Africa, or the sex/human trafficking issues that are rampant in SE Asia where all the budget backpackers flock to and brag about "living so cheaply" on X dollars per day? I sure as hell don't see any of the budget bloggers covering ANY of these topics on their blog while bragging about living on Y dollars per day and living in cities and countries where such issues are prevalent.

The irony for me is that many of the very same bloggers who are complaining about the "ethical treatment of those poor dolphins" have dozens of blog posts on their sites and social media pages with them chowing down on burgers, chicken salads, tacos, ostrich meat, fish and various other forms of animal flesh in third world/developing countries from around the world where the concept of free-range means NOTHING, because those animals were raised in captivity and specifically bred for human consumption/enjoyment.

Where are the "poor, sacred animal" posts then? Instead, it's "look at how CHEAP these tacos/this salad/my burger is!" while traveling to a poor, impoverished country and snapping photos on a 5,000 USD camera from the back of a tuk-tuk pulled by a malnourished grandfather of 65 years who makes less than 3 USD per day, and completely ignoring the human trafficking, child sex trade and beyond.

If we really want to talk about responsible tourism, let's not mince words.
To make a long story short, a few bloggers launched a controversial "let's boycott TBEX" campaign, mostly to drive book sales and based entirely on a knee-jerk reaction (not a single one of them bothered to do any research or come talk to the people at Delphinus or investigate whatsoever; they still, as far as I know as of the date of this publishing, have not done so). Even so, it gained a response from the animal rights activists around the blog-o-sphere, enough so that the Cancun tourism board eventually pulled the dolphin tours from the itinerary. You can read Bret Love's brilliant write-up on what went into that happening, as well as some pointed commentary on the flaws in the "let's boycott TBEX" campaign.
For the record, I support Delphinus, as well as any conservation department who works at helping animals in any way, shape or form. I also support ranchers in the United States riding horses and Bedouins in the desert riding camels, both of whom use animals in captivity to enhance their businesses and work just has hard as the animals they employ. And I also support businesses such as Xcaret, whose opening night show included (GASP!) horses being ridden during the event and being forced to dance for their supper (yes, that's dripping with sarcasm) while the hundreds of bloggers in attendance snapped photos and live-tweeted to the point we were trending on Twitter for several minutes.
And yet, when the keynote presentation kicked off the next morning with responsible travel expert Dr. Martha Honey and Bret Love, not a single mention of those "poor little horses" was made. In fact, I didn't hear a single mention of horses or camels or cattle or chickens made during the keynote (although I'll admit I stepped out at a few points and was having other conversations when it become obvious to me that it was only going to be about those "poor widdle dolphins" and not about actual responsible travel or any of the key point mentioned in my comment at the TBEX blog), nor did any of the many so-called animal rights folks seem to have a problem blasting out social media updates of the two-hour event and praising Xcaret as a sponsor of their all-inclusive stay at the Moon Palace resort…all while those poor widdle horsies danced for their food.
I'm going to pause for a moment. Anyone else see what I see? No one up on the stage, nor any of those involved in the knee-jerk boycott, did any actual, investigative journalism on Delphinus before crucifying them pre-TBEX around the blog-o-sphere. I know this because no one bothered to talk to their head of operations (or at least that's what I was told; I spoke with him in an in-depth, one-on-one after Rick introduced me to him at the end of the press conference that kicked off the first day) on the immense amount of work that goes into their conservation department, or the fact that ticket sales are what help drive the funds to keep their operation going, along with other funding.
He is an incredibly passionate man who has been devastated emotionally that his company and their conservation work over the years and their team of passionate crusaders have been crucified by those without any first-hand knowledge on the subject, and I, for one, fully plan on taking him up on his offer to go back and dig into the issue further and publish an actual, authoritative piece on their company without any of the emotions involved.
Back to the issue. None of the experts who claim authority on the subject nor those who were out there protesting in the blogging world against dolphins in captivity actually did an interview with Delphinus or went to tour their facilities. If so, it would have been mentioned in the keynote. And, as far as I know, only a handful of actual, investigative journalist types went and did the tours anyway behind the scenes while at TBEX, so that they could have the actual, hands-on information required to make authoritative statements regarding whether or not there is any ethical treatment of animals, or lack thereof. Can't wait to see their pieces come out.
Furthermore, I didn't see the esteemed doctor nor Bret make a mention of the horses at Xcaret being ridden for the pleasure and enjoyment of the event attendees just the night before while they enjoyed their all-inclusive stay (all of us who were speakers at TBEX were given all-inclusive rooms + food + transport, so I know the doctor + Bret were both taken care of by TBEX), nor did I see any animal rights bloggers in attendance up in arms over those "poor widdle horsies" and whether or not they were being ethically treated. Instead, it was nothing but a blur of clicks and uploads and Tweets and "HOLY SMOKES WHAT AN AWESOME EVENT!"
End result in my mind? More green-washing and knee-jerk reactions from animal rights activists who have, in my mind, no real authority to speak on the subject if they aren't willing to get out there and get the true story of how those animals are treated. Which was ironic considering that green-washing came up during the keynote, and yet the very same people accusing others of doing so did the absolute same thing by not mentioning the giant elephant (woops, horsies!) in the room.
So…not a single mention of actual, responsible travel was made during the keynote. Nothing about human rights. Instead, it was purely about animal rights and activism and "don't use plastic water bottles, don't let the hotel staff wash your towels daily, and try to avoid flying." For me, that was a huge disappointment. There wasn't any actual conversation regarding human sex trafficking, child labor, or the malnourished grandfather hauling a rickshaw around at the age of 65 making pennies per day and starving to death while some blogger from Canada or Australia or some other first-world country snaps photos from their iPhone and 5,000 DSLR camera.
Note: I've got no beef with Bret and Mary (see that vegan joke there? ba-dum-tiss) and they have done a ton of good as far as ecotourism and conscious travel goes, and their Green Grobal Travel brand is built up around professionalism and high-quality journalism. As people and as peers, huge amounts of respect and love. As a fellow blogger and writer and someone who is passionate about actual, responsible travel and human rights issues around the world, I feel the ball was totally dropped during the keynote and the aforementioned issues sort of soured that particular part of the event for me.
So…that's was my "bad and ugly" side of TBEX. And I'm totally not letting in get in the way of the good, excellent, amazing and OMFG BEST EXPERIENCE OF MY BLOGGING CAREER EVER side of the convention. Which is like 98% of what I experienced while kicking it at the resort and expanding my consciousness and enhancing my abilities as a professional. Which is what these events are all about, not about animal rights or political agendas.
Afterthoughts
If you have any interest whatsoever in taking your brand, your blog and yourself to the next level, TBEX and conventions like it are the place you need to be. I've said it before but I'll reiterate it here: if the only thing you are willing to invest in your company is zero, you can't expect to get anything else but zero back out, and you can't realistically expect clients, customers, readers and fans to invest anything in you as well if you won't even invest in yourself and your craft/business.
Blogging is a business. It can be started and done as a hobby, but if you truly want to make it in this industry, if you want to earn a living, an income, to earn sponsored travel and rub shoulders with the elite, you have to be business-oriented. That means working long, hard hours, investing personal time, energy and, most importantly, money.
Event like TBEX are an amazing place to meet others who are just like you, as well as those who are higher up the food chain. Everyone can teach you something. Always be willing to talk to someone, even if they are lower on the totem pole. Don't sleep. You can do that after the event. This is a limited-time window of opportunity to kick ass and take names, and you are either on the guest list or you aren't. Your choice.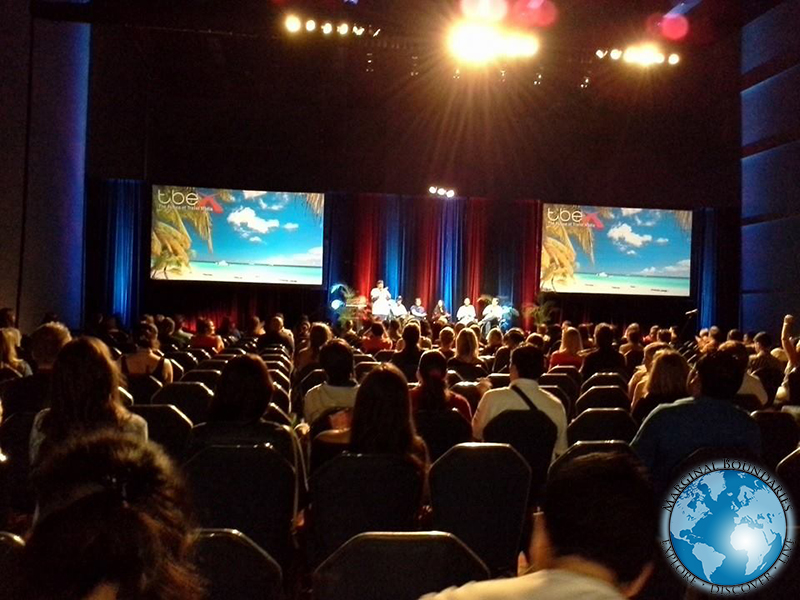 The final keynote on professionalism was brilliant. I know I got a few ugly looks from others in the near vicinity when Chris Christensen turned his head and said "For those of you who don't now what an ROI is, it's a return on investment", and I muttered, "If you don't know what an ROI is before you start blogging, you'll never go anywhere with your blog". I firmly believe that blogging is a business, and there are far too many hobbyists who are out there expecting the same rewards as the professionals without ever putting in the time or effort to get there (the 99%, instant-gratification generation who wants their first-place medals for simply existing).
Don't accept free shit just because. They spoke on this in the final keynote as well. I've been thrown a lot of press trips in the last year. I've accepted none of them. Why? Because the companies who sent us the offers very obviously didn't research who we are, nor the fact that Cris had surgery in March and only just recently started feeling well enough to hobble around a bit hiking up ruins and the like, who our audience is, and they were all invites from Europe. Professionalism is a two-way street; the companies should have done their research before pitching to me. Likewise, I have a professional responsibility to tell them thanks, but no thanks, because it doesn't fit in with what I'm doing.
Let me reiterate that. Don't accept free shit just because. It's unprofessional of you to accept something which you aren't qualified to write about or cover. If you are a budget backpacker who gets invited to a luxury hotel out of the blue after having never done a luxury press tour before, they likely didn't bother to research who you are. It was unprofessional of them to send a random invite without researching who you were or what you are really about.

In the same breath, it would be absolutely unprofessional of you to accept that luxury hotel press trip if your focus has been on budget backpacking the past two years and what you know is street food and hostels and chicken buses.

Two very different niches, and both need qualified individuals who can represent those areas with expertise and have the relevant audiences (budget blogger = budget followers = not enough cash to stay at a luxury places, and likewise luxury blogger = luxury followers = not likely to ever stay in a hostel or use a chicken bus) to get the results that each individual press trip needs to be a success and drive an ROI for the sponsoring parties involved.
Find a mentor. Or two. Or three. Don't ever allow yourself to think you are above learning something from someone else. Ever. You are not the end-all, be-all of blogging. You are never at the top of your game. You will always be learning, no matter how old you grow, or how far along you are in the industry. Even Don George talked about continually evolving in his craft (great chat after the keynote, btw!). Join workshops, blogging boot camps, training courses, pay for subscriptions, buy eBooks and constantly work to home your craft.
I have no college education. I never finished high school. In the past 7 years, I've easily paid 15,000 – 20,000 USD on subscription fees, eBooks, conferences, workshops, boot camps, webinars, DVD sets and more, all in my continual quest for self-improvement and evolution. I absolutely would not be where I am today without the skills I have learned from these sources. The Wikipedia can be a great research tool, but you will get nowhere with your career if you rely on the low-hanging cesspool of "free" information on the Internet.
Be prepared to spend two, three or maybe even four years building up your blog, developing your tone, your skills and earning your way up the totem pole before you start demanding the same respect as long-timers receive. Until you have put in the time, proven your worth, and been willing to forge yourself in fire and ice, you won't have anything worth offering to clients and companies who are offering press trips and high-end freelancing opportunities and contracts.
And finally, don't be afraid to put yourself out there. A hermit living in a cave might be the greatest painter the world has ever known, but until he actually goes out there and shares his work with others, networks and goes to events, travels to the cities with his wagon full of paintings and tries to sell them, no one but the rats and bats of his cave will ever know that he exists, much less has masterpieces to share with the world.
P.S. If I missed anyone who I met at the event (tried hard to remember everyone!), let me know and I'll be sure to add you to the list!
Don't forget to sign up for our free newsletter for several-times-a-week, your-eyes-only travel and entrepreneur tips, plus receive a complimentary copy of our 85-page starter book on location independence and living abroad, 30 Ways in 30 Days.  And for those of you who are ready to crank it up to 11, head on over to our Immersion Travel store for our travel and lifestyle publications.
With over 1,500 copies sold, our flagship 568-page eBook is what started it all. Learn how to travel the world like I do: without a budget, with no plans, funded completely by your website and online ventures.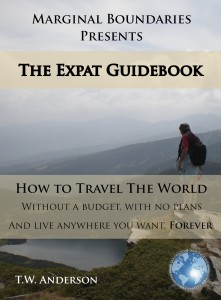 Get Your Copy Today!
Unplug from The System, cure yourself of The Greedy Bastard Syndrome, tap into your universal potential and create your own reality. Build a brand, travel the world and realize your cosmic consciousness.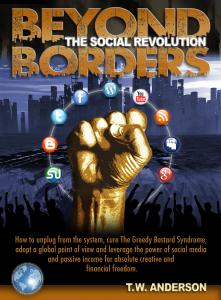 Get Your Copy Today!