Registration is NOW CLOSED. Stay tuned for our next #travelblogbootcamp. 
While our traditional boot camps are three-month-long ventures, Cris and I wanted to offer something different for our readers in 2014: a chance to learn the basics of travel blogging for a living through an intense, week-long boot camp that fuses nightly classes with daytime adventure tours to some of the most epic of the Maya ruins in the heart of the jungles of Chiapas, Mexico.
From August 25th until the 29th, before I went to TBEX 2014 in Cancun, Mexico to speak on advanced Facebook marketing and strategies, we ran our first hybrid boot camp. Amelia from The Everyday Journey came along for a ride to explore the ancient world of the Maya by day, and by night learned everything she needed to take her blog to the next level and go from hobbyist to professional blogger making a living with her brand. And move her entire family down to Cozumel from the U.S.
Content is pulled from Life on the Road – The Business of Travel Blogging, The Expat Guidebook and Beyond Borders – The Social Revolution, our three best-selling publications. Marginal Boundaries is an English/Spanish travel brand with 12,000+ readers and more than 1 million visitors per month. Interviews, testimonials and more information on who we are can be found at our Work With Us page and our Press Kit.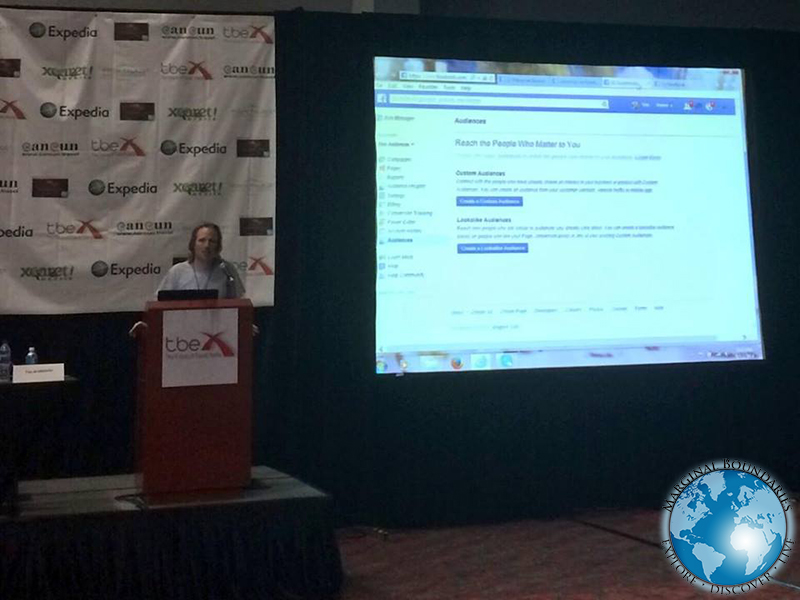 This course is for those who have already been working on their blog for the past year or so, building up their platform, their following, their brand, and are looking to take it to the next level. It is also for those who are completely new to the world of blogging and have only ever read about it, but are interested enough to dedicate the time and effort to making it their reality.
The content is not strictly related to travel blogging, so even if you are someone who is into photography, or blogging about dogs and cats, or about antique train models…it doesn't matter. The bulk of the course material can be applied to any brand or business for enhanced success.
The itinerary is as follows:
Day One- Breakfast meet and greet at 7 a.m, then off to the pueblo of Palenque for a morning walk in centro and to the local market to show you rural Mexico and the culture. Then, on to lunch, an afternoon nap/free time, then dinner around 6. Evening class on Blogging Basics from 7 until 10 p.m.
Day Two – Breakfast, then off to the ruins Palenque. Lunch/afternoon free time, dinner at 6, evening class on Internet Marketing from 7 until 10 p.m.
Day Three – Breakfast and an early morning class session on Brand Building Basics before we are off to the waterfalls and rivers of Agua Azul and Misol Ha from noon until around 6 or 7 p.m. Free time in the evening.
Day Four – Early morning wake-up and a 6 a.m. departure for the Maya ruins of Yaxchilan and Palenque. Breakfast and lunch are done on the road (included in the adventure tour), and we'll be talking about Sponsored Travel throughout the day before making it back to the home base around 7 – 8 p.m.
Day Five – Breakfast and then hanging out for a few hours talking about everyone's plans for their businesses and how everyone can cowork with each other for mutual benefit over the coming weeks and months. We'll also talk about Press Kits and Proposals, and then enjoy a special evening of food, music and a fire show around midnight.
You should plan on arriving in Palenque no later than Sunday, the 11th of January so that you can be well-rested and ready to go first thing in the morning on the 12th. You can stay as long as you like after the event finishes, and as long as we have time (we aren't sure of our post-boot camp schedule just yet) we can hang around with you and explore more of Mexico and show you some of our favorite haunts.
The cost of the 5 day/5 nights (Monday – Friday) retreat is $750 (USD). This includes accommodations + activities + entry to the ruins + local guides + local transportation + classes + permanent access to our Innovator Program as graduates + exposure for your brand to the Marginal Boundaries network of 12,000+ readers and 1+ million views per month as we'll be live-casting the boot camp via our social media network using the hashtag
#travelblogbootcamp.
The cost does not include airfare, meals, transportation to/from Palenque, souvenirs and tips (waiters, maids, local drivers, tour guides, etc.) which should be estimated at 10 to 15 percent of services rendered. Meals will cost between $15 and $30 per day, or you can budget and prepare your own sandwiches/snacks/fruits/etc. for $3-$5 per day. Figure an extra $5 to $8 per day for tips. You must provide your own traveler's insurance + sign a waiver form/contract.
There is an airport in Palenque with flights to/from Mexico City on Thursdays and Sundays via Interjet. Alternatively, you can fly in to Villahermosa and take an ADO bus to Palenque (2.5 hour ride).
We are currently CLOSED for reservations!
The cost of the initial deposit to reserve your space is $250 USD via PayPal; 50% this deposit is refundable until November 30th, 2014. After that it becomes completely non-refundable.
The remaining $500 USD is due in full no later than November 30th to cover hotel reservations and tour bookings. There are no refunds after December 1st, 2014.
Send us an email today to schedule your deposit and reserve your space out of the limited 8 slots still available!