Learn what it
takes to become a professional
travel blogger
Download the Book
One click to download! No information required!
Already read the book?
VIDEOS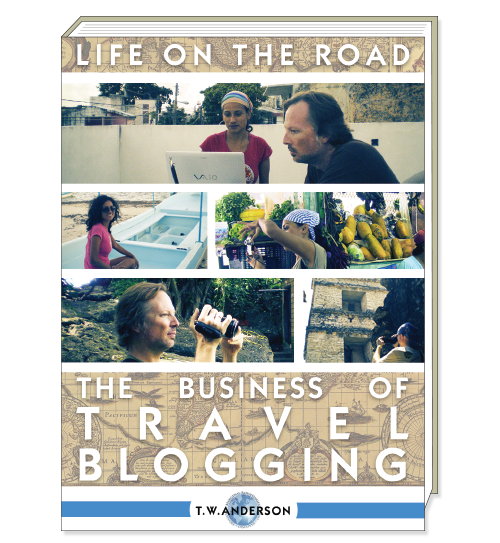 Download the Book
one click to download, no information required!
The average travel blog is all about adventure-filled posts and videos, toes in the sand, mojitos in hand, good times and perfectly-lit photos all around. These are the professional end results of a well-oiled machine, a perfect outlet for the armchair readers of the world who live vicariously through the lives of the bloggers they follow.
Meanwhile, the nuts and bolts of blogging are completely behind the curtain; the sweaty 6 a.m. until 10 p.m. grind, the morning edits, emails, social media routines, article planning, drafting, editing, photo shoots, planning for video shoots, mosquitoes and sweaty jungle-crawling, blisters from riding a pack-mule through the mountains for three days, scheduling, proposals, press tours, press kits, meetings, presentations, negotiations, film shoots, editing film and photos, cutting and splicing, processing and uploading, sharing and networking, public relations and beyond…none of that is ever shown to the average reader.
The 9-to-5 of the professional travel blogger, right there in the open in all of its sweaty, grimy, gritty glory for those of you who are interested in going from hobby blogger to professional blogger in 2014 and learning what it really takes to produce the perfect photos, the videos, the blog posts and land those coveted sponsored travel gigs as well as clients who can keep you traveling while at the same time providing you enough income to make a living while you are at it.
This is not a book for armchair readers. This is a book for the take-charge-and-make-it-happen reader who has been reading and following blogs for years, maybe even running a hobby blog of their own for the past year or so, and is ready to take it to the next level. To become an actual, professional, money-making travel blogger who puts in 15 hours a day to live the life, talk the talk, walk the walk and actually personify the brand.
Between the book content and the video content you'll find all the information you need to take your brand and your blog from zero to several thousand dollars of income per month (minimum) while at the same time earning sponsored travel. But bear in mind that it's not going to happen at the snap-of-your-fingers, and there's no such thing as a 4 hour work week for the professional blogger. Here, it's about the daily commitment, the 1-2 years of building up before you reach critical mass, and then the ongoing maintenance of running a successful for-profit blog.
You'll read about the 9-to-5, about proposals and press kits and pitching, about cultural awareness and the importance of language, about local freelancing and consulting gigs, about visas and long-term residency, about negotiation and the pitfalls that affect all of us after being on the road for a long period of time.
Not only is the book filled with all the nitty-gritty details of working as a travel blogger, but the chapters are also complete with YouTube overviews that go into more details on the content provided within each section. Take a look at the first 12 episodes (commissioned by International Travel Writers) below!
This project started off when International Travel Writers commissioned me to write the first 12 episodes in early 2014, and the base chapters + videos can be viewed at our YouTube channel plus her site absolutely for free.
But there is also tons of new content in the book that you won't find anywhere else (over eight chapter's worth!), content that is specifically unique and designed to enhance the content that was created as part of my work with ITL, as well as private videos that are only available to those who pick up a copy. On top of that, the existing content has been expanded upon and enhanced within the book version to take you from start to finish in your brand domination.
Plus, like all the other Marginal Boundaries products, the book is updated periodically with new content and anyone who has a copy of our books receives the updates 100% free of charge for the lifetime of the product. That means every subsequent update, even if it includes a price change of the product to reflect more comprehensive content, is included 100% free.
If you've ever wanted to actually live a life of travel and run a successful, for-profit blog that pays for your cost of living as well as serves as a platform to earn sponsored travel…this is what you've been looking for. There's no fluff, no smoke screens, no vague references on "how to make money with your blog" in the form of a top 10 post. This is real, down-to-earth, nuts-and-bolts, fingers-in-the-mud, blisters-on-your-toes content on the nitty-gritty details of building and managing a successful blog.
If you are an armchair reader who is only interested in the flashy, high-definition, perfect photos and videos and blog posts that are the end result of 15 hour days, 365 days a year…then feel free to keep reading those blog posts that you live so vicariously through. But if you are someone who is ready to get into the game for real, take the gloves off and get down in the mud with the rest of us…now is your time to shine.