Change requires sacrifice and hard work. Think you don't have time? Think again. Sacrifice your morning reading of the news or Dancing With the Stars or the latest episode of (insert your favorite TV show here) and spend time building your blog and your community. Think you don't have enough cash? Think again. Sacrifice your morning Starbucks, cigarettes, burgers out or your Netflix subscription and instead spend that money on website hosting or advertising for your blog or purchase products and books to help enhance your creative self. 
"He who is good at making excuses is rarely good for anything else ".   Ben Franklin
Simply reading free shit that anyone can find or talk about on The Internet doesn't cut it. If you aren't willing to invest in your business, you can't expect it to grow.
You get what you pay for.
The Innovators Program
The Innovators Program is a subscription-based premium newsletter, forum and community for entrepreneurial-minded people. It is a program exclusively designed for our professional readers who are looking to make a living with their blog and brand, not just have a hobby blog. We talk about how to generate income, social media tactics, how to earn sponsored travel, the hottest blog posts that we've found on a weekly basis (the same material I read to keep our brand at the top of the heap) and beyond, and we delve deep into the advanced aspects of Life on the Road – The Business of Travel Blogging.
Issues come out Tuesday and Saturday every week, and subscribers have access to a special Google+ Community where you can ask questions, get answers, and mingle with the other Innovators in the building…as well as other experts we have on board from time to time.
The perfect example of an Innovator is Jon from Immersion Traveling. He joined our program in January 2014 when it first launched. He sold off all of his belongings, moved from Chicago down to the Virgin Islands, and got to work building his brand. For January, February, March and April he knuckled down, working 10+ hours a day, earning the nickname "The Hermit" from his local friends, building up the base that would eventually turn into his travel blog and brand, www.immersiontraveling.com.
He read all of our books, went through every single Innovator newsletter, showed up to all of the webinars, and sacrificed everything, put everything on the line, to make it happen. Take a look at his website to see how far he's come, and get ready to join him and the eight other members who are currently rocking the program as of April 2014.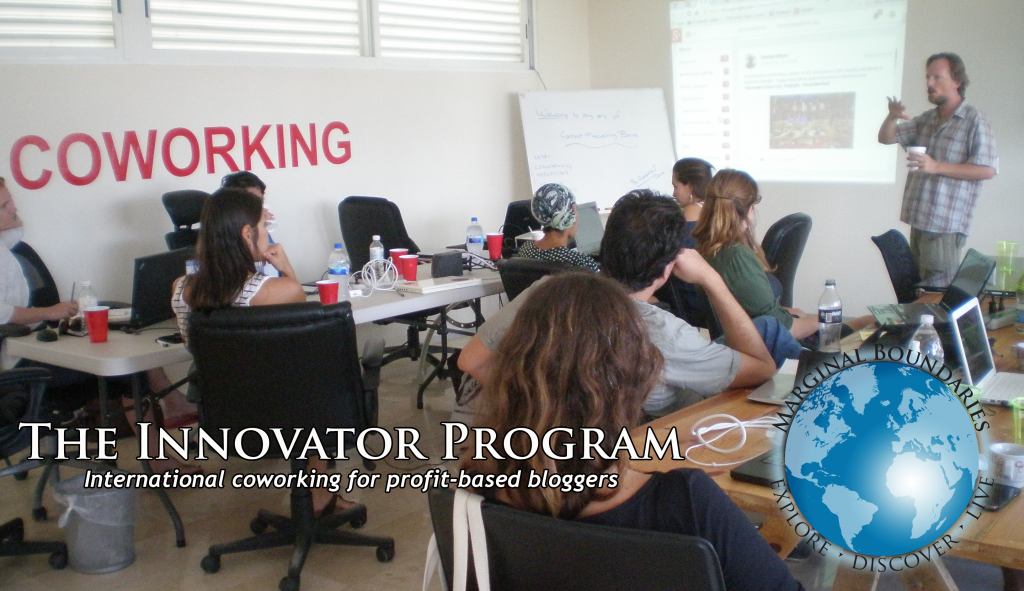 The Innovator Program focuses on high-value entrepreneurial topics and links to brand-building, social media management and money-making content from other movers and shakers in the industry. The same books, blogs, products and services I use to enhance my own business, shared directly with you, the elite few.
We cover focused real estate listings for investors here in Mexico as well as in Colombia, Bulgaria and other countries, plus you have special members-only access to income and spending reports from my own bank accounts. You also get First Look Access for all of our products and services, with premium booking ahead of the general public for our brand boot camps, workshops, new releases and more.
Also included in your subscription fee is a once-a-month live Q&A Google+ Hangout with myself and other guest speakers. These take place on the 2nd Tuesday of the month at 7 p.m. Cancun time and are only available to subscribers.
You also have access to a once-a-week private YouTube video just for subscribers going into the most useful strategies I use for my online enterprises and what's working best for me in the current moment. These videos are published every Tuesday. If you've seen our Life of Travel series that we did for International Travel Writers, it's this type of content…only more exclusive and for your eyes only.
Plus, we have a variety of workshops and joint ventures with other industry leaders and peers that are only available to subscribers.
I also go into SEO and backlinking strategies, niche site tips and special interviews with other travel, lifestyle and brand experts from around the world, the very same peers and betters who have helped me enhance my own life over the past few years.
On top of all that, there is also the special Joint Venture Program. Have a product or service that you are trying to get off the ground but haven't been able to get going just yet? Contact me with the basics and we'll see if we can't use the Marginal Boundaries social media network to joint venture with you on your project and help you spread the word to the masses.
Our stories are read by an English and Spanish reader-base of over 10,000 followers around the world, and we have over 1.000,000 views per month between our various social media channels, such as YouTube, Twitter, Google+, Pinterest, Instagram, StumbleUpon and Facebook. We have a 67+ Klout ranking and you can check out our Midgame profile here, as well as our Twitter profile via Tweetreach; we average over 100k impressions per day on Twitter (see Report 1 and Report 2).
You can also view our full social media profile in our press kit, or my interviews with Tim Leffel over at Travel Writing 2.0, or over at The Midgame when I was named their Influencer of the Week, or most recently with The Trip Tribe in their Travel Blog Spotlight series, or our testimonials over at the consultations page, where you can find such gems as Lisa from www.playadelcarmen.com talking about how we more doubled her social media traffic after a single course + consultation with us.
We work with a number of companies within the travel industry as part of sponsored press trips, social media management and social media advertising campaigns. Our reach extends beyond merely the international pool, and we also work on the ground offering local solutions in social media, advertising, Internet marketing, blogging and beyond, such as what we have done in partnership with the Coworking Playa del Carmen group and within the startup community throughout the Riviera Maya, where we have been based since late 2010.
Meanwhile, our best-selling flagship publications, The Expat Guidebook and Beyond Borders – The Social Revolution, along with our Live Like a Local  immersion travel guides, have been read by thousands, and we regularly consult with other individuals and brands on how to bring their companies to the forefront of their industry. We regularly speak on social media, blogging, brand management and travel at events such as Last Tuesday in Playa del Carmen, where I was the keynote speaker on the topic of social media for businesses.
We have also helped launch over half a dozen brands through our brand boot camps since their inception in early 2013, and are currently working with others throughout 2014 while based out of Playa del Carmen.
Our subscription is done through PayPal
Pay $30 USD monthly (a dollar a day)
OR
Receive $60 off when you pay annually for a flat rate of $300 USD.
Plus, annual subscribers receive all six publications from our immersion travel store,

absolutely free

as part of their annual fee, AND any publications that come out during your subscription, absolutely free.
And that's not all!

annual subscribers receive a 10% discount on all  services, workshops, events and more!