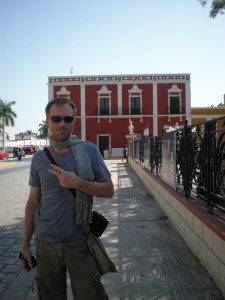 My name is Tim Anderson. I'm a public speaker on blogging, social media, SEO, and Internet marketing, and have appeared at 15 events between 2013 and this writing, including keynoting at the Last Tuesday event in Playa del Carmen in January 0f 2014, TBEX North America 2014 in Cancun, Mexico, and TBEX Europe 2015 in Lloret de Mar, Spain.
We also spent March, April, and part of May of 2015 as #ResidentBloggers #InCostaBrava, working with the Girona and Pyrenees tourism board, as well as working with Flipkey and Eurail during our time on the ground for the later part of May.
I've published 7,000,000+ words of content via Complete Writing Solutions, and another 3+ million words of content here at Marginal Boundaries, which includes our publications The Expat Guidebook, Beyond Borders – The Social Revolution, and Life on the Road – The Business of Travel Blogging, plus the Live Like a Local immersion travel guides sold here at our store.
Cristina and I founded the Marginal Boundaries travel blog boot camps, which ran throughout 2013 and 2014. I also taught six students/interns from January to June of 2015.
I'm the executive producer of the Saga of Lucimia MMORPG, currently in development with a 14-man team with a release date of mid-2017. Currently, we are averaging half a million hits per day via social media as of June 2015.
I've been traveling since 1999 and traveling full-time as a location independent digital nomad since 2008. I've lived in Bulgaria, Colombia, Mexico and the United States. I work as a brand consultant, advertiser, publicist, freelance writer, and social media manager, strategist and marketer, in both English and Spanish.
Our travel brand has over 15,000 followers around the world and between 1.5 million and 3 million monthly views of our content. 
You have questions. I have answers. I've been traveling since 1999 and living abroad since January of 2008. I've owned and operated businesses in four countries, opened bank accounts in three countries and established residency in three countries. I am an international citizen with global experience as a full-time traveler, blogger and social media expert.
Brand Consultations
My policy is simple: I will take as long as it takes to ensure that 100% of your questions are answered. If that means a three-hour Skype conversation or a six hour lunch, so be it. If it means sitting down and taking five hours out of my day to walk you through the basics of filling out your visa paperwork for Bulgaria and how to navigate the minefield of DAS in Colombia, I'm here to help. If you need someone to help you strategize the best ways to dominate your niche with your brand, I'll be right there beside you.
My goal is to help you establish a customized, actionable plan for conquering the global market with your blog and brand. We'll talk shop, we'll cover business strategies, we'll talk politics, SEO, marketing, real estate and global banking…we'll cover anything we need to cover to ensure that by the time we are done you have all the information you need to get your new career and life of travel started.
Business Consultations
I also consult tour and travel agencies, hotels and restaurants, and anyone with a business related to the travel industry on the how and why governments and businesses around the world are turning to travel bloggers for publicity and press campaigns. Bloggers such as myself have highly engaged audiences (see our Press Kit for more information on our own levels) who trust our recommendations above a random ad in a magazine, newspaper or banner on a website.
Bloggers are much cheaper than a full-page ad, and far more effective. While you might pay 50,000 dollars for a full-page spread in a magazine and never see any results other than random page flicking, 50,000 is enough funding for a full year's worth of blog advertising with coverage from dozens of different bloggers that will guarantee you millions of website views, guests, sales and bookings. If you aren't taking advantage of bloggers to help enhance your business in 2014, you need to get on the bandwagon today.
Costs
There are no time limits on my consultations. If we need three hours, three days, or a week to cover your unique needs, then that's what we'll take.
That being said, I take a value-based approach to my consultations. What does that mean? It means that the cost of my consultations vary according to the value which I am giving your unique business. A simple hour-long "here's how to get your social media campaign started" consultation is very much different than a three-day, in-depth brand analysis which also includes a six-month social media strategy, a 5,000 word post-consultation email with dozens of links to help you on your way, all while being undertaken through an in-house visit.
How much is your business worth to you? What are your income goals? How much involvement from me do you need? If all I'm doing is giving you some quick tips on how to increase your social media traffic, the cost might be as low as €500.
A detailed brand-building consultation where I am spending three days or more giving you a detailed road map that will increase your income by 25,000 dollars per year is a much different story, and will have an appropriate price tag attached based on the value of the information I am giving. In this case I am much more than just a consultant, but rather a co-founder who is guiding your brand to success, and co-founders generally see a 25 to 50 percent share of the income.
To set up a consultation, send me an email with your contact information and basic needs and we'll schedule a Google+ Hangout or Skype video call to discuss things in greater detail. The first one is free of charge just so we can touch base and I can get the basic gist of what you need, and from there I'll develop a detailed consultation and payment plan based on what you need.
Testimonials
Manfred – Renegade Travels
I recently had a consultation with Tim about my travel blog and was very impressed by not only his knowledge o social media, but also all the insights he gave me about my blog. If there is something that's not up to scratch with your website, Tim won't beat about the bush but will just tell it like he sees it.
For me this was a good thing, as sometimes you just need someone to just come out and tell you what's wrong. But he also comes up with innovative ideas to fix existing problems, build a firmer foundation and move your business forward. I've had other consultations, but never has anyone followed up with an 11-page report detailed everything we talked about. If you're looking for a consultant to take your business forward I'd highly recommend talking to Tim.
http://www.renegadetravels.com
Lisa Wright – Playa del Carmen.com
I recently participate in a social media course led by Tim. He was interesting, engaging and seeing someone so knowledgeable and passionate about what they do is extremely motivating. Not only was the course enjoyable, I walked away with new ideas as well as skills that I put into practice every day. Our Klout score has greatly improved and our social media reach has more than doubled. If you are lucky enough to have the opportunity to take a class with Tim, DO IT.
www.playadelcarmen.com and www.ineedavacation.in
Beatriz Lucas – Arboris Graphics
I completed Tim's 'Online Content Marketing Basics' workshop in December 2013 to improve my skills in this area. The course was catered for attendees with no social media experience to those with reasonable experience in this area. Tim's practical and down to earth manner was refreshing and the course was particularly constructive and informative. Tim constantly illustrated how key elements could be incorporated into the various participants' businesses and assisted us in understanding how to better use social media and online marketing to our company's benefit.
Tim proved to be a very accessible, dynamic and jovial teacher who made things very clear to understand. He used many local and global examples to make his points, and highlighted the difference between companies who efficiently implement content marketing with companies who don't addressed this at all.I've since discussed his suggestions with friends and implemented them into my own marketing strategy.
I would highly recommend this course not just to marketers but also to key business stakeholders. Tim's approach to content marketing as discussed in his workshop is the way of the future, yet so few companies understand the online business potential. It's the companies who start viewing their website and social media now in the way discussed in this workshop that will make big gains, and in 5 years' time the others will be the ones left behind. A very eye opening and helpful workshop.
Bryan L.
I initially contacted T.W. Anderson after learning of him through a mutual acquaintance.  In my initial email, I asked him several complex questions regarding the challenges of living day-to-day in another country during a time of economic, political and social turmoil throughout the world and how these factors might affect one's decision of whether to move abroad.
His response to my inquiry was a tremendous amount of information via an email that I could immediately act upon along with an invitation for a consultation to explore further some of the topics he introduced.  During the course of the consultation that followed, not only were my initial questions addressed and answered in an in-depth fashion, but they logically progressed down many other avenues of opportunities I hadn't even considered.  This, in turn, has lead to many more ideas of pursuing a life abroad and how to provide a living for myself and my family and being able to do so comfortably, quickly and realistically.  
Equally as impressive as T.W.'s local knowledge is his enthusiasm and passion for Living Like a Local, the spirit of travel and experiencing other cultures.  It's quite contagious!  Being informed about what one might be getting himself/herself into when contemplating such a life-affecting choice, instead of being blissfully naïve, reduces the fear and allows for a more pragmatic approach when weighing the pros and cons of such a move.
Finally, I can't say enough about Anderson's thoroughness and follow-through with what he said he would do.  I place a high value on someone's word and not only was it met, it was, in my opinion, above and beyond what I would consider "good customer service" and speaks volumes about his integrity.  If you are considering a consultation with him, I would, without reservation, highly recommend his services.
Hans Desjarlais, Cheap Cancun Rentals
My consultations with T.W. Anderson have allowed me to take my business here in Cancun above and beyond expectations. In addition to providing us with actionable advice on how to use various marketing methods to establish a better system of business on a global level, his knowledge on navigating the local environment has been invaluable, and his targeted advice for us on how to "live like a local", as he calls it, has led to multiple additional savings above and beyond those laid out in our initial consultations.
He has also gone above and beyond by also providing us with a series of articles detailing the expat lifestyle here in Cancun, using the very same information that is provided in The Expat Guidebook on how to establish various revenue streams and how to live on what most Americans think is an impossibly small amount of money…and yet we have a lifestyle that is comparable to anything back in the U.S. or Canada while only costing us a fraction of what most Americans and Canadians are paying.
His knowledge of living as a professional expat and global citizen has led to even more ways for us to think about how to expand the business, and we are looking forward to the future as we continue to incorporate his knowledge on global topics to expand our business.