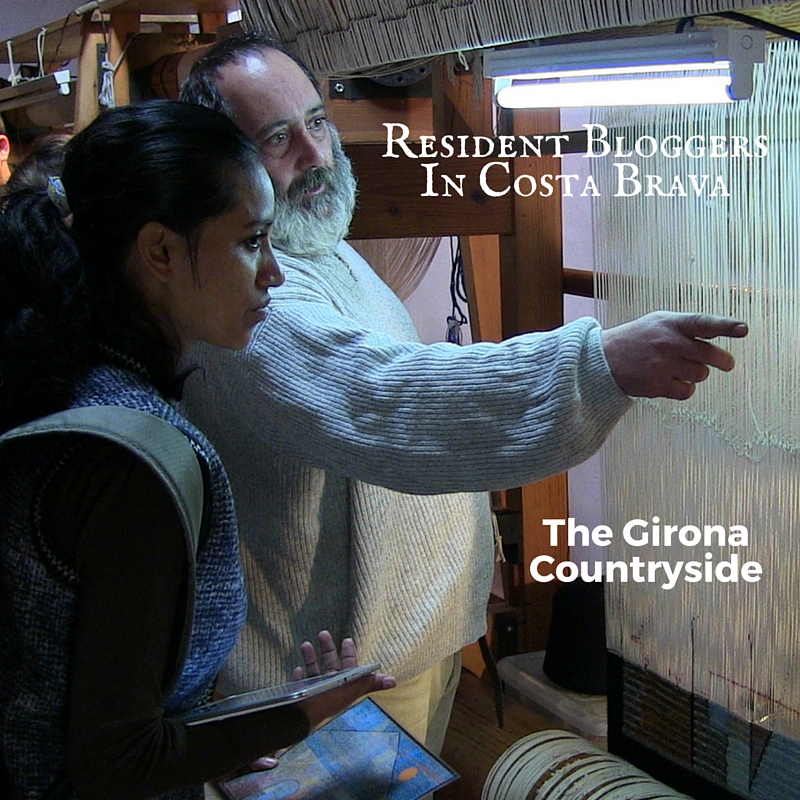 When last we wrote about our time in Costa Brava, we had left you with some teasers of the adventures we explored in countryside surrounding Girona. In this blog post, the first of 2016 dedicated to our time as #ResidentBloggers #InCostaBrava, we're delving deeper. 
Before we dive in, we want to give a shout out to two people in particular who were a major part of this trip. While the Costa Brava team were the force behind us being in Catalunya for three months, trusting us enough to invite us to be resident bloggers for several months, Lucinda from Creative Tourism Girona was the mastermind behind the locations we visited during this section of our trip. And we'd be remiss if we didn't also give a shout out to our friend and host Joan from Stay In Girona, who not only hosted us for several weeks, but also drove us around and shared in the adventures during our time in Girona.
Now on to the fun!
First up is Argentinean Carlos Maronna, a sculpter, painter, and overall artist. He lives on the grounds of an 11th century castle that has been passed down through the generations within the Cartellà family, and it is from here that he maintains his workshop as well as leads classes and teaches others his craft.
Not only does he work with a variety of different materials, but he also keeps a close eye on the orchards surrounding the castle and his workshop, not to mention the castle itself. Which, if you were to delve into the depths of history, is worthy of an entire article and series in and of itself (we may do one later in the year!), and we were blessed enough to be allowed to tour the grounds and explore the castle in its current state of rennovations as it is slowly repaired every few months by the family.
After we finished up with our visit to Sr. Maronna's workshop, it was time to head down the road to the next spot on the map: the Fuente de la Torre de Canet d'Adri in the heart of the Vall del Llèmena just outside of Girona. It is a volcanic spring and old mill set atop the hillside above, with an old waterwheel, diving area, creeks, and plenty of shade.
While technically no one is supposed to go diving into the heart of the pool, due to the fact that no one really knows how deep it goes, and you are miles from any sort of hospital should something go array, everyone still does swimming here regardless. It wasn't hot enough when we were there (in early April of 2015) to be tempted, but the views were absolutely phenomenal.
There's also a series of hiking trails in the natural park surrounding, if you want to explore on foot.
Finishing up the day was a ride deeper into the heart of the cork forests of the Vall del Llèmena, where eventually we made our way to Pessebre "Can Roseta", the home of local artist Remia Mulleras. Talk about ending the day with a bang! When we first approached, it was late afternoon and the last rays of the sun were filtering through the forest above, casting an eerie glow across this massive garden of sculptures.
We were technically thirty minutes late for the closing of the garden, but Remia was nice enough to give us access to it anyway, and then wait around to answer questions and do an interview in Spanish with Cristina. We found out that she has been working on the sculptures for more than 15 years (as of this writing), and is now passing the art down to her granddaughter, who has been working on some of her own pieces.
The overall material is cork bark from the surrounding forests, but you'll also find bricks, stones, and local materials. The subject matter? The monuments, cathedrals, castles, and important structures throughout Catalunya, as well as local folk lore and traditions. Follow Remia on Twitter.
The following day, we were invited to yet another castle, this one of the 16th century just to the side of a quarry within Girona itself, where local master textile craftsman Josep Serret, otherwise known as Babeus, makes his home. The first couple of hours were spent wandering the castle grounds and inspecting the massive array of medieval textile machinery that Josep has collected over the years, as well as getting a look into the heart of his workshop where he does his textile classes and creates his own items for sale.
Once we finished with the interviews and exploration, it was time to explore the most important of traditions in Catalunya: food and drink. Especially ratafia. The homegrown variety. And so we spent the next several hours going deep into the cups with wine, whiskey, and homemade ratafia, as well as plenty of fresh bread, sasauges, and vegetables right out of Josep's garden. The garlic in particular was divine.
Anyone interested in classes while they are in Girona, should absolutely look him up. He teaches students a range of different techniques and has an entire castle of machinery, including some of which date back to medieval times! And of course, plenty of hand-crafted goods for those interested in purchasing from local craftsmen. For more information, check out his website here.
That's it for this installment. Don't forget to follow along at your chosen social media platform, and if you are heading to the Girona area, remember to book a room at one of the boutique rooms that Stayingirona has available, and talk with Lucinda from Creative Tourism Girona if you want to explore the culture and art of the region off the beaten path!