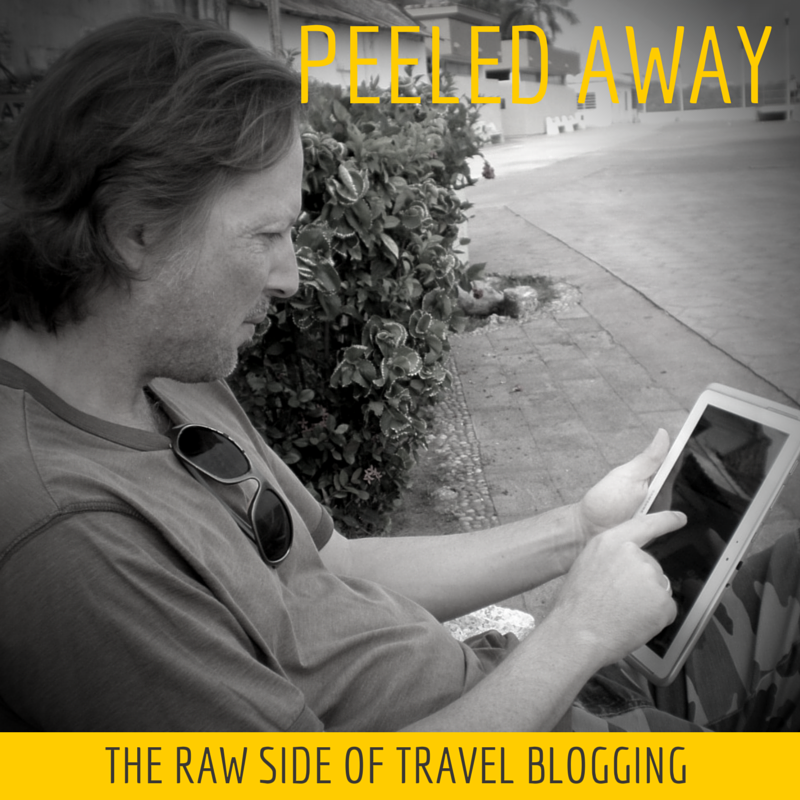 The end result that you, the reader, see upon publication is a polished, honed, crafted and planned piece of content. From the videos to the photos to the subject matter of the blog post in question, nothing is written by chance or upon whim. This is the reality of a professional travel blog; nothing is done without planning in advance. Want to know more? Let's take a closer look behind the scenes.
It's 5:30 in the morning. The French press is loaded and the water is heating up on the burner. I flip my laptop open, hit the spacebar and wait for her to to awaken from sleep mode; meanwhile I'm doing the same thing with a few stretches and yawns.
First things first: check emails and see if there's anything I need to reply to right away. I start at the stopping point from the day previous; most days I'm left with an excess of mails that I won't get to for another few days. As a general rule, I'm three to five days out from having an empty mailbox. That being said, I always give everything a quick scan and look for mails from known contacts or replies to pitches/proposals.
From there it's a matter of checking/flagging spam, opening and flagging for replies later in the morning, and writing drafted replies to the most relevant/important mails. As soon as the water is hot, I fill the press and get back to checking mails. From there, I repeat the process until my coffee is ready, then pour myself a steaming cup of Joe and get ready for the "crunch" mode of the day.
It's usually around 6 a.m. by this point. From here until 8 a.m. I edit down the drafted emails, reply, check my social media accounts for relevant queries and make comments accordingly. I've usually finished my coffee by seven, and am buzzing along in full-on mode by 8.
Break for a light workout and breakfast. Then it's back to the laptop to edit down the blog post from yesterday and get it ready to be published. The next two hours are spent matching photos to Tweets, YouTube videos, social media blasts, featured sections on the blog post, and then getting said blog post blasted out to my networks as well as to the newsletter.
By 10 a.m. my morning routine is done and it's time for the primary workout, a shower, and then out the door to film video content and shoot any relevant photo content. Planning for shoots and episodes is done weeks in advance; while we will film and photograph random elements during our time out and about, the goal here is to complete a production schedule.
On days when we are out and about, we could be gone from 11 a.m. until 4 p.m., but as a general rule we try to be back in by 2 p.m. Lunch almost always accompanies a photo/film shoot and is included in the video and the photos saved for later use. Once back in the office, I go into video production mode.
This takes an hour or two and consists of cutting, editing, splicing and otherwise preparing the video (or videos) for upload. The processing can take anywhere from 15 minutes to a couple of hours depending on the length of the video I'm putting together, so this is usually when I catch a nap.
At any rate, even if the video is a short one, I still take a break/nap in the afternoon to recharge my batteries. I'm a firm believer in the burst method of working + taking a daily nap and plenty of breaks in between sessions to keep myself going at full-bore.
From six until around ten in the evening I work on drafting blog posts, preparing featured images for blog posts, branded images for social media, YouTube cover images, Twitter images and work on drafting pitches and proposals and sending them out. Once these are done, I go into any work I have for clients, as well as research for places to pitch to for sponsored travel, articles, social media contracts and beyond.
I also do my "next destination" research in the evening hours, as well as planning for photo and video shoots. Plus there's SEO and keyword research, as well as checking into what my fellow bloggers are doing to see if I need to be making any changes. I try to wrap all of this up by around nine or ten at the latest, then it's off to bed to repeat the process on the following day.
At no point in my life does a four-hour work week exist.
Running a successful travel blog = a full-time business, and one that doesn't sleep. My income is mostly active; while I do have book sales here at the site that can be considered passive, the bulk of what I do is hands-on and is the result of pitching/proposing and heavy research/development to produce content that I know my readers want, as well as to continue building the SEO power of the blog in the areas where I want to grow.
In between all of this is ongoing research and development, which takes place during any spare moment that I have: watching Google videos, researching upcoming changes to Instagram, Facebook or other social media networks; analyzing data and researching potential markets; talking with Cristina about upcoming plans; doing interviews and working on side projects, such as my upcoming three-month-long case study on Facebook for travel bloggers.
Then there's presentations, conventions, and my own "me" time.
And that's just the production of Marginal Boundaries. I also manage the Saga of Lucimia MMORPG development team, plus I've been working on a Spanish-language brand + web comic since January of 2014; it had 55,000 followers when I first started, and as of this writing we are over 138,000 on Facebook. All unpaid, organic followers.
I'm also in the middle of preparing my podcast for release in January of 2015 and lining up guest speakers plus managing the Google+ Business of Travel Blogging group, not to mention putting together the starter classes for our group of interns starting January 1st of 2015 and planning out their individual sessions for the January – June sessions, as well as mapping out their weekly tasks and the "battle plan" for the overall publicity push.
This is the raw side of travel blogging. The nuts and bolts, the blood, sweat and tears. Success is the result of hard work and perseverance, not luck.
Don't forget to sign up for our free newsletter, where I share insider tips on social media and travel tips from my presentations and personal business strategies, as well as follow our YouTube channel and join our Google+ Business of Travel Blogging Group. Or, if you are ready to take your business to the next level, pick up one of our immersion travel publications from the store…either an individual book or a packaged set, and join the ranks of the thousands of others who have gone before.