Hey everyone! Tim Anderson here from Marginal Boundaries. If you don't know who I am already, I'm a full-time travel blogger, keynote speaker and presenter who has spoken at such events as the Last Tuesday social media and marketing convention in Playa del Carmen, Mexico, and TBEX, the world's largest travel blog convention, in September of 2014 in Cancun, Mexico. You can read more about my wife and I and what we do at our Work With Us page as well as via our Press Kit.
When I started this career in January of 2008, I personally had no idea that the profits could be this good doing something that is so easy and doesn't require a degree or 15+ years of experience. But here's the thing: it's not only real, it's absolutely doable and you can start doing it right now, with no previous experience, no background necessary, no degree and no hassles.
50 dollars an hour, minimum, writing about everyday topics like grooming dogs, changing oil in a car, painting a house, cooking food, sewing clothing, building furniture. Things which you already either know how to do or can easily research on the Internet using your preferred search engine. No journalist research, no interviews, no time wasted cold-calling and querying.
Don't believe me? Here's some screenshots of my actual paystubs from my time content writing. The Pure Content check was for over $7,500 for 1,500 hotel overview pieces; it was about 6 weeks of work and I cleared $53 per hour by the time I was done. Consequently, that one project paid for my entire cost of living for the 2011 calendar year while living in Cancun, Mexico. The rest of 2011? Pure, 100% profit.


This eBook takes you deep into the heart of writing for content mills and other digital media publications and clients and how to make a minimum of 50 dollars per hour while doing so, which is almost double upper management wages for some places in the United States, according to sites such as CareerBliss which show that branch managers for Bank of America make an average of 57k a year, or $27.4 per hour when broken down into 52 working weeks at 40 hours per week.
And you can do this without ever having written a word in your life, without ever earning a college degree, using only the knowledge in your head and your ability to research topics on the Internet and write about them. Without ever querying, cold-calling, waiting or dealing with a kill fee after months of hard work on a particular piece.
That's right: branch managers for Bank of America only make $27.4 per hour, which is about half of what you can make writing for content mills, as a minimum. Here's some more screenhots of paystubs as proof! Specifically, check out the Jan 3rd – 10th paycheck from Demand Studios, where I worked  20 hours on a project for Dremel.com to make $105 per hour.


Instant Download. Get Started Today!
And if that's not enough to prove it to you, check out my Content Writing Experiment from back in 2010 where I did an entire month's worth of testing to break $50 per hour, and posted the results on a weekly basis on the Complete Writing Solutions blog.
Plus there's Camtasia footage of the methods in practice at the Complete Writing Solutions YouTube channel (which features videos of me breaking $75 per hour writing for Demand Studios, although the audio quality was bad; I didn't know squat about doing YouTube back then!)
And it's not just me. You can read about other people who have achieved the same type of success with content mills, such as this article written by Dan Fletcher over at the New York Times where he talks about making $60 per hour writing for Demand Studios, one of several content mills out there, or the eBook Demand Studio Secrets written by Kent Ninomiya,  which takes people behind the scenes with one of the largest content mills on the market.
If you've read The Expat Guidebook, you know my bio. I'm a mid-western redneck who worked in construction for 15 years with the family business as a ceramic tile and natural stone contractor and installer before the economy tanked and the global crisis forced me to find a new career path back in 2007. I never finished high school. I never went to college. And yet here I am, living in various countries around the world, making a living with my online income. If I can do this, without any college education, without finishing high school, anyone can do this.
I wrote this guide primarily because I was tired of seeing so many writers around me suffer from a barrage of negativity regarding content mills and content-oriented digital media publications. I have used them to my advantage over the course of my writing career, and as I grew to understand the opportunities they provide for writers, I wanted to share that information with others. This guide is a way of me giving back to all of my peers.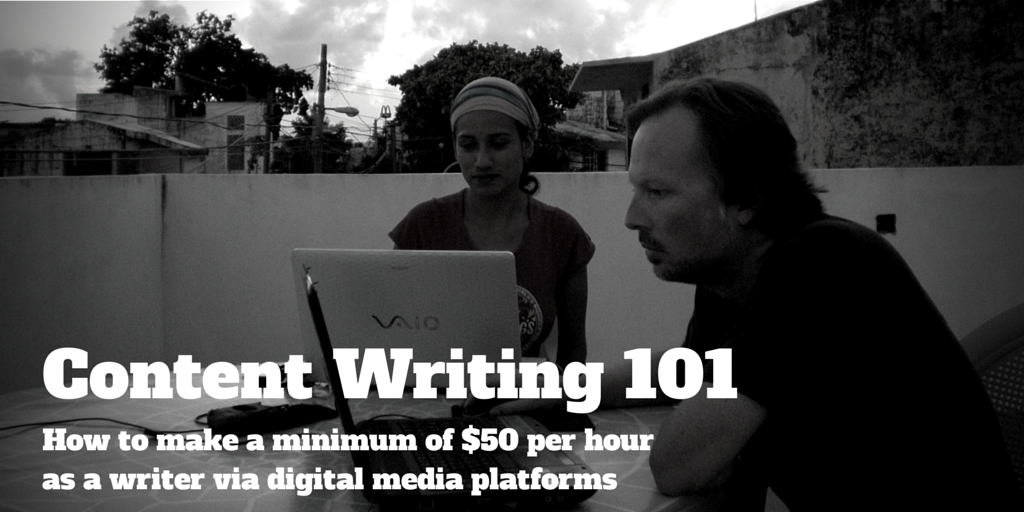 Along the way I've met many people who have found themselves needing a new job in light of the on-going crisis. For these people, digital media has opened up an entirely new set of doors that were previously closed, and the best part about writing for the web opposed to to print publications is that you don't need a degree or 15+ years of experience to start making money.
Bear in mind, however, that this eBook is a guide, and the purpose of this guide is to do just that – guide you. It is not a get-rich-quick scheme,  and it probably won't turn you into a millionaire. It will, however, help you utilize the ideas and knowledge in your head and combine that with the methods described in this book to create new opportunities and reliably make a  minimum of $50 an hour whenever you sit down to write, regardless of your level of experience.
My name is Tim Anderson, and I'm a writer of the modern generation, working completely in digital media and ignoring the traditional route to success. I never finished high school, I never went to college, and before transitioning into my current career I was a third generation ceramic tile contractor and installer for 15 years in the family business.
"Your time is limited, so don't waste it living someone else's life. Don't be trapped by dogma – which is living with the results of other people's thinking. Don't let the noise of other's opinions drown out your own inner voice. And most important, have the courage to follow your heart and intuition. They somehow already know what you truly want to become. Everything else is secondary." Steve Jobs