El Mundo Interconectado | The Interconnected World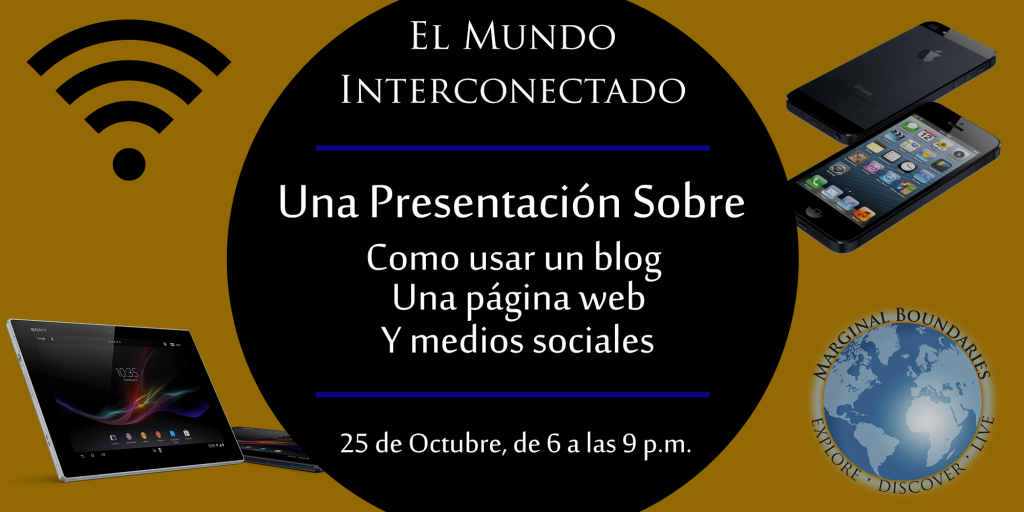 La 
presentación
esta en Inglés y Español
Tim Anderson de aquí de Marginal Boundaries. Tengo un blog de viajes con más de 500,000 vistas mensuales y más de 6,000 seguidores de todo el mundo. He estado viajando de tiempo completo desde Enero de 2008 y he vivido en los Estados Unidos, Bulgaria, Colombia, y he estado viviendo aquí en Cancún desde septiembre de 2010, escribiendo sobre la cultura y forma de vida aquí en la Riviera Maya.
Mi esposa, Cristina Barrios, es una mexicana. Antes ella tenía un trabajo de salario mínimo, al igual que muchos otros mexicanos, era sólo 6,000 pesos al mes y trabajaba 70 a 80 horas a la semana. Ahora, ella es dueña de su propia empresa de diseño gráfico, así también traduce, escribe y ayuda a manejar los medios sociales en español para Marginal Boundaries y sólo trabaja 3 a 4 horas al día en comparación de antes ella estaba trabajando de 9 a 10 horas diario, ganando mas o menos 300 pesos de hora.
Ademas, mi asistente personal, Devlin Madden – Perdue, es un artista gráfico y diseñador de páginas web, y el gana $40 dólares la hora, como mínimo (mas o menos 500 pesos de hora).
Nuestra clasificación Klout es 64 +. Contamos con más de 4,200 seguidores en Twitter. Contamos con más de 1,400 seguidores en Facebook entre la página de la marca y las páginas personales de Tim y Cristina. Por arriba de 1,200 en Google+ entre la página de la marca y nuestras páginas personales independientes para Tim y Cristina, 170 seguidores + en StumbleUpon, 140 + seguidores y 10,000 + vistas en nuestra página de YouTube. Y más de 500,000 vistas al mes en nuestros medios de comunicación social.
El 25 de Octubre de 6 a las 9

en la noche

hemos organizado un presentación gratuito de blogs y medios sociales aquí en Cancún. Durante tres horas vamos a estar cubriendo los temas de los blogs, la creación de marca, la gestión de los medios de comunicación social y cómo hacer dinero en línea usando nada más que el Internet, un blog y medios sociales como Facebook, Google+, Pinterest, YouTube, Twitter y mucho más.
La presentación esta completamente gratis en el Centro de Las Artes del Municipio de Benito Juárez
Para obtener más información, llame al 998-734-2477 o 998-148-8903
Tim Anderson here from Marginal Boundaries. I run a travel blog with over 500,000 monthly views and over 6,000 followers from around the world. I've have been traveling full-time since January of 2008 and have lived in the United States, Bulgaria, Colombia and have been here in Cancun since September of 2010, blogging about the culture and way of life here in The Riviera Maya.
My partner, Cristina Barrios, is a Mexican. Up until a year ago she was working a minimum wage job, just like many other Mexicans, making only 6,000 pesos a month while working 70-80 hours a week. Now, she runs her own graphic design company, as well as translates, writes and helps run the Spanish social media for Marginal Boundaries…and she only works 3-4 hours a day making 3 to 4 times what she made working for companies here in Mexico.
Meanwhile, my personal assistant, Devlin Madden-Perdue, is a graphic artist and web designer who makes $40 USD an hour, minimum.
Our Klout ranking is 64+. We have over 4,200 followers on Twitter. We have over 1,400 followers on Facebook between the brand page and the personal pages of Tim and Cristina. Over 1,200 at Google+ between the brand page and our separate personal pages for Tim and Cristina. 170+ followers at StumbleUpon. 140+ followers and 10,000+ views at our YouTube page. And over 500,000 views per month on our social media outlets (last week our Facebook messages and posts alone received over 210,000 total views; this is on top of our Google+, Twitter, Pinterest, StumbleUpon and website traffic for the week).

On October 25th from 6 until 9 p.m.

we are hosting a free blogging and social media seminar here in Cancun. For three hours we'll be covering the topics of blogging, brand building, social media management and how to make money online using nothing more than the Internet, a blog and social media outlets like Facebook, Google+, Pinterest, YouTube, Twitter and beyond.
The presentation is completely free and takes place at the Centro de Las Artes del Municipio de Benito Juárez.
For more information call 998-734-2477 or 998-148-8903