You can consider this section a follow-up of the last, where I talked about street food and foreign bacteria. Chances are that at some point, regardless of how iron-clad your stomach is, you will meet your match in a foreign country somewhere. And while some stomach aches are nothing more than your stomach adjusting to a new bacteria or type of food, true food poisoning happens to us all at one time or another. Dealing with it in another country can be quite the experience for the uninitiated.
The first thing to remember is that food poisoning is rarely fatal, but if you are in a panic over things remember that all major cities in developed and developing countries around the world have comparable healthcare systems and levels of service. Which means if you absolutely have to worry about it there is medical care no matter where you travel. With that being said, it's still better to not get it at all. However, when and if you do there are a few things to keep in mind.
First of all, you need to stay hydrated with plenty of water. Pay attention to where you are living because some cities have water that isn't potable, which means you will need to have plenty of bottled water on hand. The water in Bogota, for example, is drinkable, as-is that of Sofia, but the water in Cancun is very strictly non-potable water due to its high mineral content. While not necessarily harmful, it does cause problems with some people's stomachs and over time can cake your teeth with calcium and other mineral buildup, so it's better to stick to bottled water to be on the safe side. This is doubly true if you are suffering from some form of food poisoning.
Locate the root cause and find out if it's just you suffering an allergic reaction or actual food poisoning that is affecting more than just you. If no one else in your party is having a reaction to the same salad and shrimp cocktails you had a couple hours earlier, chances are you don't have food poisoning but instead are simply having an allergic reaction to a particular type of food or bacteria. There's no reason to go into a panic over something that doesn't exist.
Understand that if it is food poisoning and more people aside from you are sick you need to stock up on electrolytes and liquids and prepare to wait it out, because that's the only thing you can do with food poisoning. You can't cure it and you can't really make it feel any better. You just have to wait for your body to do what it does naturally and flush the toxins out of your system. And the best way to do that is by consuming as much liquid as you can to help flush the various filters in your body and get you feeling back to normal again, as well as taking plenty of vitamins and minerals to replaced those flushed out during your body's purging.
Don't be afraid to ask the local healers and apothecaries if they know of anything local that might help with flushing your system. Various teas and herbs can be used in numerous ways by people such as the Mayans to cure a variety of ailments and help speed along the healing process. I myself use MMS (miracle mineral solution or as Jim Humble calls it, the master mineral solution) as a means of dealing with bacteria when I'm adjusting to a new area, and as a means of warding off food poisoning, although it's not the only thing I use. I also eat a fairly healthy diet (I follow the Mediterranean Diet and have since January of 2008) and have plenty of natural cures on hand for when and if I do stumbled across something.
Apart from doing what you can to ensure you are eating quality food you are really at the mercy of fate if you get food poisoning. While there are some precautions you can take, not everyone is affected the same way. And as I stated elsewhere, I've had food poisoning three times in my life, and all three times it was in the United States, yet I've been eating street food for a dozen years in countries around the world. And believe me, I've eaten in less than prime conditions on occasion (a necessity when you are out in the middle of the jungle or countryside for a prolonged period of time where it's your only option) and been none the worse for it. While not necessarily proof, I use myself as an example that you can't live in fear of the food you eat no matter where in the world you choose to make your home. Our bodies are extremely adaptive and regenerative when cared for properly and can fend off most harmful bacterias without you even being aware of what's going on.
With over 1,500 copies sold, our flagship 568-page eBook is what started it all. Learn how to travel the world like I do: without a budget, with no plans, funded completely by your website and online ventures.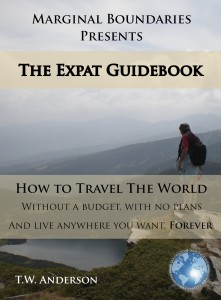 Get Your Copy Today!
Unplug from The System, cure yourself of The Greedy Bastard Syndrome, tap into your universal potential and create your own reality. Build a brand, travel the world and realize your cosmic consciousness.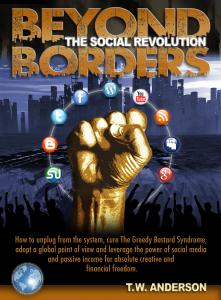 Get Your Copy Today!