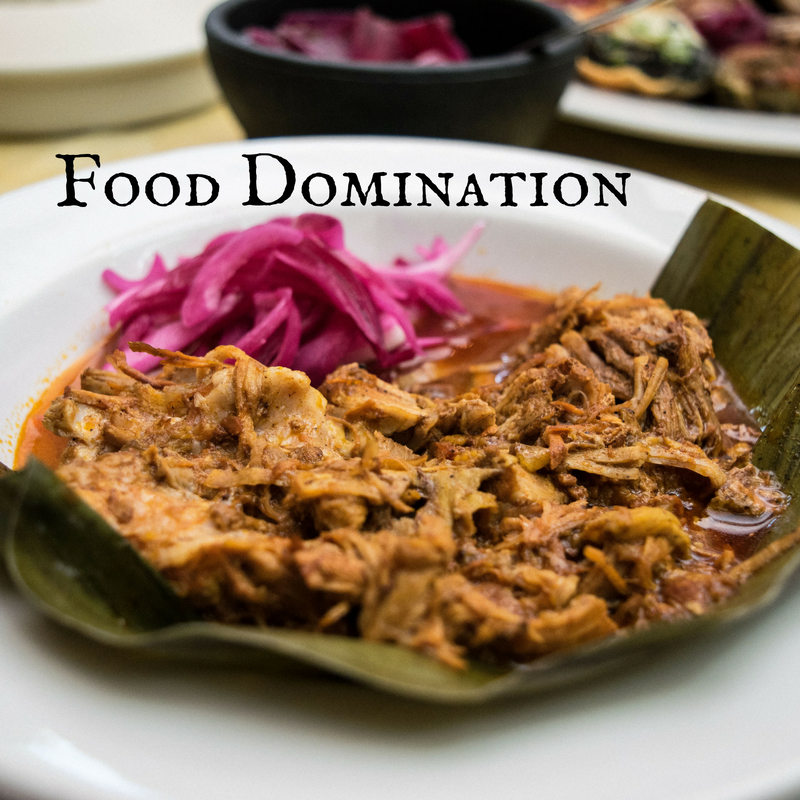 The focus for August and September has been food, food, and more food. Between the Foodie's Guide to Cancun episodes we've been filming, and the pilot episode of Cristina's upcoming cookbook project, we've also been involved in a variety of other food-related projects here in Cancun, not the least of which was the most recent Yelp Food Porn Festival. Where Cris promptly snagged a 2nd place position with her Cochinita Pibil photo from our recent shoot at Restaurante Labna. 
Oh, you've been living under a rock, you say? Fear not, we go there sometimes as well working on projects and not paying attention to that much beyond our own bubble. Well, the first episode of our new series aired last week, and we're back with an old favorite: Assaggiare Pizza & Pasta. We first visited and filmed there three years or so ago, and since we were working on the new show we wanted to get their new location in, so here you go! Stay tuned to Facebook or YouTube for future episodes, coming out weekly for the month of September and beyond.
If you like the videos and want us to do more of them, support our ongoing work and pick up a copy of the book! It's got dozens of eateries within, with tips on discount nights at places like La Troje where you can order 30% off the menu, 2×1 menus at certain places in town, and beyond. Vegan, gluten-free, meat-eater, wino, we got you covered!
What's that about Cristina doing a cookbook?
Well, it's all part of her journey. Three years ago she quit her job to help me with the blog. Since then, she's worked on every single project you've seen produced here, even though you don't necessarily see her handiwork on a daily basis as she leaves the publicity to me. She shoots video, she takes photos, she answers emails, she helps with social media, she handles a ton of our administrative stuff, and on the side she has started two of her own small businesses: the Airbnb and Cancun Apartment Rentals.
Now, she's expanding to a third project. We already cook prolifically, and our guests have nothing but praises to sing. When she started working on food photography as a result of our recent Foodie's Guide to Cancun project, something suddenly clicked with her, and she snapped into focus (no pun intended…or is it?) more strongly than the other projects we've worked on. Rather than take the back seat, she wants to drive, and I'm totally down for that!
It's not like other things she's done, which were spin-offs of the Cancun guidebook we sell (and which has its updated version coming out later this month!). While it's still going to be part of the Marginal Boundaries brand, we're setting things up so that she can be completely antonymous with it. I'm helping her with the initial videos, she's handling all the recipes + direction + photography, and eventually she wants to take over the recording, editing, and production as well.
She's super passionate about this, and I know I can count on your support as she gets closer to the final reveal. We're toying with a variety of ways for her to launch her new project, and we're thinking a Patreon campaign is the way to go. Once we get everything set up, I'm going to be sharing it with everyone and we'll see how deep down the rabbit hole everyone wants to jump together.
It's still at least a month out, so in the meantime we'll just leave you with the following photos to drool over.