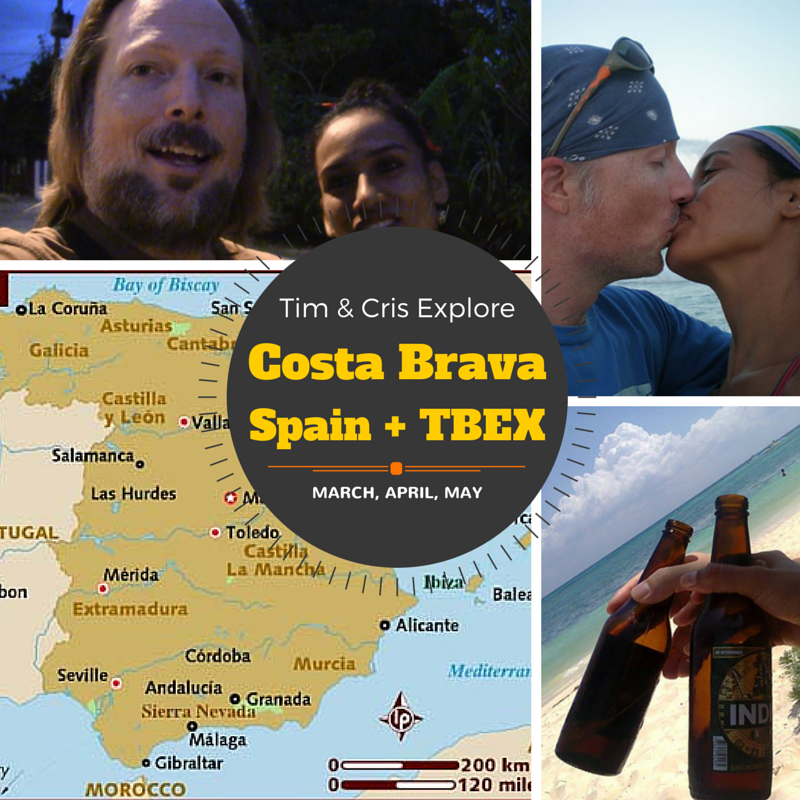 If you've been living under a rock, you probably didn't know that I'm speaking again at the TBEX travel blog convention in Lloret de Mar, Spain. The event takes place April 30th until May 2nd of 2015. I'll be covering long-term social media campaigns for DMOs and travel industry professionals + bloggers who want to step up their game. But what you might not have known is that Cris and I will be spending March 18th until May 27th in the Costa Brava region of the country working on a variety of projects, including a bloggers-in-residence program for the Costa Brava tourism board.
Through March and April we are working with the Costa Brava tourism folks as #ResidentBloggers #InCostaBrava. You'll want to follow these hashtags closely, as we'll be producing daily content using them during our time leading up to TBEX. Then, once we hit the event, we'll be adding the #TBEX hashtag to our material.
In May, we'll be doing additional projects with other sponsors, such as Flipkey. Then in June we are off to the San Ignacio Resort Hotel in Belize for the 1st to the 15th on a consult + keynoting a social media seminar the 10th, 11th and 12th of the month.
During this time, we'll be producing 100 new videos for YouTube and Facebook for our two travel shows: Tim & Cris Explore <insert location here>, and Viajes Con Cristina (por ustedes que hablan español). The hashtags for these episodes will be #TimAndCrisExplore and #ViajesConCristina along with the traditional #MarginalBoundaries.
The episodes will start airing in July of 2015 and will show up twice weekly; one episode in English every week, and one episode in Spanish every week, with 50 weeks of planned material. Blog posts will accompany the bulk of this material. Meanwhile, we'll be sharing daily updates of our adventures in Spain, at TBEX, and in Belize using the aforementioned hashtags, plus you'll be able to catch all of the episodes using the associated hashtags throughout their production run.
You'll be able to follow along daily production of the shows with behind-the-scenes photos, video snippets, and social media blasts coming out every morning, afternoon, and evening while we are in Spain and Belize…as long as we are in a location where we have Internet access. Some of the more remote shoots we'll be doing in the mountains might restrict this somewhat.
But the bottom line is that we've got a lot of work ahead of us for the next few months, and we can't wait to sink our teeth into it! We're flying out of Mexico on the 17th, so in just a few short days we'll be kicking off the adventure!
Which brings me to this: we've got an Indiegogo campaign going from now until the end of April designed to help us pick up some additional funding to film another 50 episodes of our respective shows throughout the month of May, above and beyond what we've already budgeted into our production schedule based on existing sponsors and agreements.
We'll be sticking to the Costa Brava region and continuing our adventures, but we've opened up ways for you, the everyday readers, fellow bloggers, fans, friends and family members, to also pitch in and help out, ranging from picking up lunch to paying for a tank of gas or springing for a hotel room for the evening.
And there's also two backer levels for those of you who want backlinks + logo placement in exchange for your backing, similar to traditional sponsors, but with levels of advertising based on your funding. Take a look and if you feel like kicking something our way, that would be awesome!
We'll be swamped from March until the end of June at this point; when we get finished, we'll be holing up somewhere to start publication of the episodes that will be airing weekly for the next year. We aren't quite sure where that will be just yet; we'll wait to see what kind of opportunities present themselves while in Spain + Belize.
But we do plan on being back in the Riviera Maya of Mexico at the end of 2015 and beginning of 2016, because it's coming up on time to do my permanent residency paperwork. Then, in 2016, the sky is the limit because I'll have my permanent residency in Mexico and we can start looking at longer duration trips out beyond.
We're also looking at establishing our game company in Montreal for our MMORPG, Saga of Lucimia. There's a ton of great tax incentives for game companies, in which case we'll be starting to spend a lot of time up north while working on development of our game over the next few years, and combining what we are doing there with what we are doing with Marginal Boundaries.
So stay tuned! We've got a lot of irons in the fire and can't wait to start showcasing some of our live production videos and shots from Spain and Belize over the next few months!
Don't forget to sign up for our free newsletter as well as the Business of Travel Blogging podcast, where I share insider tips on social media and travel tips from my presentations and personal business strategies, as well as follow our YouTube channel and join our Google+ Business of Travel Blogging Group. Or, if you are ready to take your business to the next level, pick up one of our immersion travel publications from the store…either an individual book or a packaged set, and join the ranks of the thousands of others are a part of our community.