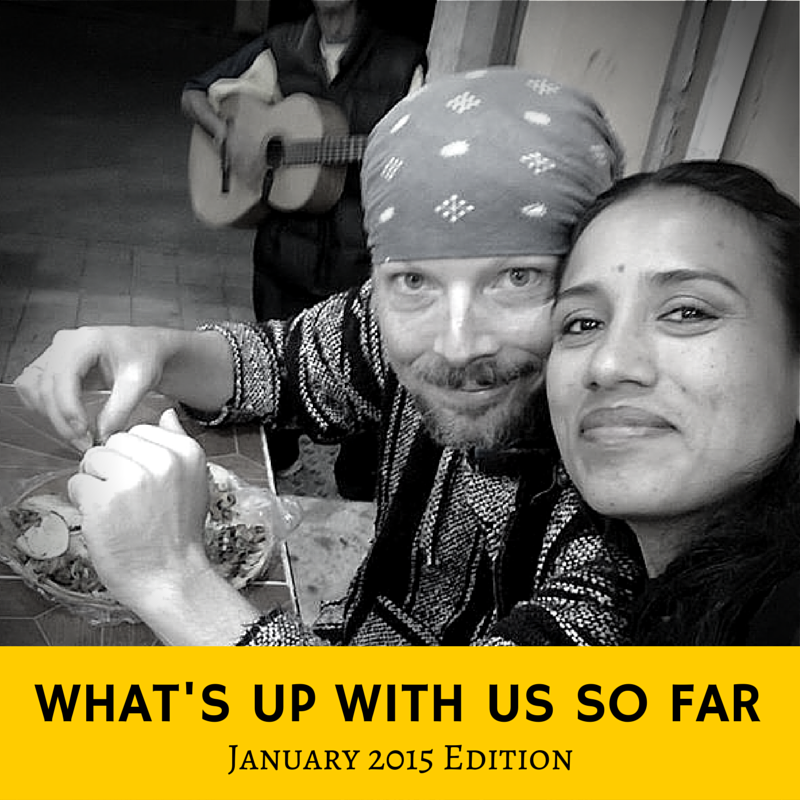 So it's been a couple of months since the last post. Some of you have been asking what we have been up to, and I'm finally getting the chance to come up for air. It's been non-stop the past couple of months since I last wrote, and things aren't slowing down…so grab a cup of coffee, strap in, and let's get you up to speed.
First up: the six students working with us here at Marginal Boundaries until June. We're moving ahead at full steam. We did daily training sessions from January 2nd until the 16th covering a lot of the basics of what we'll be working on until the end of June. I just started them on their "official" routines this past Monday, and they are slowly stretching their legs and establishing the habits that will carry them to greater levels of success beyond the program.
Next up: travel plans. More on this to come later, but I Costa Brava, Spain in the forecast in late April for TBEX. I don't have an official announcement to make in this department just yet, but suffice to say there's something major coming down the pipelines that we'll be sharing with you here, and we hope we'll be seeing the lot of you making the trip with us.
Also on that note: our trip to Belize is pushed back until May/June. In the meantime, we are determining what we want to do in the meantime now that March is open. On the table: heading to Spain early and sticking around for several months (March, April, May).
A return to podcasting. My last one was before the holidays. Now that the students are done with their daily classes, I should be able to get back into the routine shortly. You can listen to the first few episodes here. 
The Facebook case study: coming out at the end of this month as I have time to wrap it up. Remember, this is only available for newsletter subscribers, so sign up today.
Spanish project: going well. Just launched the most recent product related to the web comic on the 20th of January. We've leveled off around 145,000 followers on the Facebook page; I was hoping to see another 5k – 10k join over December, but the page appears to have reached its "maximum" using the current strategy that I've employed since last January to grow it from 55k.
Now it's time to get the rest of our store features launched at the site (which is doing 500 – 700 uniques daily from Google and spiking to 2k – 4k dailies on new blog post days; not a bad place to be) and then look at my expansion/marketing plans for 2015, which include going north into the U.S. and Canada.
The Saga of Lucimia MMORPG. Apart from my students here at Marginal Boundaries, this is my baby. It's also my primary project these days. I spent Christmas and New Year's getting the new website up and going, launching our Twitch channel, and getting everything in place for our 2015 – 2017 development run.
We just brought on our 12th team member last night, we are launching our first crowdfunding campaign next week, and traffic is off the charts. In less than six months, the website is getting more hits (on the weekends) than here at MB, a four-year-old website/brand.
As Cristina said, there's a lot more people interested in video games than there are travel blogging and lifestyle tips. We're doing a steady 80k per day average at the Google+ page, with 150 – 200 interactions per day, and we've had a few spikes up to 150k – 160k on weekends, with our lowest views at 40k on a single day. We just did our second team Q&A, and we are moving ahead full-speed towards our public Friends and Family pre-alpha, along with our full crowdfunding campaign around March.
Apart from anything we do that is press/contract related, there won't be a lot of blog content coming to the Marginal Boundaries site in 2015. Instead, I'm spending six months with the interns helping them build up and having them help build up the social media channels for the brand even larger + market the array of products we have available at the site.
That being said, there will be podcast material as well as plenty of video content for the YouTube channel + the Facebook page throughout 2015. But I'll no longer be doing 2-3 blog posts per week (unless they are related to press tours/contracts). At most, I'll do two per month. More than likely I'll only be doing one per month.
I've got a full plate managing two teams (12 people at the MMORPG, eventually expanding to 15, and six people with Marginal Boundaries), and the MMORPG is taking priority since it's a new brand and we are new and have to make an impression hard and fast, whereas Marginal Boundaries is an existing brand that has already accomplished all I initially had planned for it, so now it's a Stage Two project.
Which mostly revolves around me getting better at video/podcast production, and expanding our brand in those areas, as well as furthering our expansion into the English-speaking market with our social media channels. Our Facebook page in particular, which is roughly 3k Spanish speakers and only about 600 English speakers, so one of my big goals with the interns is to see if we can't reach an equal number of English readers by the end of June.
As you can see, we've still got a lot on the plates. Cristina is about 95% as far as her health goes. She still has residual pain sometimes from the surgery in March of 2014, and she's not ready to get back into jogging with me, but for the most part she's back to normal. She's been spending the bulk of her time running the small restaurant here (which was her mother's for 30 some years before we took over in mid-2014 after the surgery as a place to hole up/heal up), and lately she's been helping me with a lot of Spanish translations.
Because even though I can speak it, and I'm conversationally fluent, doesn't mean I have good grammar or know how to properly string sentences along. I'm proficient, but I'm not a native speaker, I've never taken formal classes, and when it comes to the publications we are putting out at social media, we are now doing dual English and Spanish posts.