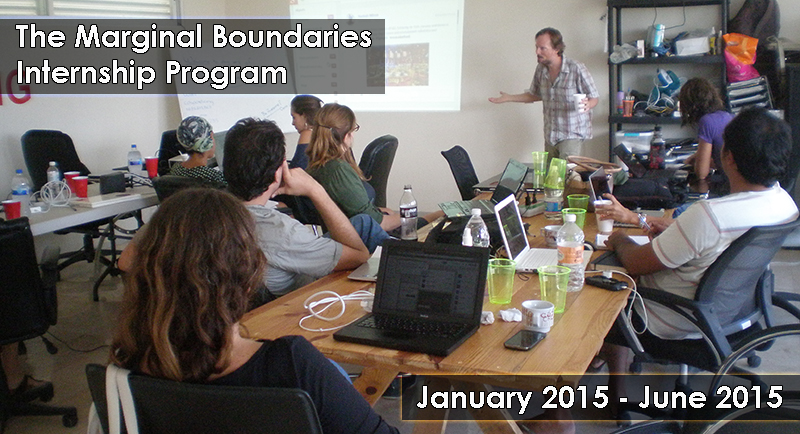 Are you (or someone you know) passionate about travel, blogging, photography, Photoshop and the Adobe suite, social media, Internet marketing, and all things related to digital media?  Are you an aspiring writer, photographer, designer, marketer or college student looking for real-world experience working with a one of the leading social media experts of the travel blogging industry? Do you love social interaction, and want to work with one of the world's fastest-growing new media travel brands?
If you answered yes to any of these questions and can dedicate at least three hours a day from January 2015 until the end of June 2015, then Marginal Boundaries has a limited window-of-opportunity for six lucky candidates who will join our intern program and go on to become some of the world's top travel bloggers, social media experts, and digital media professionals in 2015 and beyond.
We're currently looking for interns to get their hands dirty with writing, photo and video editing, research and development, social media, podcasting, PR and a variety of other areas essential to our company's growth in 2015 and beyond. Our internship program is extremely hands-on, with specific goals, regular reports on progress and 1-on-1 coaching for professional growth and development.
This is a virtual position that can be done from anywhere in the world. It is similar in scope to our brand boot camps and travel blog workshops, but rather than pay cash for your time, you trade work in exchange for the lessons. Of course, if you want to come live in the area with us (wherever we are at that point) and receive hands-on training physically alongside myself and Cristina, that's an option as well.
Interns will be working directly underneath myself, Tim Anderson from Marginal Boundaries, as well as my wife, Cristina. For those of you who know the blog, no introduction is needed. But if you happen to be stumbling here by chance, I am a published author, keynote speaker, Internet marketer, blogger, social media expert, brand consultant, teacher, and a full-time travel blogger.
You can find more information about myself and what we do here at Marginal Boundaries via our Work With Us page and in our Press Kit.
2015 is shaping up to be our busiest year ever, with a full year's worth of blogging and adventures already mapped out here in Mexico, along with more upcoming speaking engagements and various other projects, such as social media case studies, infographics, podcasting and more.
If you're looking for work experience in these areas, get in touch. We'll be starting the new round of interns in January, and there are only six positions available!
You'll also have the opportunity to make some scratch during your time with us.  You receive a 50% commission of all book sales that you directly bring in, just like all of our other affiliates, as well as a 10% commission on any contracts, consultations, boot camp attendees and other sales that you directly refer.
Your take-home pay will depend on how hungry you are and how well you do your job. Social media is a results-driven occupation, and we like adding a competitive edge to our programs; there will be contests and competitions throughout the internship to earn interns extra spending money, while also familiarizing them with the ins and outs of flash sales and social media marketing for ROI purposes: the business side of travel blogging.
Think you have what it takes? Send us an email today and reserve your space as one of the final six who will be joining us starting January 2015!
Or, if you are someone who wants to join our upcoming travel blog boot camp + adventure tour in Palenque, Mexico Jan 12-16th to train alongside us in person + have a hell of a lot of fun while we are at it, sign up for that instead! Reservations are open from now until the end of November and space is limited to 10 people.

Don't forget to sign up for our free newsletter for several-times-a-week, your-eyes-only travel and entrepreneur tips, plus receive a complimentary copy of our 85-page starter book on location independence and living abroad, 30 Ways in 30 Days.  And for those of you who are ready to crank it up to 11, head on over to our Immersion Travel store for our travel and lifestyle publications.
With over 1,500 copies sold, our flagship 568-page eBook is what started it all. Learn how to travel the world like I do: without a budget, with no plans, funded completely by your website and online ventures.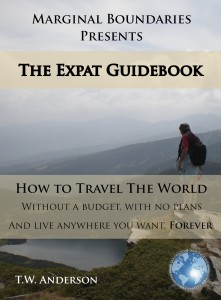 Get Your Copy Today!
Unplug from The System, cure yourself of The Greedy Bastard Syndrome, tap into your universal potential and create your own reality. Build a brand, travel the world and realize your cosmic consciousness.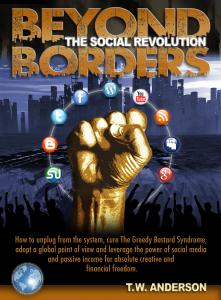 Get Your Copy Today!