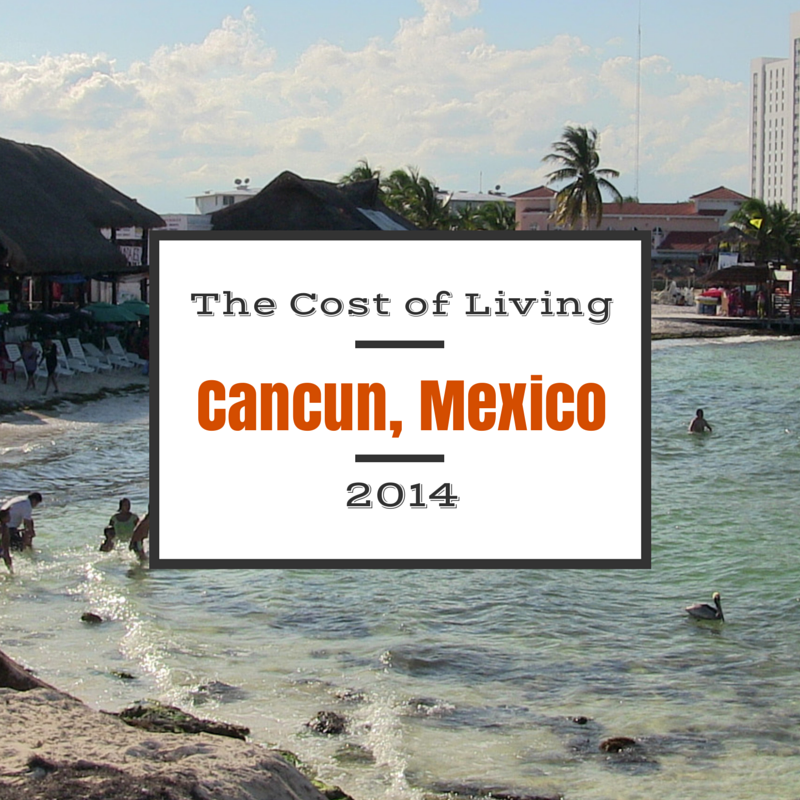 Every year, we like to include an updated version of our spend while living in Cancun. It helps to keep in mind that compared to the average Mexican we are living above the "average" cost of living, but if you are comparing against the majority of the United States and Canada, this Mexican paradise still takes the cake as being one of the world's cheapest destinations while still having access to modern amenities and infrastructure. 
I always like to tell people my cost of living back in 2007 when I was still living in Colorado, one of the mid-range states in the U.S. Not the most expensive, but not the cheapest either. For myself, and the girl I was involved with back then, we were spending well over 4,000 USD a month between rent, insurance, food, and the overall cost of living. Add in my truck payment and the fact that I was spending 750 USD a month in gas traveling to and from Denver every day working in construction, and our average bills were over 6,000 USD per month just to stay afloat.
Meanwhile, my average cost of living per year while living in Cancun has yet to rise above 1,000 USD per month, with all utilities, amenities and entertainment included. As a general rule, Cristina and myself keep it down around $800 a month or less for total rent, groceries and cost of living; that's less than $10,000 for the entire year's worth of living expenses. Basically, two months in Colorado cost more than a full year down here.
Produce is still the number one factor that affects the cost of living in Cancun compared to most other countries in the world. As long as you pay attention to market days, you can save over 5,000 USD per year on your grocery bill compared to the average costs in the United States. More information on market days and the best markets to shop at for produce can be found in our Cancun guidebook.
Medical costs are the next cheapest item on the agenda. One of our travel blog boot camp graduates, Dave from Nomadic Retiree, has an excellent blog post from a couple of years ago on his experience saving thousands of dollars on dental work while living in Cancun.
A general doctor's consultation, which can cost you several hundred dollars in the U.S., costs a mere 30 to 40 pesos in most clinics. That's between 3 and 4 dollars, depending on the exchange rate. Medicine is cheap, and most procedures costs pennies in comparison to what they do in the U.S.
And if you have access to IMSS you pay a few hundred dollars per year for access to unlimited prescription medication and unlimited universal healthcare. There are some limitations (such as no orthopedic surgeries in your first two years), but once you are in for a few years you have access to the entire array of Mexican coverage.
IMSS is an enhanced version of the Seguro Popular that all Mexicans have as a result of paying taxes/being Mexican. It's a universal system. Cristina's emergency surgery in March as a result of an ectopic pregnancy causing internal hemorrhaging? Didn't cost us a penny. Surgery and several nights in the hospital = covered.
Rent is still the big thing for most people interested in the cost of living in Cancun, and the prices in 2014 are still similar to 2012 and 2013. Fully furnished with all utilities included is what we tend to rent. Studios are 400 – 500 USD a month, 2 bedrooms are 600 – 800, and houses are 600 to 1000 a month. In centro. Unfurnished are a couple hundred less per month, respectively.
The Hotel Zone is double that in low season, and quadruple in high season. If you speak Spanish and are willing to sign a 6+ month lease you can get 15 to 30 percent discounts on the rental rates. If you don't speak Spanish, you can talk with Cristina, as her Cancun Apartment Rentals site specializes in boots-on-the-ground service for foreigners needing help finding the perfect place to live in Cancun for long-term durations.

Transport is reasonably cheap; a taxi ride will cost you just a couple of bucks within Centro, and the public bus system only costs about 50 cents within the city. If you want to rent a vehicle or you drive one, you'll pay more for gasoline here than in the United States; for this reason we choose not to drive. Plus traffic's a bitch.
Restaurants are another huge spend unless you know what you are doing. The rule in Mexico is that if you don't ask, they won't tell, and most places have a discount day or two-for-one day that they offer to locals. Plus if you have residency in Mexico (with a Quintana Roo card), you can get discounts at many of the local hotels + restaurants for being a local. Not to mention you get free entry into all of the museums and national parks on Sunday as a result of being a resident.
If you are looking for more information on Cancun or Mexico in general, including how to get your residency visa, you can pick up our Live Like a Local Cancun guide, packed with other restaurant recommendations, apartment and condo referrals, tips on navigating the public transportation system, local negotiation tips and strategies, market and discount day overviews and more!