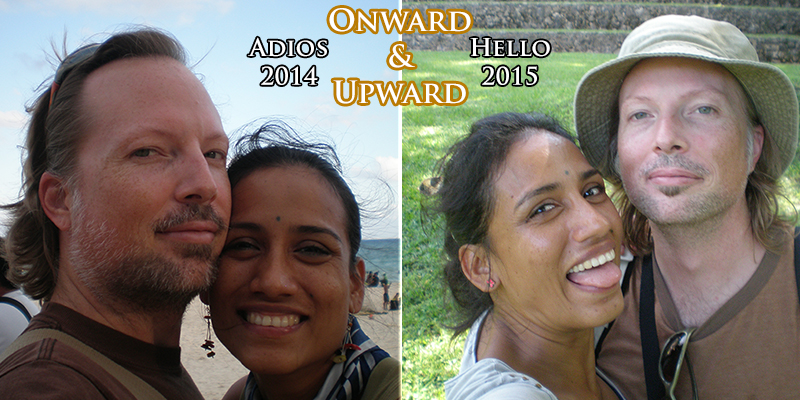 After the downtime between Cristina's surgery March 2014 and our travel blog boot camp in August, and then TBEX in September, I'm happy to say that we are back with a vengeance. The rest of 2014 is already filled out, and 2015 is starting to fill up as well.
One of the biggest changes coming to the blog will be happening in early 2015, but in order to prepare our readers for that eventuality, I'm going to give you a run-down of what we have been leading up to.
TBEX was my 14th presentation in the past two years. At least they got my name right at the last few events!

When we first started doing presentations in the Riviera Maya in 2013, the local paper totally botched my name and the name of one of my events; I will be forever known as "Handerson" to a select group of people!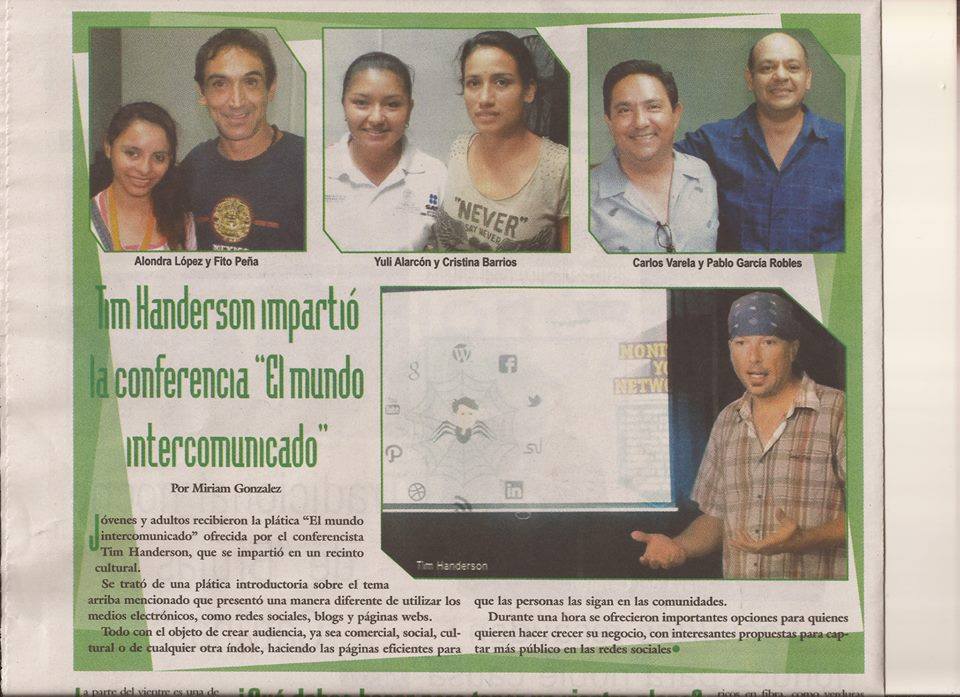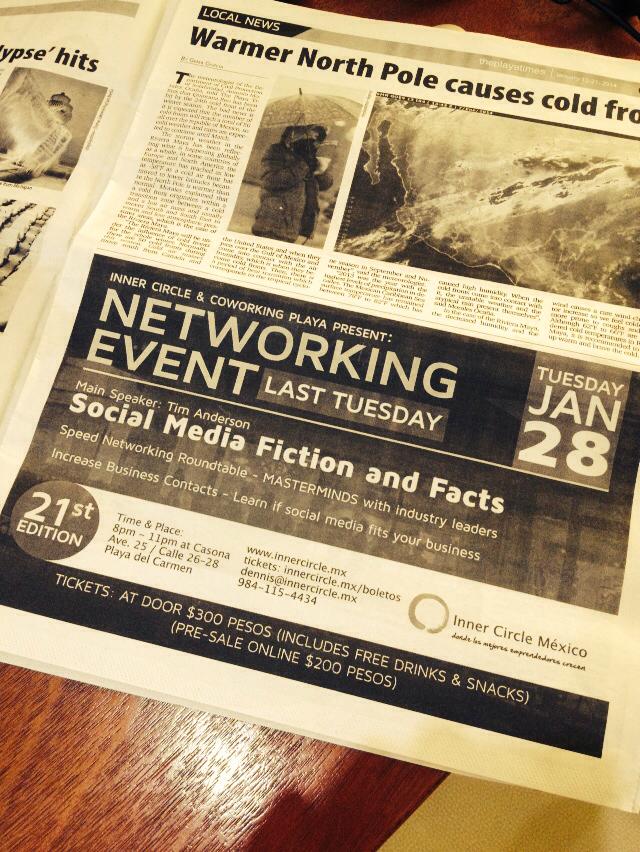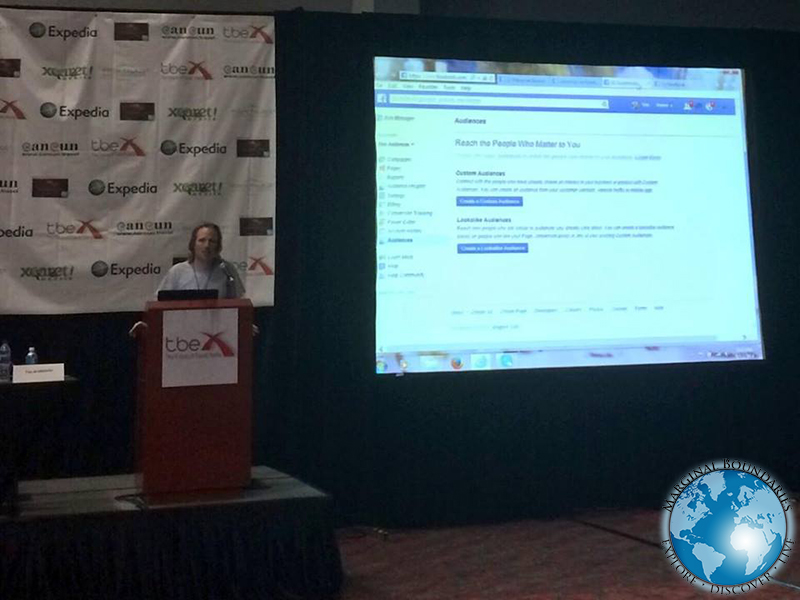 I'm currently in the middle of plans to host a three-to-five day social media seminar down in Belize sometime in mid-November, after we finish up our on-site mentorship with the all-inclusive resort hotel that is bringing us in to train their head of marketing and their primary blogger for a month-long course. I'll also be helping them determine their 2015 and 2016 marketing strategies.
It's another version of the three-month long brand boot camps and our hybrid travel blog boot camps, only this time I'm going to the source rather than the students coming to me.
Stay tuned for an official announcement on that front as well; we'll be doing a full month's worth of posts regarding our time in Belize, including some FAM trips, and talking not only about the resort, but also their work in conservation and anything related to the sights, sounds, flavors, colors and life in that part of Belize.
On a health note, Cristina is mostly back to normal. She still has residual pain from the surgery, but emotionally we are both "back on track" from the loss of the baby. It will be another 6 – 10 months before she is at 100% capacity and ready to go jogging with me again, but she's more than capable of doing normal day-hikes and she's looking forward to Belize in October/November and getting back to her YouTube content + helping with the day-to-day management of Marginal Boundaries (which I've been handling mostly on my own with the help of assistants; Devlin up until August and most recently a 30 day trial with someone who wanted to get their feet wet to see if they want to pursue social media full-time). We've also been talking about her starting her own Facebook page for the brand…so stay tuned for that!
One of the major lessons I took away from Cancun was the need to establish some type of a podcast. I'm already growing the video series that Cris has, and I have a deep passion for YouTube and podcasts. Which is also why I plan on being at the New Media Expo in Las Vegas in April 2015.
Right now I'm currently in the middle of research and development of a podcast. We would start sometime around the first of 2015. At this point I'm thinking of a weekly episode, as I don't currently have time to do anything more frequently.
December looks like we will possibly be in Mexico City; I'm still finalizing the negotiations for a publicity contract with another TBEX client. If everything works out, we would roll straight into Mexico City after finishing up in Belize (we're actually thinking of going there regardless of whether the contract goes through or not). From there, we will work on creating a brand-new guidebook for the city as well as covering a few month's of blog content in DF, but we would also be dropping back to Palenque in early/mid-January for our next travel blog boot camp.
Which, by the way, is taking place from January 12 to January 16. Space is limited to 10 individuals, and registration is open from now until the end of November. Expect a more detailed blog post coming later in the week with more information. In the meantime, you can check out the landing page or click on the image below.

My goals for 2015 include continuing the aforementioned projects, plus we are currently negotiating several other contracts that were a direct result of TBEX.
Which reminds me; Coach Deb reached out to me recently and asked if I would be willing to record a testimonial video as well as write an overview regarding the benefits of the convention for my blog and business. Naturally, I said yes. She also invited me to become a regular contributor to the TBEX blog. I said sure, although it will have to be between work projects.
We also have the adventure tours that we will be doing periodically throughout the year, and we will probably host one or two more travel blog boot camps. I don't know that we will do another of our three-month long retreats in the near future. Instead, we have some other ideas on the table for what we want to do in the fall of 2015, including a three-week long hiking trip along the Mediterranean coast alongside some of our blogging partners.
2015 is all about business. You are going to see a lot more social media and Internet marketing content, as that is where my evolution is currently taking me as a keynote speaker and brand consultant/teacher/social media strategist/marketer. Yes, we'll still be traveling, and yes, we will still be providing sponsored content for travel partners, but you are going to be seeing more business-related and income-related topics next year.
On that note, I'm currently working on a Facebook case study that will delve into several of the campaigns that I'm currently managing, including both paid and unpaid strategies. Expect to see that sometime around December, after we finish up the on-site mentorship in Belize + the FAM trips + the social media seminar down there. Bear in mind it will be available only to newsletter subscribers, so if you haven't signed up yet you should do so now.
We will also be launching a new internship program in January 2015; we will be bringing on six paid interns to with us for a six-month long mentorship. Stay tuned for more information on that topic next week as well. And then there are other speaking engagements in 2015, more TBEX conventions, and much, much more.
And at some point, as I have time, I'll be updating The Expat Guidebook for 2015; those of you with previous copies will get the updated version for free. The information inside is still absolutely valid, but I've got some more backlinks I want to add, and a couple of new chapters, plus refine some of the existing content.
I also plan on finding a new mentor for myself in 2015; the goals that I have as an individual mean that I am never above learning from someone else. I have already reached out to the first person I would like to study under and work with over the next 2 to 5 years, and now it's just a matter of waiting to see.
My personal goal is to break 1 million USD per year by the time I am 40 years old. I have a lot of hard work ahead of me, but it's feasible. I've hit every single other goal I've set for myself since starting out online in January of 2008, so I see no reason why I can't climb this mountain as well.
We also have our MMORPG Saga of Lucimia in development; our eighth team member joined us recently, and we will be expanding to 15 members by January 2015. We are already working on our private crowdfunding options, as well as our merchandise store, and we will be working towards a Kickstarter in October 2015. The overall development cycle will take us through 2016 with a launch at some point in 2017.
And I'm still on board with the Spanish language project, where I'm regularly blogging + writing 2x – 3x weekly web comic + managing the social media side of things + helping with the development of ongoing products. Our Facebook page just hit 130,000 followers. That's a big jump from where it was at when I started the work in May, with 65,000 followers after five years as a hobby project.
We've doubled our Facebook following in five months. Amazing team; the two people I'm working with are very passionate and it's an absolute team effort all the way around. We've seen amazing growth and I need to make sure to give credit where it is due.
As you can see, I have packed schedule. I am very blessed to be working with an array of talented people, and I look forward to continuing my growth as a businessman, as an Internet marketer, as a speaker, and a leader within the blogging community.
Which brings me to my closing statement: part-time efforts only lead to part-time results. If you want to really kill it with your business, it's all about persistence and dedication, 15 to 18 hour days, never accepting no for an answer, and getting over your fear of spending money. If you can make all of those things happen for yourself, the sky's the limit.
Don't forget to sign up for our free newsletter for several-times-a-week, your-eyes-only travel and entrepreneur tips, plus receive a complimentary copy of our 85-page starter book on location independence and living abroad, 30 Ways in 30 Days.  And for those of you who are ready to crank it up to 11, head on over to our Immersion Travel store for our travel and lifestyle publications.
With over 1,500 copies sold, our flagship 568-page eBook is what started it all. Learn how to travel the world like I do: without a budget, with no plans, funded completely by your website and online ventures.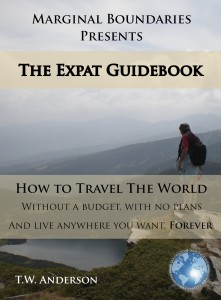 Get Your Copy Today!
Unplug from The System, cure yourself of The Greedy Bastard Syndrome, tap into your universal potential and create your own reality. Build a brand, travel the world and realize your cosmic consciousness.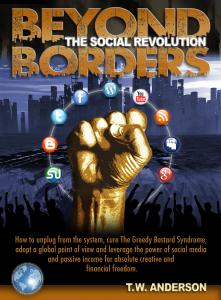 Get Your Copy Today!