In the world of sponsorships and advertising, there has long been a standard used to determine some of your statistics. Google Analytics is a start, as are Alexa and Klout, to some degree, plus you can show screenshots to your potential clients/partners. But the problem is that often times you are relying on screenshots for certain stats, unless you are in real-time doing screen-shares and the like, which leads to people sometimes doubting whether or not they are "real or Photoshopped".
For those of you who read medical and trade journals, the only way to determine if something is credible is to have it reviewed by your peers. This is the ultimate form of social proof as far as your material goes, and when something is peer-reviewed by a third party, it takes on credibility.
So imagine my delight when I discovered themidgame roughly a year ago: a third-party review source that not only tracks and displays your social media and website statistics in real-time, but also serves as a middleman helping broker deals between sponsors and bloggers.
They've come a long way in the year since I came on board; back then, there were only a handful of bloggers who were part of the fold. Even then, I saw the potential and quickly signed up for a beta slot. I also started blasting it around our Facebook and Google+, and I've mentioned it in the Marginal Boundaries newsletter at least a dozen times since then, as well as telling all of our boot camp students + Innovator Program members to use it.
We also put it into our press kit the very first day I signed up for the program, since it was just one more link (along with Klout and others) that I send to potential sponsors and clients when I'm out there pitching and lining up new contracts/etc. with Marginal Boundaries. Being able to see those third-party traffic numbers and real-time analysis = a win, win as far as I'm concerned, as it's just one more social proof you can add to the mix.
Nowadays, there's a lot more going on at themidgame . They have Opportunities now, where Sponsors post a variety of jobs that fit numerous different niches, and you (the Influencer) can apply directly for these tasks. Some of them are cash-based payouts, while others are for perks like free accommodations at a hotel, access to services and the like.
Personally, I'm a cash-based man. That being said, I'm not against trading for services. I've done it here in the Riviera Maya frequently, trading social media classes for rent, helping someone build a Facebook page in exchange for free meals at their restaurant for X weeks, so on and so forth. So to see this range of options presented gives it one more notch as far as a tool I frequently use, because you never know what you'll find in terms of opportunities.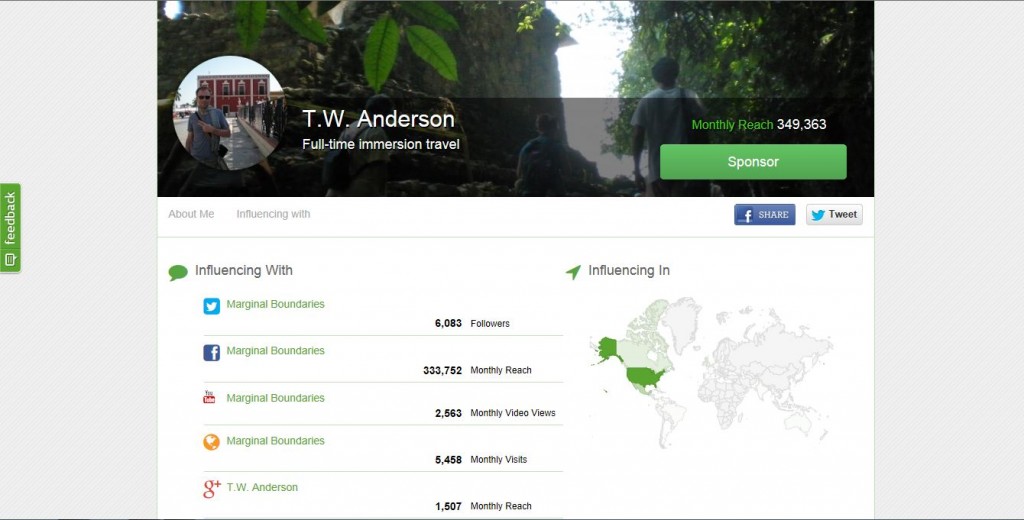 One of the coolest things about the entire process is that it's absolutely free for us bloggers to use. The only money that the founders make is a small 7% transaction fee that is taken out of the Sponsor's end, not our end…which means we don't have to worry about paying for the service. For those of you who thrive for freebies, this is just one of those times when you really have nothing to lose.
Right now, their focus is on the travel blogging industry, so the bulk of tasks that show up on the website are related to those of us within the travel blogging sphere. However, they plan on expanding in the future as the business grows, and as more and more people come into the fold and the Influencer range expands, so do the Opportunities that can be negotiated.
It's gotten us quite a few clients as well, both inside and outside of their platform. Especially being able to show potential clients the rough statistics for our Facebook page; we were named one of the first Influencers of the Week with their program due to our numbers, and I've since linked to that as well as other interviews combined with our Press Kit, and the additional social proof has helped us land several sponsored gigs, as well as speaking arrangements.
One of my favorite aspects is that it really helps show Facebook traffic to someone not privy to your Page Insights. The website views are tied to your Analytics account, your YouTube views the same, whereas Twitter and Google+ at this point are just showing # of followers. For example, my Google+ profile does between 7k and 10k hits daily, but that isn't reflected here; it just shows rough amount of people.
The only potential downside that I see presently is that they still don't have all of the major social media outlets tied in. This could be related to API issues, but right now it's tracking your website, YouTube, Twitter, Facebook and Google+, which rounds out most of the big ones. Here's hoping for Instagram and Pinterest at some point!
You also still need to keep in mind that themidgame isn't the only tool in your toolbox. It is one of many different tools you can and should be using to show social proof to your potential clients and sponsors…that third-party, peer-review content that leads to confidence in you and your brand.
Considering there is no cost for bloggers, I personally see no reason why you wouldn't want to get signed up. At the very least you have your own profile page with third-party, real-time stats and traffic for your social media channels, plus you have access to money-making and trade opportunities with sponsors from around the world. You can sign up for their program here.
In the spirit of fairness, this is a sponsored post that I was paid to host on the blog. That being said, long-term readers know that I've been promoting these guys for a year, long before they came to me with a sponsored post offer. All of the opinions expressed in this post are my own and do not reflect themidgame  in any way, shape or form.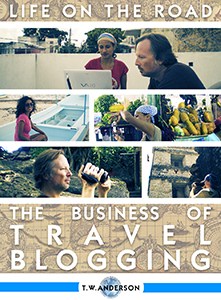 And don't forget to sign up for our free newsletter for several-times-a-week, your-eyes-only travel and entrepreneur tips, plus receive a complimentary copy of our 85-page starter book on location independence and living abroad, 30 Ways in 30 Days.
With over 1,500 copies sold, our flagship 568-page eBook is what started it all. Learn how to travel the world like I do: without a budget, with no plans, funded completely by your website and online ventures.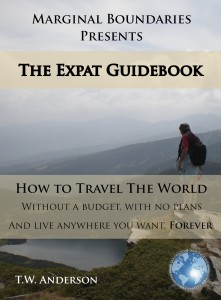 Get Your Copy Today!
Unplug from The System, cure yourself of The Greedy Bastard Syndrome, tap into your universal potential and create your own reality. Build a brand, travel the world and realize your cosmic consciousness.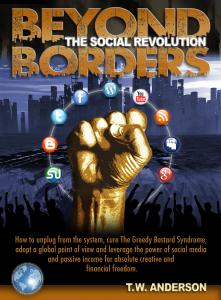 Get Your Copy Today!