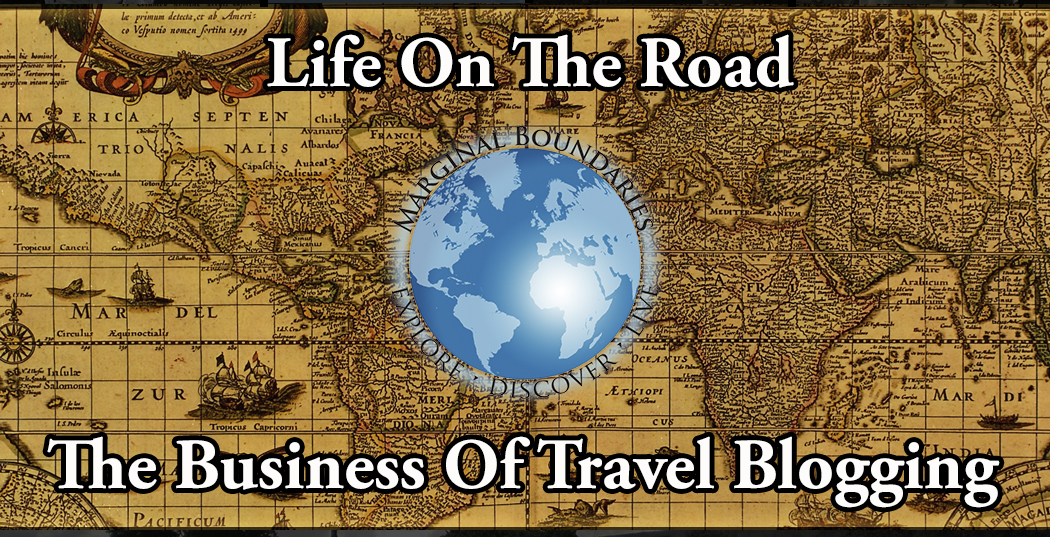 Since the start of December I've been working on producing a 12-part YouTube + blog series for International Travel Writers called, simply, The Life on the Road. The intent was to show some of the behind-the-scenes aspects of running a travel blog. The 12 episodes serve as the foundation layer of our next publication, due out in mid-March: The Business of Travel Blogging. 
You've also seen me covering the same topic here at the Marginal Boundaries blog since December, with posts such as Building a Brand – Hobby Blogging Versus Profit Blogging, The Business Side of Travel Blogging, and my interview over at Tim Leffel's Travel Writing 2.0 website. Since the release of the book is just around the corner I wanted to give you all a preview of what you can expect to see in the final book, which is being dual-published in English and Spanish. 
The 12 episodes contracted by International Travel Writers are just the foundation. The final book has 20 chapters, most of which have accompanying YouTube videos, along with original content that is not included in the blog here or at the ITW website. It's all about the nuts-and-bolts of the travel blogging industry, but not in the typical "here's what we do and you can do it to" format.
The Internet is awash with plenty of "show and tell" list posts going into "ways you can make money with your website". Heck, I even have one from early in 2013 called  Top 5 Ways to Generate Passive Income for Full-Time Travel. But let's face it: this type of content doesn't really serve my readers any purpose beyond giving generic, generalized tips, enough to whet the appetite and inspire people to follow along, sign up to the newsletter and eventually buy other products. 
Every. Single. Blogger. Does. This.
Not that I'm singling her out in any way, shape or form (love her blog and I'm only using this quote as an example), but Jennifer from Jdombs Travels left a telling comment on our Business Side of Travel Blogging post. "Travel blogging is not the endless vacation that many people seem to think that it is. Though we do create that image for ourselves as most readers do not want to actually read about the behind-the-scenes and less glamorous parts of the job. They want pretty pictures and travel advice, so it's very easy for them to forget that you aren't on an endless vacation." 
There is an issue on both sides of the fence. The first side is the armchair reader. That is, the reader who will never actually travel, will never actually leave their home, but instead simply "lives through you" by reading your blog posts. They have no desire to actually explore the world, nor do they want to read about the nitty-gritty details. They just want to see the pretty, finished results.
The flip side of the fence is the writers (myself included) who have continued to fill the Internet with a bunch of re-hashed content. Each post is certainly written from a unique point of view, but you can only write so many "travel the world and make money/beach/restaurant/adventure tour/destination" posts before someone else is doing the same thing…before or after you.
Long-term readers have seen me slowly making the transition: I have zero desire to continue writing for armchair readers and throughout late 2013 into 2014 I've been moving into more "serious" content as opposed to "fluff" content. We launched our Innovators Program in January of 2014 (we have 5 annual subscribers presently), we ran six people through our brand boot camp last year (the next one kicks off in April) and I've been presenting on social media and blogging throughout the Riviera Maya since September of 2013, not the least of which was my keynote presentation at the Last Tuesday event on January 28th.
Now, we have the new book coming out, and it's all about providing the behind-the-scenes details on building and running a successful, for-profit, professional travel blog. Not a hobby blog with vanity traffic. An actual blog that makes money. And the posts that are about these behind-the-scenes details are heavy on detail and light on fluff/entertainment. They aren't "feel-good" pieces meant to be blown through on a cell phone or tablet. They are beastly resources meant to be used to help build a brand and run it.
Consequently, the new book is for people who take blogging seriously. We also plan on continuing the series throughout 2014 as we produce our next Live Like a Local guidebook for Playa del Carmen, showcasing the details of the production, as well as ongoing presentations in the Riviera Maya, and my ongoing growth into the Latin American market (I just had a consultation two nights ago with a friend in Bogota working in the non-profit sector to hopefully head back down there in June or July for a month or two of book touring + consulting + presentations as well as blogging, I just had lunch with the owner of a resturant in Playa del Carmen last week who I'm working on a social media proposal for presently, and I have another consultation scheduled for after we get down to Playa del Carmen on the 16th of February, for example).
Which starts with the translation of this latest book into Spanish by a friend and professional here in Playa del Carmen, Rodrigo de la Garza of Polaron Media. Not only is he taking care of this book, but he'll also be translating Beyond Borders – The Social Revolution into Spanish later in 2014. We also have a Kickstarter campaign planned for around May that will combine the Innovators Program with the Life on the Road web series…more on that to come.
I'm also working on a super-secret branding project with someone in a very tight niche. It's in Spanish, the Facebook page had 65,000 followers when I came on board last Saturday, and it's already jumped to over 68,000 users in 7 days and has received over 30,000 click-throughs in that time period. We're working on an original infographic for March 1st, and then a product throughout March and April to release in May, and we hope to have 100,000 followers by that point.
Which brings me to the final point: the new book is not for armchair readers, nor is the new series meant to be for those who only want to read fluffy "feel good" travel blog posts. While you'll certainly still see us publishing "this beach" and "that restaurant" or "this plaza" and "that hotel/cultural center/local event/etc." throughout Playa del Carmen while we produce the new book, we are heavily invested in showcasing more of the "ugly" side of travel blogging throughout 2014.
The nuts and bolts, the sweaty 6 a.m. until 10 p.m. grind, the morning edits, emails, social media routines, article planning, drafting, editing, photo shoots, planning for video shoots, scheduling, proposals, press tours, press kits, meetings, presentations, negotiations, film shoots, editing film and photos, cutting and splicing, processing and uploading, sharing and networking, public relations and beyond.
The 9-to-5 of the professional travel blogger, right there in the open in all of its sweaty, ugly, boring glory for those of you who are interested in going from hobby blogger to professional blogger in 2014.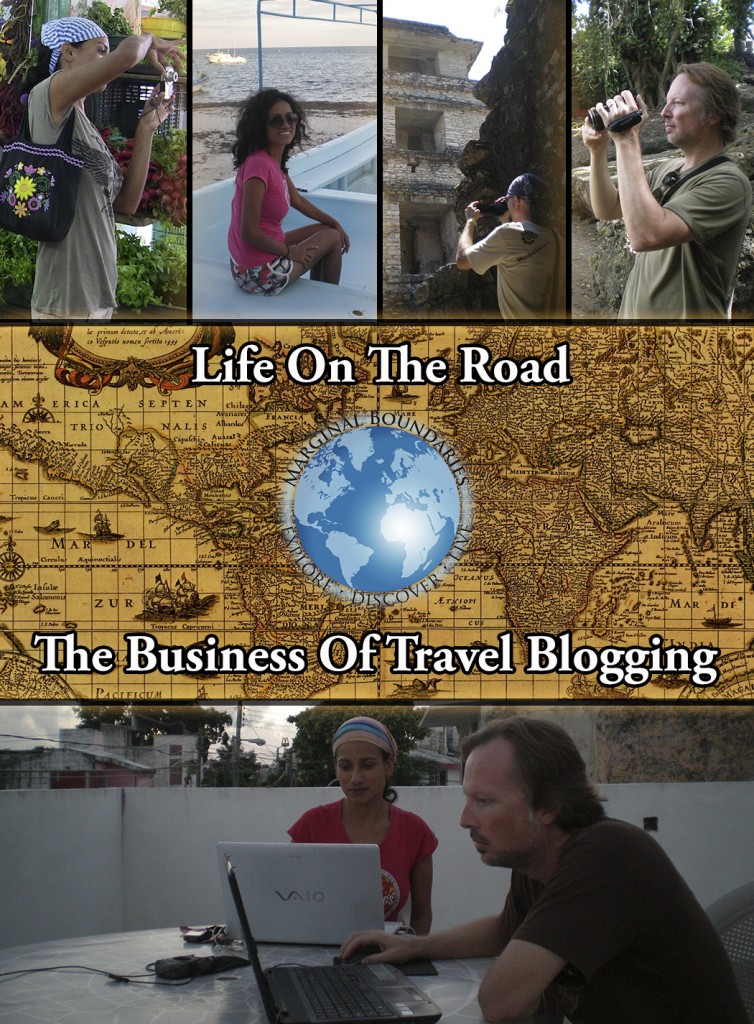 With over 1,500 copies sold, our flagship 568-page eBook is what started it all. Learn how to travel the world like I do: without a budget, with no plans, funded completely by your website and online ventures.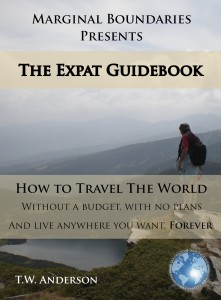 Get Your Copy Today!
Unplug from The System, cure yourself of The Greedy Bastard Syndrome, tap into your universal potential and create your own reality. Build a brand, travel the world and realize your cosmic consciousness.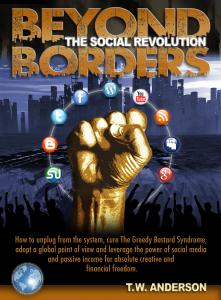 Get Your Copy Today!