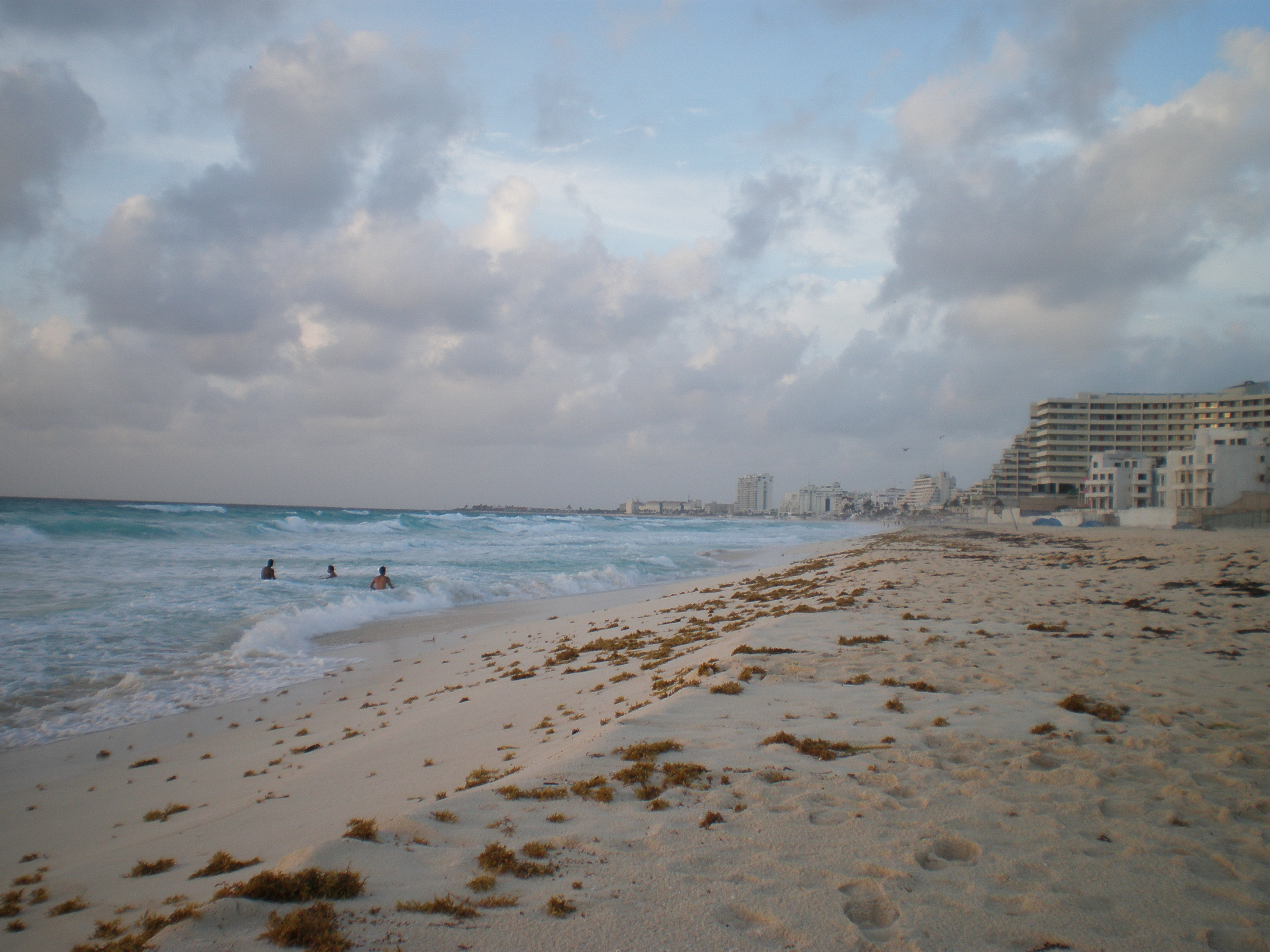 Cancun is known around the world for being one of the premier tropical destinations you can visit if your ideal vacation revolves around white, sandy beaches and turquoise waters stretching for as far as the eye can see in either direction. And while the city has built up a reputation over the years for being a haven of more five-star hotels than Las Vegas, there are far more beaches to explore than just those within the Hotel Zone where the all-inclusive resorts have staked their claim. For the locals, there are numerous other stretches of sand to enjoy on one of the perpetually warm summer days that make this such a perfect beach bum's dream. Here are some of our favorites.
Playa Tortugas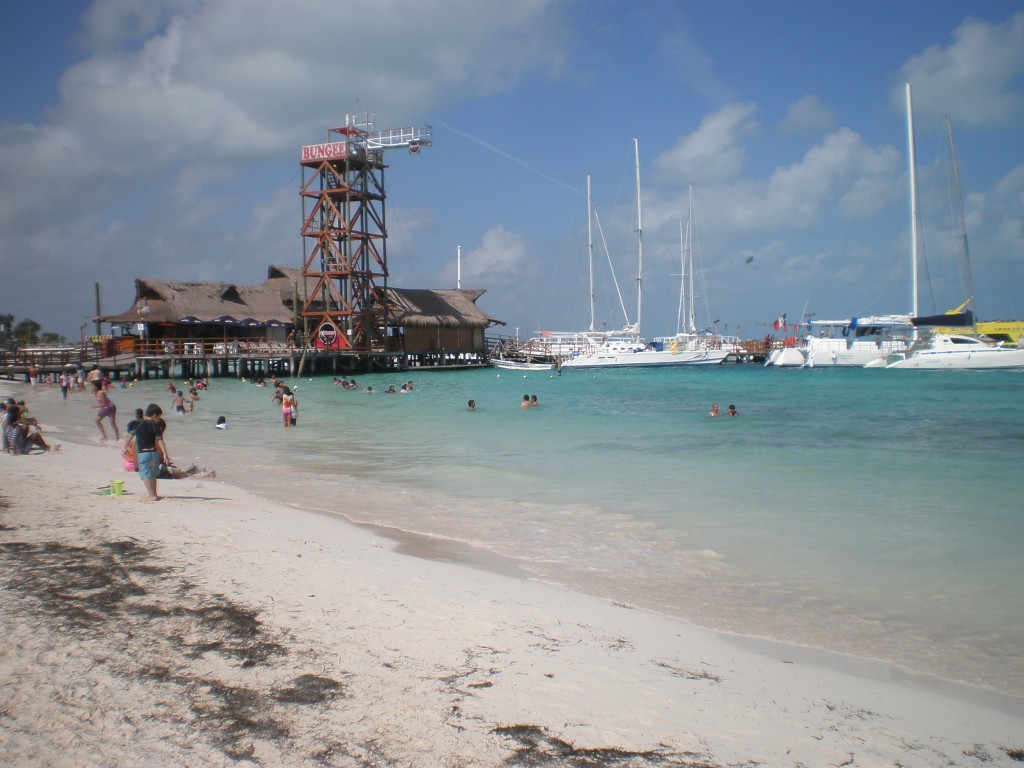 Playa Tortugas is one of the first beaches you come to when entering the Hotel Zone strip from the mainland along Avenida Kulkulkan, which runs down the length of the tourist area. It's divided into two sections: the public area where you first arrive, with the ferry out to Isla Mujeres, bungee jumping, restaurants and areas for you to rent chairs and tables with umbrellas; and the second section, which you can only get to by hiking for 10 – 15 minutes southeast where you soon reach beaches that are not accessible from the highway and are only available to those who go on foot or have access to the private condos, townhouses and other buildings that stretch from Tortugas up to Playa Chac Mool behind Coco Bongo and the Hard Rock Cafe.
Playa Tortugas is especially popular with the Mexican family crowd because the reef doesn't allow large waves to break upon the shore, and the water is shallow. Perfect for children who want to go play in the water while their parents look on from the comfort of the shore with their food and drinks and shade. There are very few foreigners at this beach, because it's not accessible from the all-inclusive hotel area.

View Playa Tortugas in a larger map
Playa Marlyn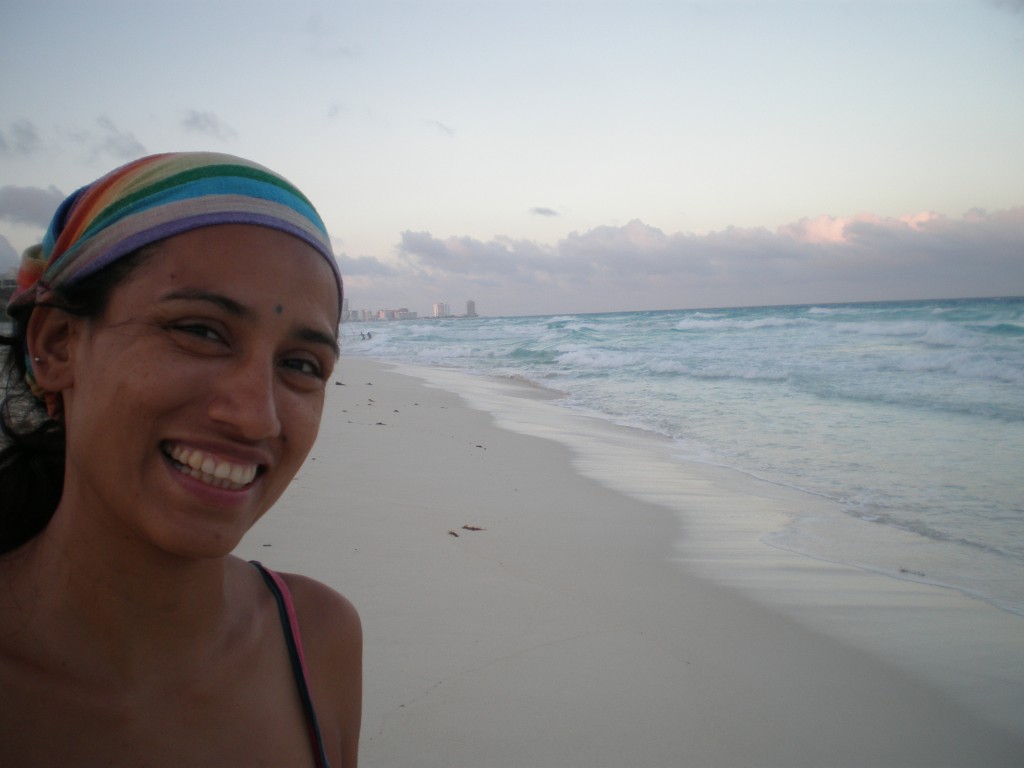 Playa Marlyn is probably our favorite beaches in terms of walking. It starts off just behind Plaza Kulkulkan, deep in the heart of the Hotel Zone, and eventually makes its way into several other beaches. We usually come here, hang out for a bit, then start walking up towards Coco Bongo and Playa Chac Mool. It takes about an hour to walk the beach, but it's a relatively uninterrupted stretch that is lined with private hotels and condo suites and timeshares. Perfect for morning runs, evening walks, and the waves are big enough that you can do some boogie boarding or just some kid surfing.

View Playa Marlyn in a larger map
Playa Delfines (El Mirador)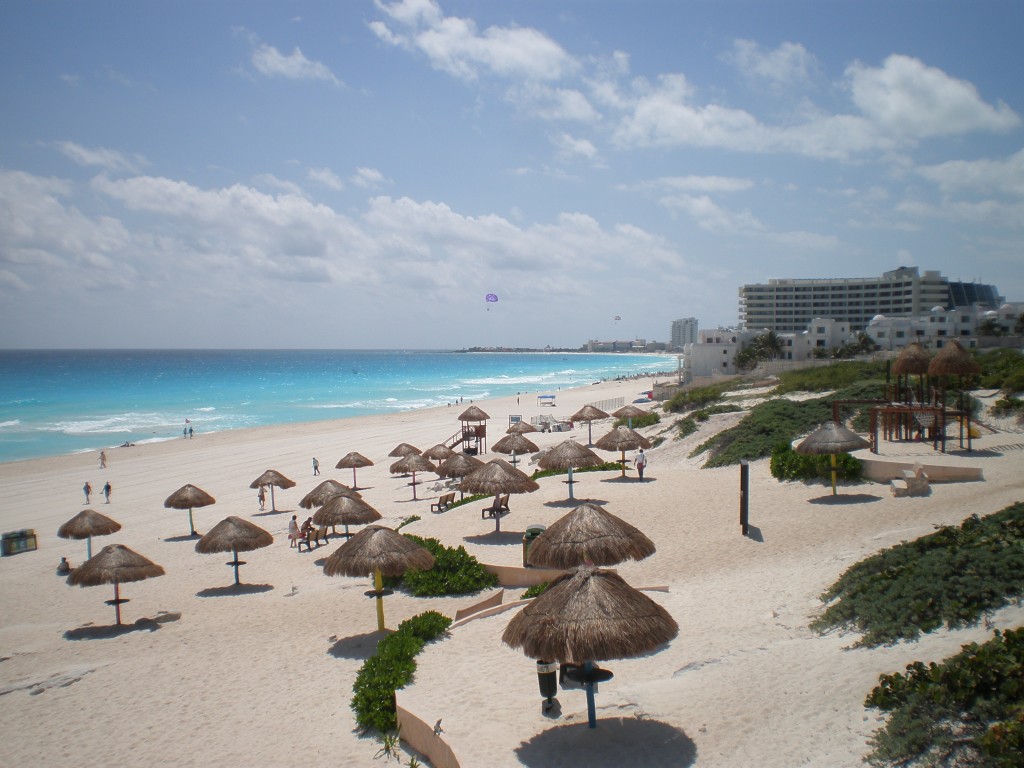 The largest waves and the most impressive views are found at Playa Delfines, otherwise known as "El Mirador", or "The Lookout Point". Here, you get an extended view of the Mexican Caribbean stretching out in either direction for as far as the eye can see, along with the turquoise waters that Cancun is famous for.
It's not a beach for kids unless they are with family, as the waves are fairly large and there is always plenty of them given the wide expanse and constant stiff breezes. There's plenty of palapas set up to get out of the sun, and the area is popular with people who want to fly kites or just do some boarding.
Isla Blanca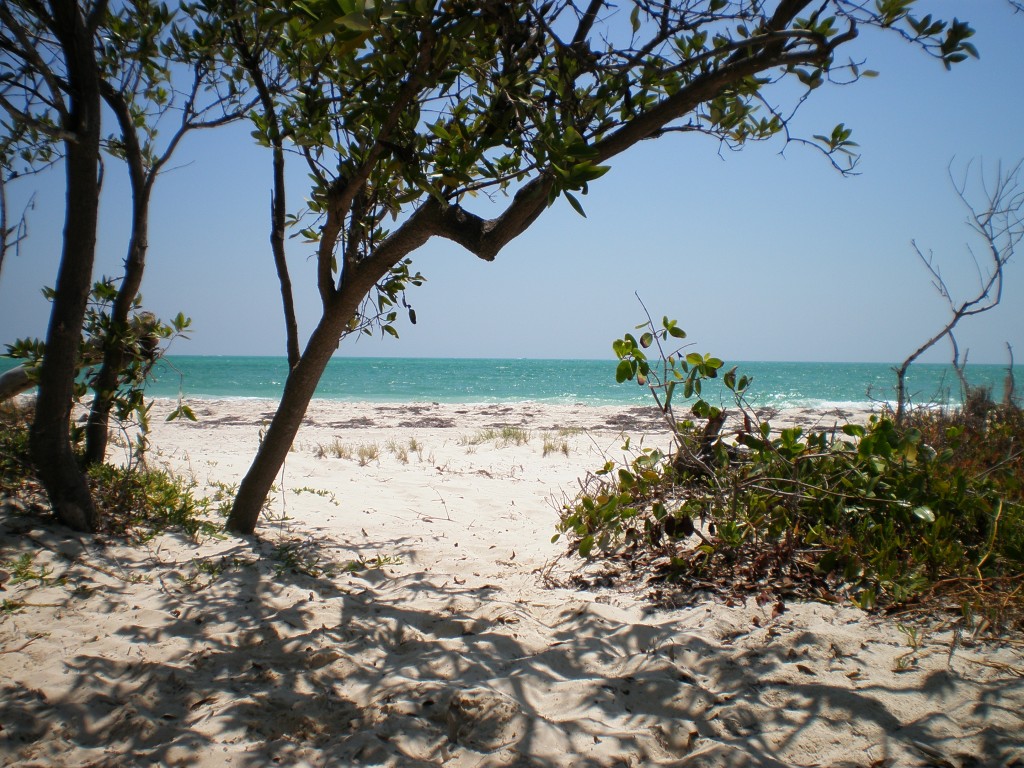 Isla Blanca is on the opposite end of Cancun from the Hotel Zone and has nothing to do with the tourist sections. It's also technically not an island at all, but a long stretch of peninsula. The beach starts where the end of the road going north out of Cancun terminates, right at the beginning of the peninsula. There are almost never any people out that here, except for the random Mexican family who knows about the place. It's great for picnics, but be warned: it's a bit tricky to get to.
If you don't have your own transport you'll have to rely on the combis out of Punta Sam, and they only run a few times per day (every few hours) out to Isla Blanca. If you miss the last one back (usually around 4:30 in the afternoon), you'll be stuck for the night in the middle of nowhere.

View Isla Blanca, Quintana Roo, Mexico in a larger map
Playa Del Niño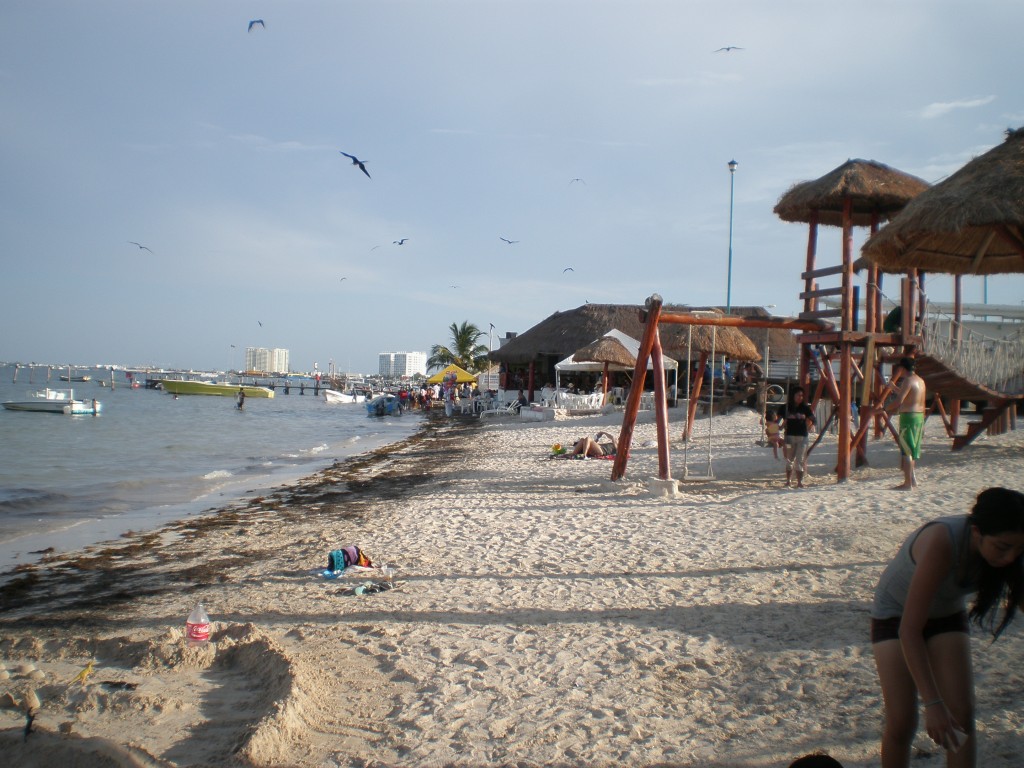 Playa Del Niño is a tiny stretch of beach just north of the Puerto Juarez Ultramar catamarans going out to Isla Mujeres, and as the name suggests it's perfect for children. I've never seen any other gringos at this beach when I've gone with Cris or her family; it's entirely locals and it's a long way from the Hotel Zone.
Best part about this beach for the kids is that the water is shallow, there are no waves, and there's plenty of swing-sets and other playground structures to keep them burning off energy. It's not too far of a walk from the Ultramar drop-off, so finding public transportation there and back is a breeze, plus all of the taxi drivers know of the place. Definitely off the beaten path, and it's a great place to watch the sun come up in the morning with a breakfast baguette and coffee.

View Playa Niños in a larger map
For more Mexico-specific posts, don't forget to check out:
Follow along our Instagram, or our Facebook page. And don't forget, you can head on over to our Cancun page for more information on life on the ground, or pick up a copy of our best-selling Cancun travel guide (on sale since 2011!)