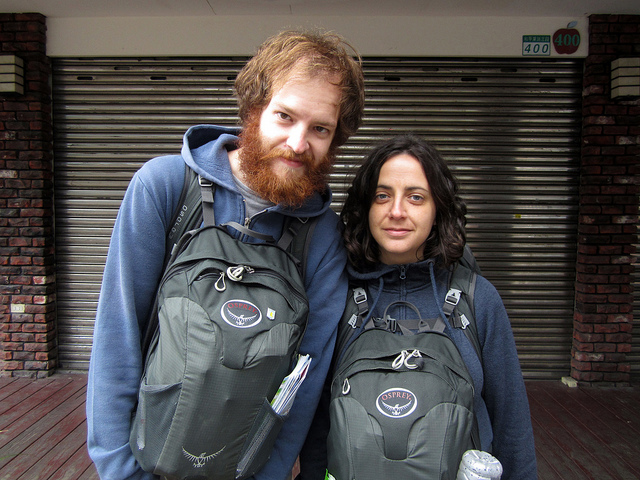 Everyone has an origin story, a birthplace. Somewhere where the journey started, where the lure of the open road first tugged at the heart strings. A place that defined the rest of your life with a single epiphany: the world beyond the horizon is the world that you must see.
These are the hidden stories, the behind-the-scenes tales of expats living in other countries without the limelight of professional travel blogging or being part of the travel celebrity scene. These are the ordinary, average people just like everyone else in the world, and these are their Secrets Of Success.
The latest addition to the fold is the Anglo-Italian couple Dale and Franca. I'll let them tell their story below. Enjoy!
Tell us a little bit about your business/brand/blog. What is it that you do?
We're Dale & Franca a Anglo-Italian couple who run Angloitalian, Follow Us!, a travel blog centered around our love of the creative side of travel – the differences in architecture, art, design and the varying styles of music around the world.
We started the site as a running diary of our travels for our friends back home, but somewhere along the line we started to notice that others too enjoyed the showcase of finds from every step of our travels and from that the site has grown and grown. We're incredibly proud.
When did you get started working online?
Neither of us have any background in online business and in fact everything we know now has been self taught ever since the first day we started the site back in 2012.
It's not been easy by any stretch of the imagination to get where we are today and we're always learning something new each and every day that helps us shape and build where we're heading with the site, opening our eyes to the potential of running an online business.
For the most part what we've learnt has been a combination of reading over the numerous online articles made available by online business and social media professionals, the words and wisdom of our fellow travel blogging peers and a healthy dose of trial and error.
How has the Internet changed the way you do business?
This is actually the first time we're actually running something for ourselves with the buck ending with us come rain or shine and that's certainly new for the both of us. Before now we were always reporting back to someone who would manage our progress, lending a helping hand and the right advice when the need was necessary.
Neither of us think that we'd be able to carry on travelling on into the future if it wasn't for the way we can manage our brand and business on the internet, the fact that we can do mass communication with potential business partners in any country around the world before we've arrived and even after we've left has been an incredible benefit.
One of your passions is obviously travel. What's your preferred style? Are you a backpacker, apartment renter, deal-scrounger or a luxury/all-inclusive type of traveler?
All of the above?
I suppose that we're incredibly fortunate that we're prepared mentally for every situation. We've done our time as the smelly backpacker (actually, that's kind of a favourite) paired with being deal-scroungers, we've also spent time renting apartments for small stretches of time to do a little catch up, have some time-out and the chance to cook some old favourites from home that we really miss and – due to the nature of our blog – we've also had the chance to sample the luxury and boutique side to hotelling which we really love from time-to-time too.

You have done some traveling, plus you are an expert in your part of the world. For our readers, could you give us your take on general safety while living in your home country from a local's perspective?
Much like any other country we'd offer the same advice for the UK and Italy and that with a little forethought towards being too overly flashy with your camera and money will go a long way to keeping you safe.
Some other recommendations would be that no matter how different or interesting someone may look to you than you're used to seeing back home, staring can lead to irritating the wrong individual and could lead to an aggressive stance from this person. Also, dressing down and to your surroundings can make you less inviting as a target much like not flashing you DSLR as mentioned above or the brand new smartphone you bought just before you left.
Another simple tip is that if you must stop to check your map for a minute, walk into the nearest shop that you can to do so to avoid being seen as a tourist on the road and open target for pickpockets.
What's your favorite aspect of traveling, exploring new cultures and seeing new places.
Discovering the undiscovered.
When we first started our travels we had a huge Bible-sized travel guide to help us get the best out of our time in the few Eastern European countries we were visiting, but before long we were starting to grow tired of always knowing what we were going to see before we arrived and that the cities we came to no longer held many secrets for us and that kind of ruined our travelers spirit.
Since then we've never bought another guide or done too much research about the towns, cities and countries we were visiting, limiting any reading we did on personal recommendations from friends, fellow travel bloggers and the great CouchSurfing hosts we've had. This way we've discovered great street art and modern buildings that we wouldn't have found through an out of date travel guide.
What is the one piece of advice you can give newcomers who are just starting out looking to build their own online enterprise? Something you wish you would have known and/or done when you were starting out?
Keep it simple.
I think when we got started we tried to do too much, that we were trying to keep up with what other people were doing instead of taking our own path towards where our business could be.
We made the mistake of posting about things we didn't feel passionate about, wasting time on affiliate schemes that we didn't have the audience for making everything about our site too busy. It's only now 12 months down the line that we've learnt that being writing about what's personal to you, what makes you feel passionate is what connects you to someone else out there that share that passion. Only then can you build a brand and build a business that other people can get behind.
What's next on your agenda? Do you plan on staying in your current location, or will you be moving on to greener pastures in the future?
After almost three months in the same location we really want to get moving again.
Unfortunately due to events out of our control we've had to stay put for these few months, but we've tried to make the most out of it and we're really starting to see the rewards.
We're really looking forward to streamlining the brand to make it the best it can be and offering the best examples of just how much fantastic architecture, art, design and music there is absolutely everywhere in the world, even on your own doorstep.
For other entries in the series, check out our interviews with: 
With over 1,500 copies sold, our flagship 568-page eBook is what started it all. Learn how to travel the world like I do: without a budget, with no plans, funded completely by your website and online ventures.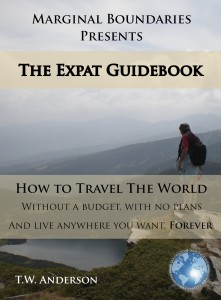 Get Your Copy Today!
Unplug from The System, cure yourself of The Greedy Bastard Syndrome, tap into your universal potential and create your own reality. Build a brand, travel the world and realize your cosmic consciousness.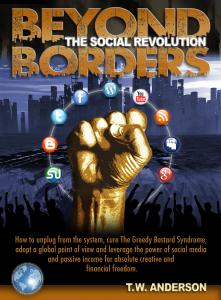 Get Your Copy Today!