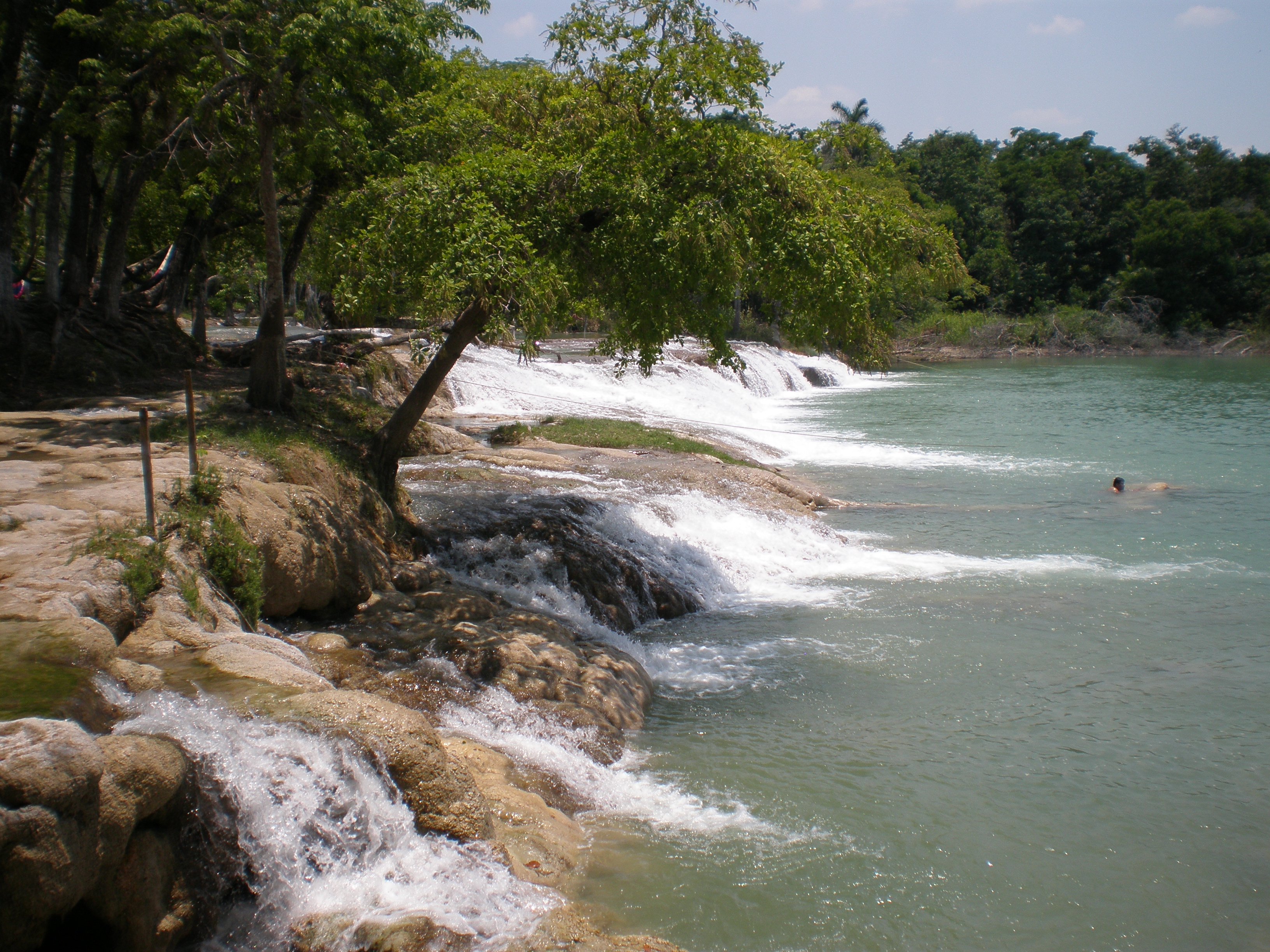 While I happen to be based out of the Riviera Maya, and there's certainly no end to the touristy sights and activities here that the government promotes to bring in the English-speaking crowd, if you want to explore the real Mexico you have to go a little deeper inland. In the case of the past weekend, about 12 hours by bus to the towns of Chable, Emiliano Zapata, and the Zona Arqueológica de Reforma y las Cascadas of Tabasco. Chable is a little pueblo straddling the banks of the mighty River Usumacinta, which forms in the highlands of the Sierra de Chama Department of El Quiché , in Guatemala, and eventually works its way north before it empties into the Gulf of Mexico. It's where Cris was born and where the majority of her family live, and we headed out for a quick getaway last weekend to say hi and just get out of the house for a couple of days.
If you read the recent blog post about Going Nomadic and Living Free of Credit, I talked a little bit about our trip, including the fact that one of her sister's bought a small one-bedroom home with a garden, front and back yard for a mere $3,500 USD, and the fact that her mom has a two-bedroom house for sale for $16,000 USD that we took a look at in Emilano Zapata, a town just 30 minutes south on the other side of the river. She's offered to let us live there for free in 2014, with the option to buy if we want to stay longer.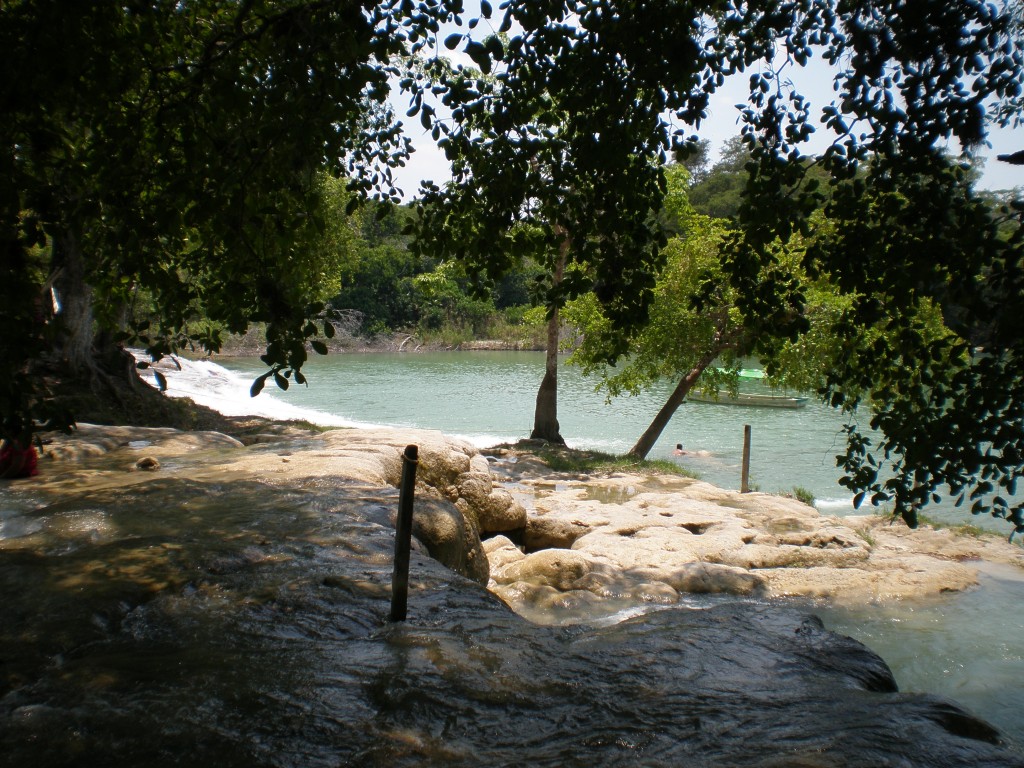 If you are looking for the lowest cost of living you can imagine, coupled with quiet pueblo living in a town that nevertheless boasts a university, high speed Internet and all the creature comforts of the Western world, this is the type of Mexican town you want to live in. Her family has a series of local businesses in Chable, such as her mother's restaurant, which is where Cris worked while growing up before coming to Cancun with her sister a few years back. As far as towns go, there's not much there; it's a small, quiet pueblo that serves as a major truck stop for the long-haul drivers transporting produce, right on the border of the states of Chiapas and Tababsco where the river bisects them. It might be small, but it's crime-free and kids are literally wandering the streets until close to midnight, something you would never see in a city setting.
We left Cancun at 5:30 in the evening and had an uneventful bus-ride to the pueblo where we arrived at around 3 in the morning. Usually it's a 12 hour haul, but the driver only stopped once along the way, so we got there ahead of schedule. Her younger sister was waiting for us outside of her store, and we had some coffee and conversation waiting for the sun to come up before we headed to her little house and crashed out in the massive hammock hanging inside and got a few hour's of sleep before we headed up to the main building to meet up with the family and get some food in our bellies.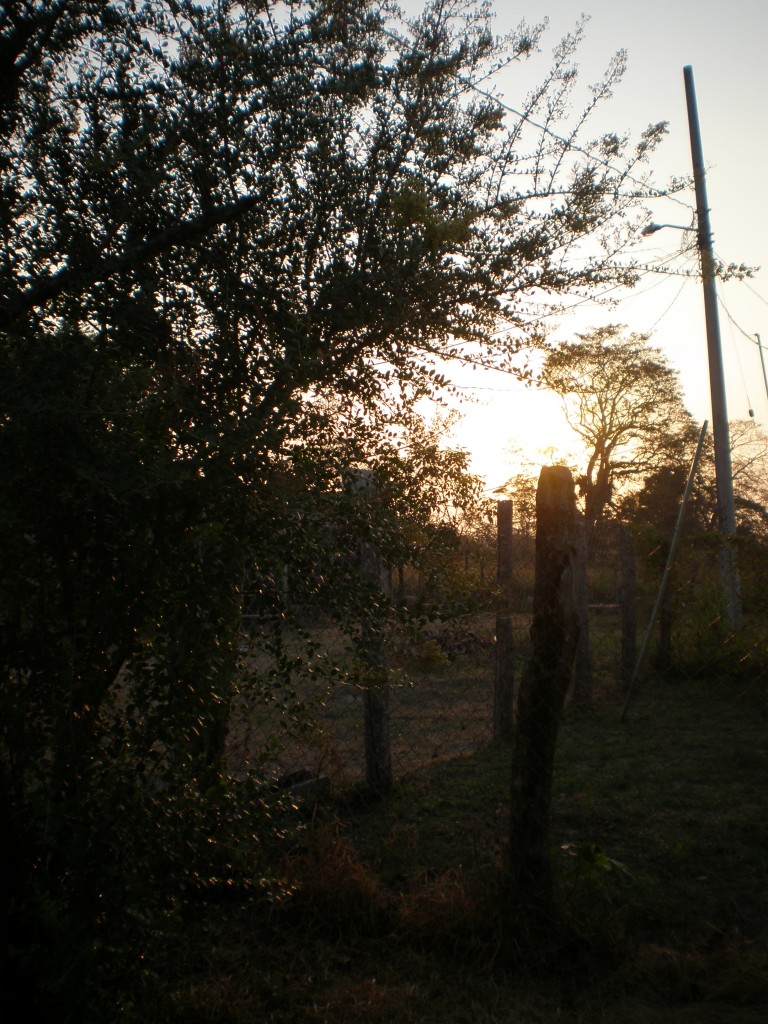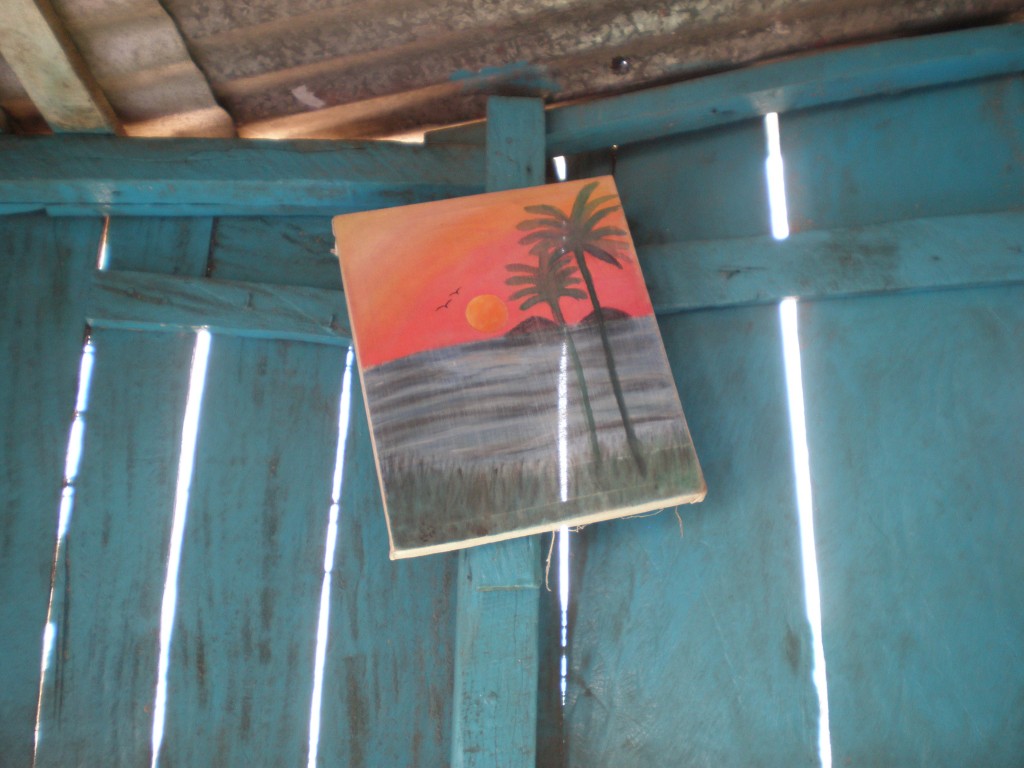 We weren't sure what the plan was other than just going to visit. Mexicans operate on a completely different time schedule than Westerners, and as I tell everyone in my books and in the classes here when they arrive: throw away your watch. It's not going to do you any good while living in Latin America. In fact, it will just cause you frustration. You have to learn how to live in the moment and just roll with it. So once we arrived at the building, Cris' brother in law and one of his friends, along with Cris, myself and her two little nieces, hopped into a car and took a jaunt to Zapata for a quick breakfast before we came back to Chable, hung out and visited, had a late lunch and then decided it was time to head out to the waterfalls, or as they call them in Mexico, the cascadas.
At this point we did something that is almost impossible to do in the U.S. anymore, even though we used to do it when I was a kid: ride in the back of the truck. We got the whole family into this little Ranger. Four adults inside + the two smaller nephews (one is like 18 months and the other 2 or 3 years old), and then Cris + myself + her brother + her sister + the two other nieces (6 and 9 years old) all together. Plus the cooler of beers + food + the tube. Mexicans make the most of things, and the truck ride was no exception.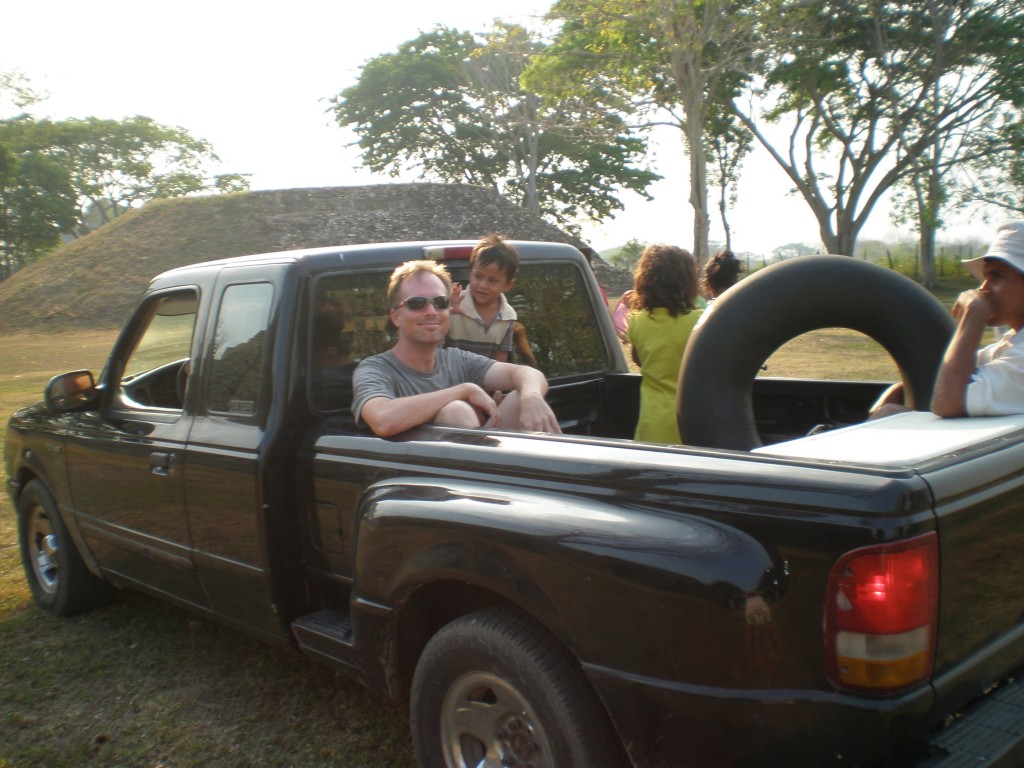 We only got stopped once by the soldiers at one of the crossroads who gave her bro-in-law a bit of a hard time for all the people crammed into one vehicle but hey, it was Saturday, a family outing to the river and they just wanted to give him a bit of a chewing out. So after about 2 minutes of talking we were back on our way. On the way there, they pointed out an oddity. While the overall landscape is the typical lush greenery that makes up the tropical farmlands of Tabasco, every once in awhile there are these bright yellow trees that crop up, standing out from among the others. You can see them for miles, little fingers of yellow bursting out from the green. There were also a couple of pink ones, but unfortunately I didn't have the camera at the ready as we were speeding by.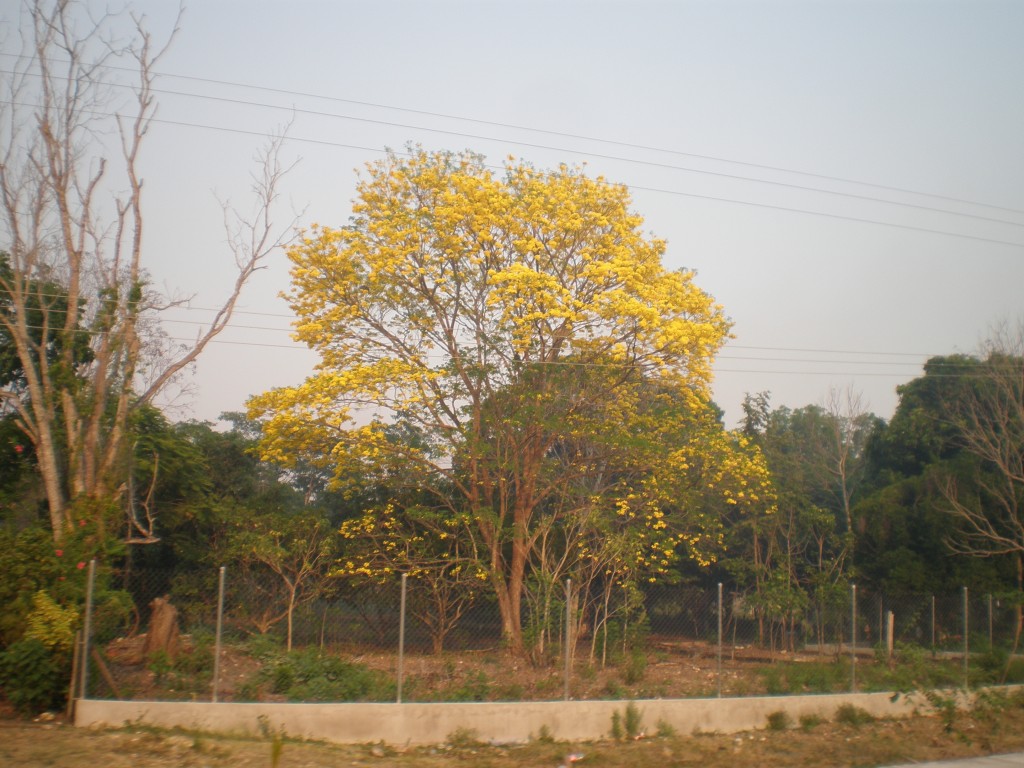 Forty-five minutes later we arrived at the Cascadas Reformas. The water was a bit low, which means we were able to walk around the top of the waterfalls, something you can't do in the rainy season because the water gets too dangerous. We set up the cooler, grabbed a palapa with a bench + table and proceeded to enjoy the next few hours of swimming, eating, kicking back beers and general relaxation.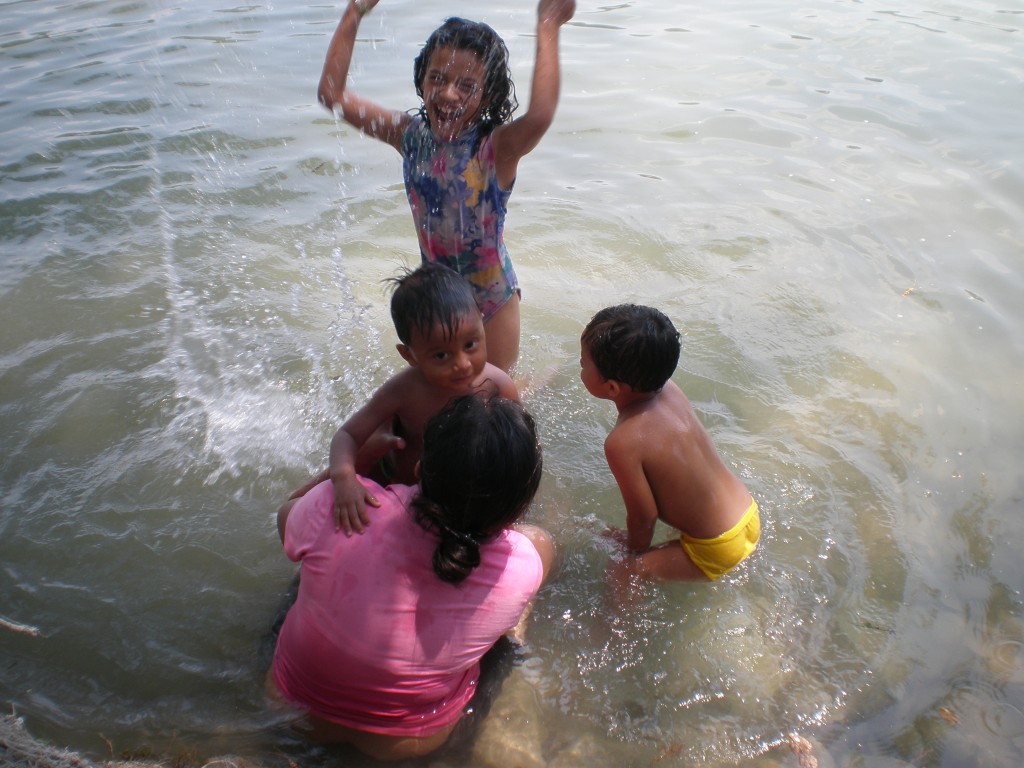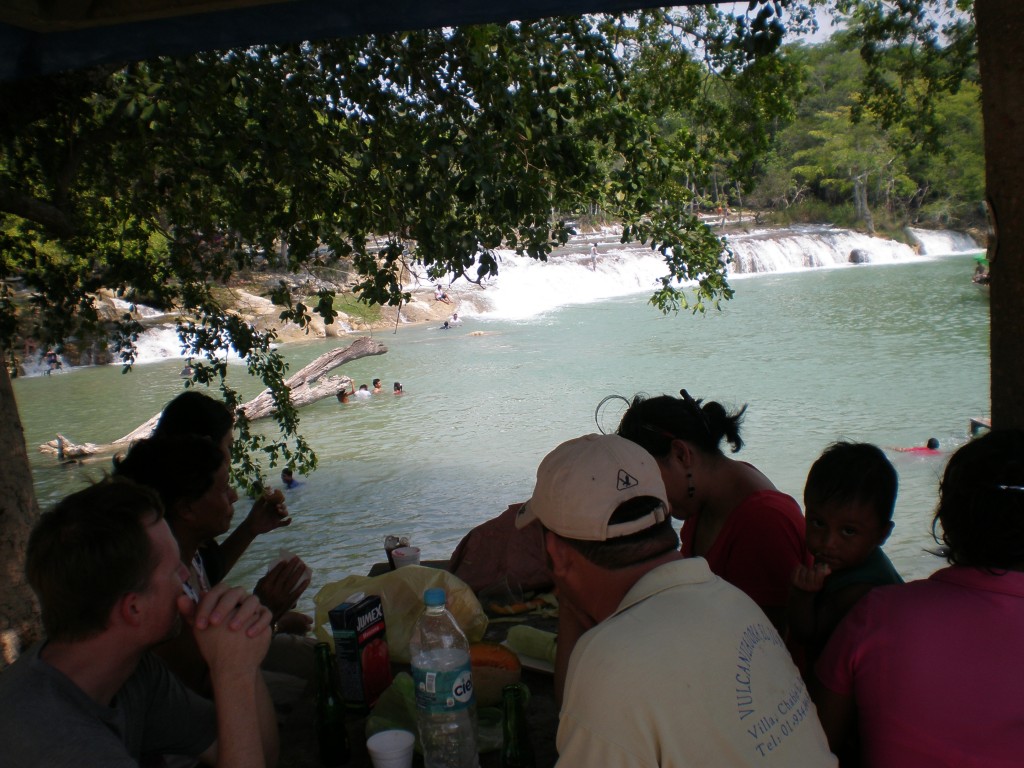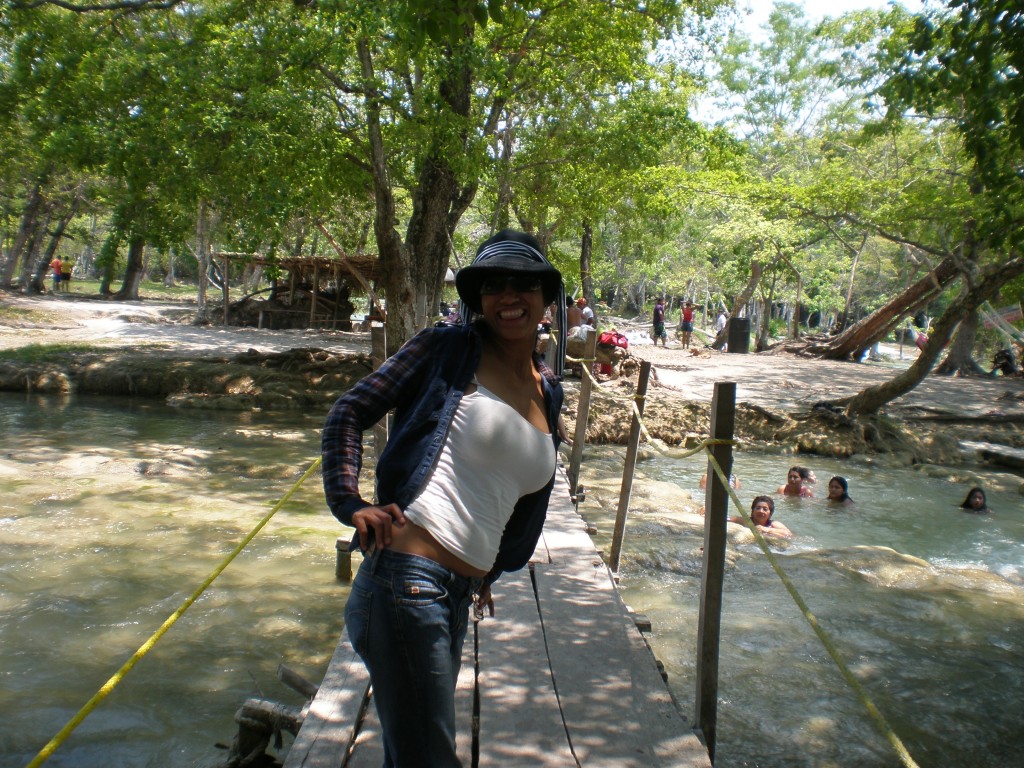 The groovy part about it all was that the cascadas (waterfalls) aren't the only part of Reformas. There is an entire archaeological site with Maya ruins dating back to 600 A.D., and unlike major ruins such as Uxmal, Chichen Itza, Palenque or Tulum, which have been restored, uncovered and heavily promoted by the government to bring in tourist income as well as promote the ancient history of this region of Mexico, the ruins at Reformas are still largely covered.
As we were driving in there are a few ruins which stand out amongst the trees, but there are also dozens of hill-covered mounds that dot the landscape in all directions, pyramids and structures whose beauty is still locked away and preserved by nature, waiting for the moment when someone with the funds comes along to clear away nature's progress to uncover the mysteries hidden beneath.
While some of the pyramids are uncovered and you are free to walk and climb at will, it's literally nothing more than a cattle gate stretched across between two fence posts and a small dirt entrance where we pulled in (see photo of me in back of truck) and then climbed out to explore for a little bit. There was literally no one there. We were the only visitors. It's off to the side of this dirt road (slightly blurry photos of tree-covered pyramids testament to my expert photo skills from the back of a moving vehicle) in the middle of nowhere, which means the government hasn't spent the time or the money to clean the place up or promote it.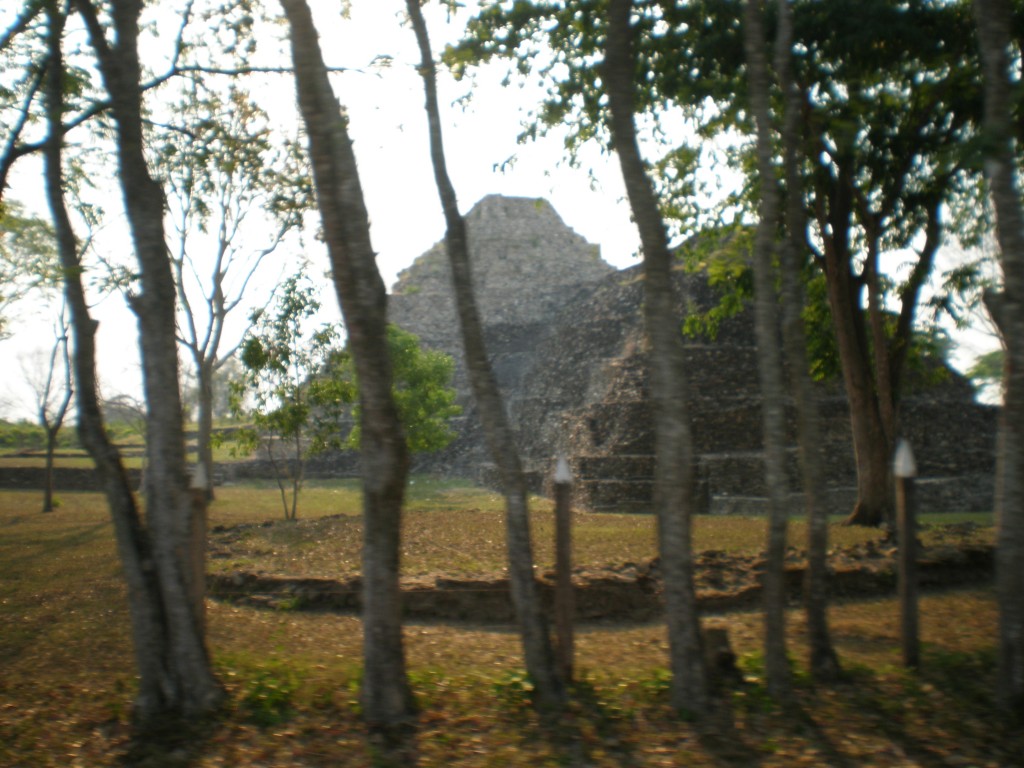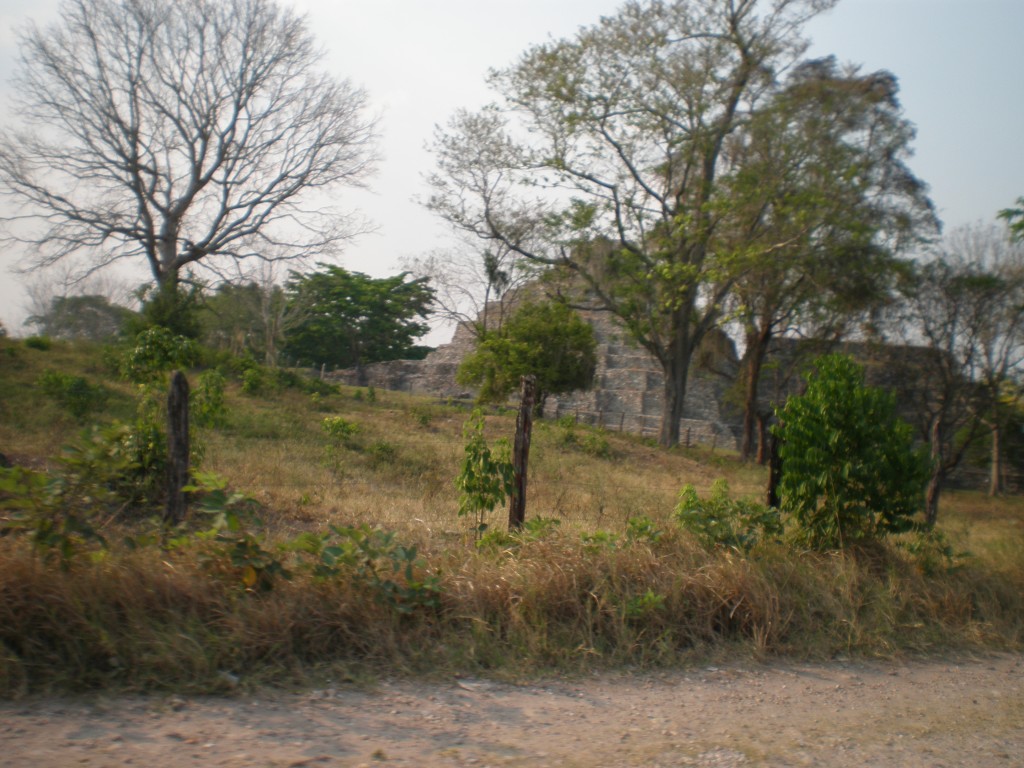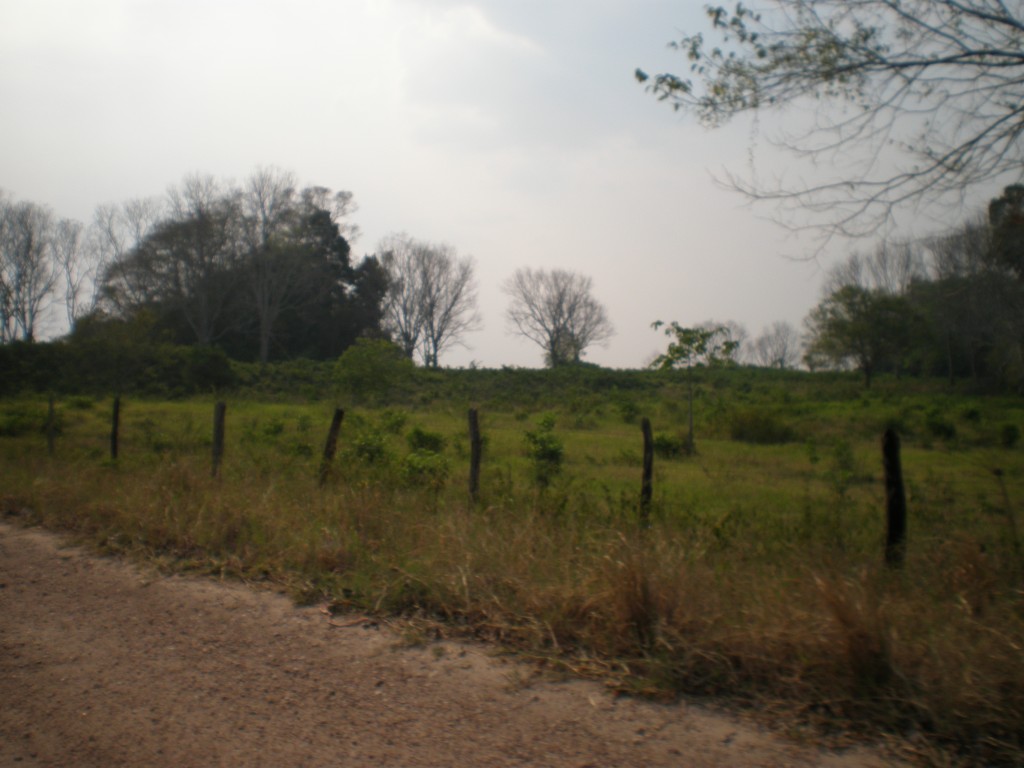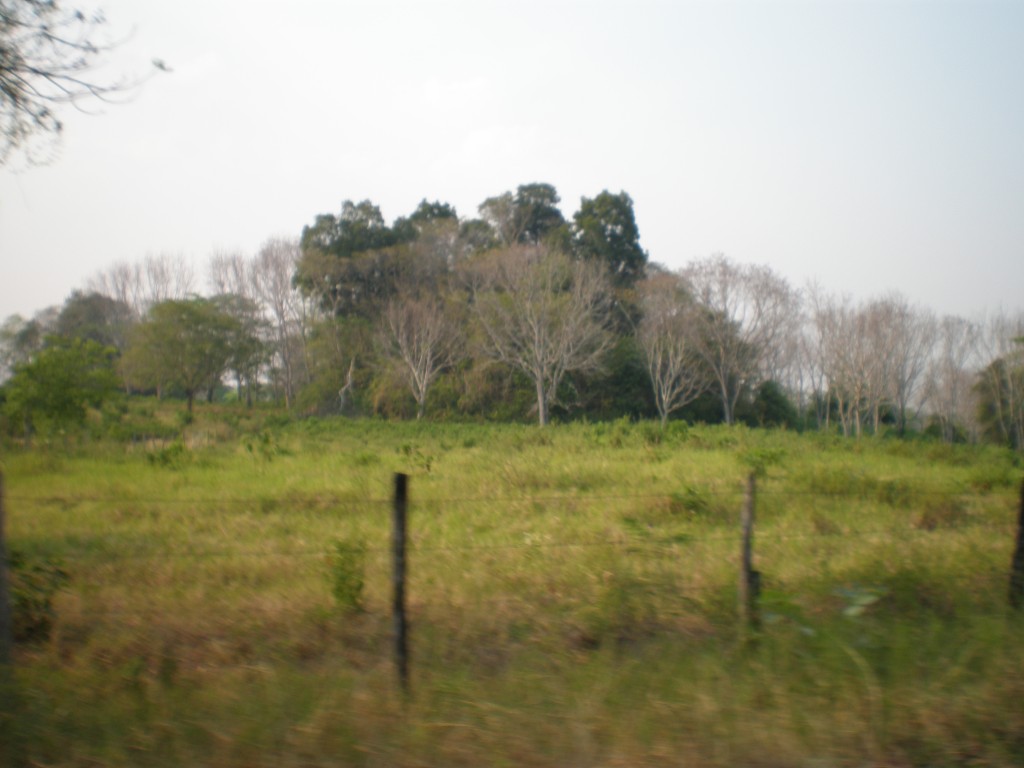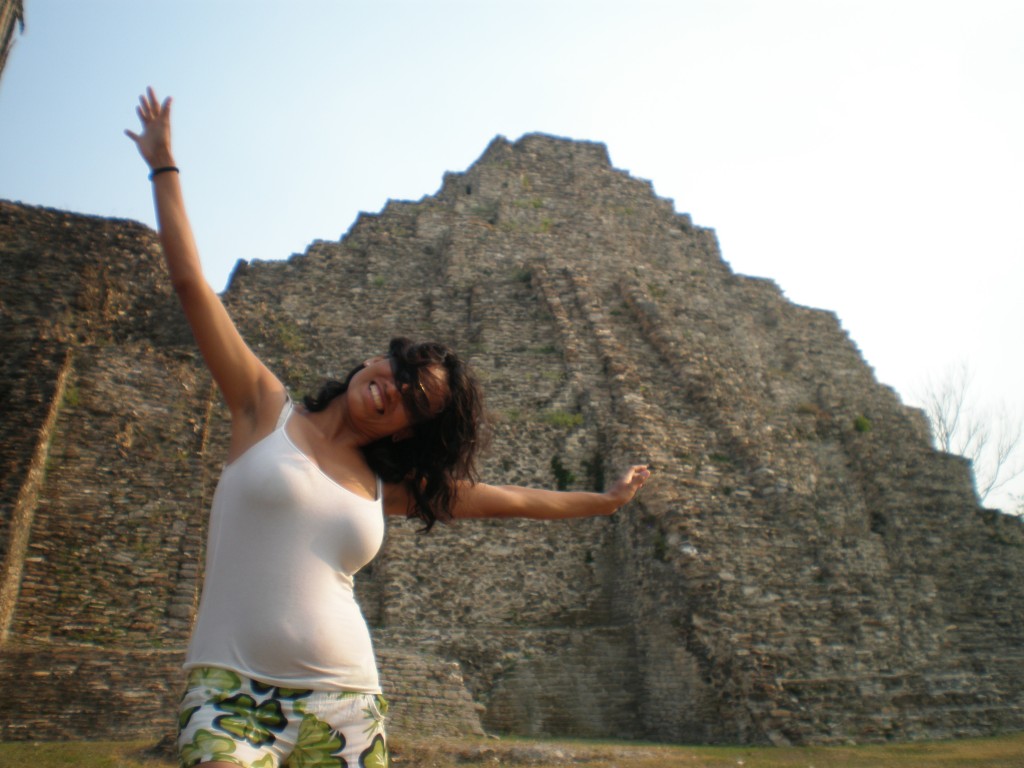 After we finished up at the ruins we were burnt out after a long bus ride in, a long day with the family and plenty of food and beers, so we got a good night's sleep, then woke up the next morning and had breakfast before making a run to Zapata to get supplies for the send-off barbecue.  Everyone wanted us to stay another day, but Cris and I are in the middle of teaching our Destination Freedom retreat for Spring of 2013, so we needed to catch the night bus back to Cancun.
Since there's no bus station in Chable, you literally stand on the side of the highway and flag down buses as they pass, waiting for one which is on its way to Cancun (or your destination) that has an empty space and they'll stop, charge you cash and you can head off to your destination. It was Sunday evening so everything was full, and we waited almost three hours before a bus finally stopped around 7:45 (we wanted to leave at 5 to get back by 5 or 6 a.m.).
Unfortunately, they didn't have any room up top, but the driver offered to let us kick it in the sleeper cabin below the bus, normally reserved for the off-shift drivers (they travel in pairs or trios for long-distance hauls and trade off driving shifts while the other sleeps). Technically not available to the public, so a little illegal for us to ride down there, but we were in a rush to get back to Cancun so we chucked our gear in, crawled inside and got comfortable.
Not a lot of room, but it had a window, a comfortable mattress that we were both able to stretch out on, a fan, light, and a portable television, which we didn't bother using. Both of us promptly fell asleep and we literally only woke up twice along the way when the bus stopped for refreshments/bathroom breaks. We got into Playa del Carmen at around 6 a.m. the next morning before people disembarked, and then the driver popped the hatch and we rode upstairs in the real bus for the rest of the way back to Cancun, just in time for us to make a grocery store run and get breakfast on the table for our students at 9 a.m.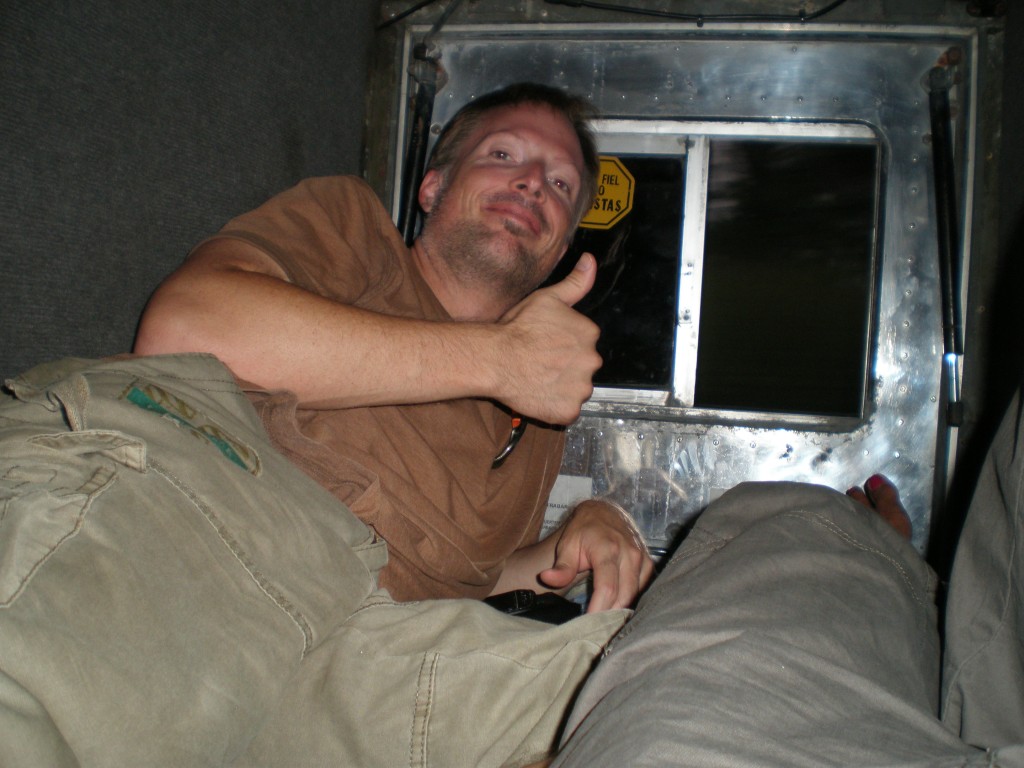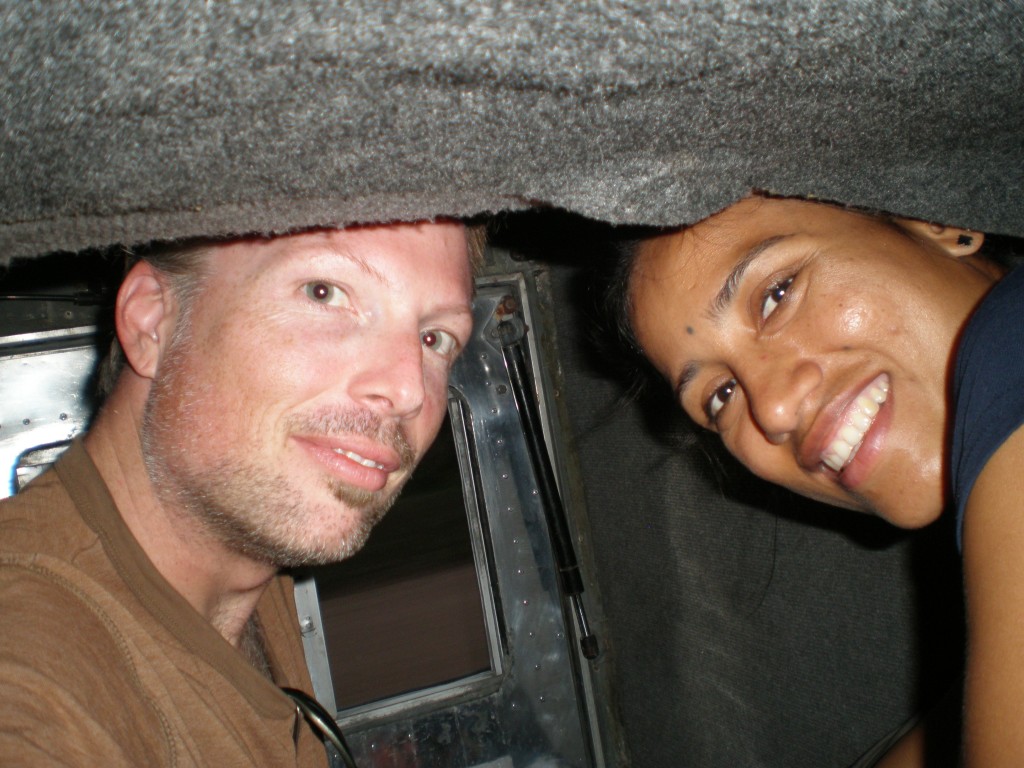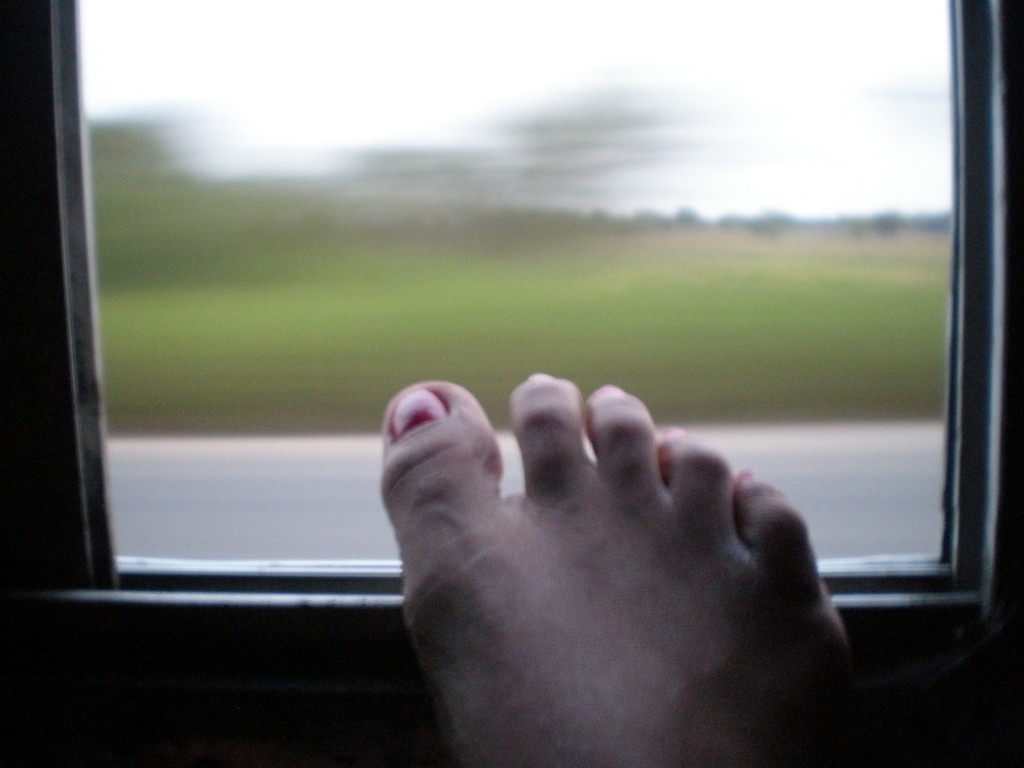 Actually, it was the best I've ever slept on a bus. No different than my bed at home. The only downside would be that while the seats and passengers up top have access to the bus toilet, when you are down in the sleeper cabin you either hold it or have a container with you. Thankfully, neither one of us are big drinkers on long hauls, so the couple of stops the bus made along the way were sufficient.

View Untitled in a larger map
To see the full photo albums of our adventure you can either visit the Google+ page or the Facebook page.
With over 1,500 copies sold, our flagship 568-page eBook is what started it all. Learn how to travel the world like I do: without a budget, with no plans, funded completely by your website and online ventures.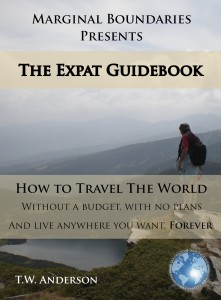 Get Your Copy Today!
Unplug from The System, cure yourself of The Greedy Bastard Syndrome, tap into your universal potential and create your own reality. Build a brand, travel the world and realize your cosmic consciousness.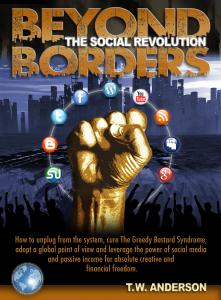 Get Your Copy Today!