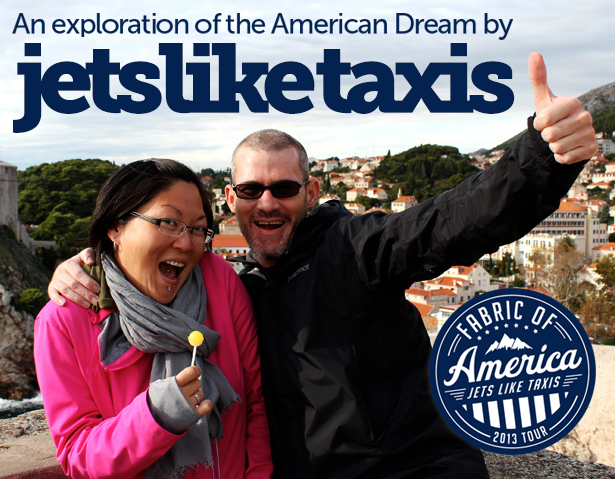 If you haven't checked it out already, my friends over at Jets Like Taxis just went public with an amazing tour of the United States they are putting together for this spring/summer, called "The Fabric of America".
The goal of the tour is to showcase the better elements of a country that is now hard to find much good to say about. They are undertaking a 6,000 mile road-trip to interview and promote on their blog the numerous mom and pop/local businesses/brick and mortar/independent artist/entrepreneur types who make up the most important elements of The American Dream: hard work, personal inspiration and a desire to work for their own rewards rather than be a wage slave for someone else.
I've personally donated $500 USD to the project, and I've known about it for the past few months and have been eagerly waiting for them to go public. Now that they have, I can finally share the information with the rest of you! And more importantly, make a personal request.
Ryan and Angela are a pair of travelers who have been traveling around the world writing about their experiences living in various destinations, such as Montenegro, Germany and Spain. Note that they aren't backpackers or hostel-hoppers. They are immersion travelers who stay for at least a few months in a given destination, exploring the culture, the people, the food and the little things that make a place unique. They speak the local languages and work hard at integrating into the local societies as opposed to merely being the typical consumption-based tourists who backpack their way through and only experience the hot-air balloon rides, the snorkeling, the scuba diving, the all-inclusive resorts, the zip-lines and beyond.
Their blog posts are full of local stories about the local people. Their series on Montenegro was beyond inspirational; it was, in my mind, one of the best series of travel writing I've read in the past two years. Which is exactly why I felt comfortable donating five hundred bucks: they are great writers who focus on the things I want to know about. Mainly, the local businesses, people, culture and the heart of the countries they visit, as opposed to 99% of the travel bloggers out there who only ever post photos of their hotel rooms and adventure activities and never actually experience a country or its culture or its people.
Right now, they are looking for more sponsors, but not merely for money! They are far more interested in services (as detailed in their blog post), such as hotel rooms or private accommodations. While funds are great, maybe you work for a hotel chain. Maybe your uncle works for a rental car company. Maybe your camera or mobile company wants abusive road tests and reviews of its products. Whatever it may be, you can help!
They have a wide variety of options and sponsorship packages available, and are willing to work with people to create custom packages that benefit everyone in the greatest respect. If you – or someone you know – might be interested, they have an awards package document available upon request. Plus, they have an online merchandise store where you can pick up t-shirts and tote bags to help support their amazing journey.
I've personally read through the sponsorship package several times and there are a lot of great rewards for becoming a sponsor, ranging from logo placement to backlinks from the blog posts and beyond. I highly recommend reading through their blog post and if you can find a way to help them make this the best journey possible, go for it!
After all, at the end of the day it's the independent workers who deserve the just rewards, not the corporations and corrupt governments that have driven the world into the current global state of financial affairs, and by helping Ryan and Angela interview and showcase these businesses and individuals on their way through the U.S., you can help highlight the best elements of being independent entrepreneurs.
Check out their Sponsorship packages here!
Support their journey by purchasing some of their wicked t-shirts and tote-bags, or by donating money to their "feed the doggie" fund at their online store!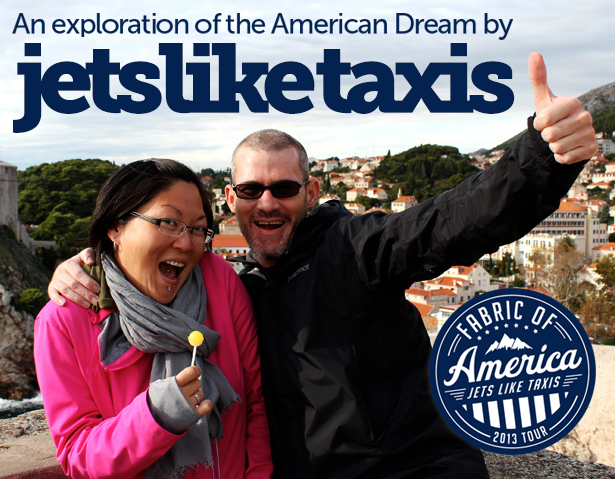 With over 1,500 copies sold, our flagship 568-page eBook is what started it all. Learn how to travel the world like I do: without a budget, with no plans, funded completely by your website and online ventures.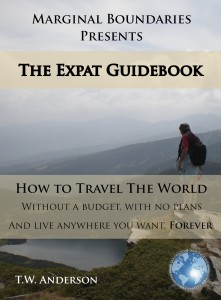 Get Your Copy Today!
Unplug from The System, cure yourself of The Greedy Bastard Syndrome, tap into your universal potential and create your own reality. Build a brand, travel the world and realize your cosmic consciousness.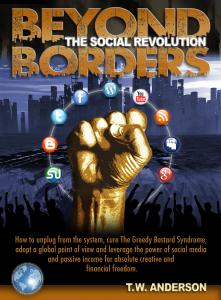 Get Your Copy Today!