After years of telling myself I don't have the money or time to travel, I finally started doing research on how to travel long term.  What I found challenged me to my core.  Was finding the money to do what I loved doing really as easy as adjusting my life's priorities?
I have had many opportunities to jet set, but I have always backed out for some reason or another.  Excuses abound, and even though I said that travel was extremely important to me, my life's decisions told another story.  As of late, I have been discussing the idea of long term travel with other people and they all say the same types of things.  "I wish I could travel more, but I don't have the time or resources", "I would love to travel full time, but I'm already living paycheck to paycheck".
I believe there are deeper issues tied to people's inability to take the plunge into long term travel or a location independent lifestyle, and it boils down to attitude and priorities.
If you get a craving for Chinese food, then you scour the Internet for a good place that delivers.  When you want to lose weight, you make it a priority to get to the gym.  The same applies to traveling.  If you really want to travel, then you will find a way to make it happen.  Even if you are broke.  Once you change your mindset from "I have no money or time" to "how can I find the money or time", discovering innovative funding to travel with will become much easier.
I decided in March of 2012 that I was going to start traveling full time, no excuses.  Here are some of the steps I took to start saving for my trip, and other great ideas that did not pertain to me, but may work great for you!
1. Stop Buying Starbucks Coffee!!!!  Up until March of 2012, I drank a Grande Soy Latte from Starbucks every day.  Every single day, for four years.  I do not want to, nor will I do the math on how much money I threw away.  I finally decided I wasn't going to be lazy anymore and I invested in an inexpensive espresso machine, (which paid itself off almost immediately), and started putting that $4 a day into a jar.  I called it my Dreams Jar.  This brought me a savings of $1,460.
2. Get rid of cable – Everyone's cable bills vary depending on where you are in the country, but when I had cable and Internet, I was paying close to $120 per month.  Get rid of it.  It's not worth it. Also, consider the fact that you can use public libraries for free Internet if you need it to work for a few hours per day, such as if you are freelancing. I pay $7.99 per month for Netflix, $9.99 per month for Hulu, and $79 per year for Amazon Prime.  I used to have an Xbox that I would stream from, but for $80 I ended up getting a Roku Player, which has been almost life changing!  I don't even miss cable!  Put the amount that you save each month into your Dream Jar.  That is a total savings of $1,145.
3.  Get a second job –  This isn't really an ideal option for many people, but if you can pick up a serving/bartending job on the weekends outside of your regular job, or something online such as doing personal assistant work for someone, answering emails and the like, then you will be able to save up a large sum of money in a short amount of time.  I took on a part time job last summer on the weekends, and was able to save $2,400. A great place to look for short term/part time work is www.craigslist.org.
4.  Sell everything you own – Not only does this help you to prepare for your location independent lifestyle (we hold on to too much crap anyways!), it also brings in some extra money.  I love books, and I have a lot of them.  This was the hardest for me to let go of!  I ended up taking them to a bookseller, and got close to $50.  For furniture, housewares, and odds and ends, I recommend www.craigslist.org or a garage sale.  I'm still using a lot of my stuff, but I will be leaving for Mexico Feb 28th, so soon I will be having my Grand Selling Off of Everything I Own Garage Sale!  For electronics, check out www.ebay.com or search craigslist for people that buy up electronics. Jets Like Taxis has an excellent post on the topic called Look Around: You're Surrounded By Your Travel Fund.
5. Sell or rent out your car – If you own your car, you'll actually earn something from doing this. I, however still have a car payment, but you're still saving either way!  In getting rid of your car, you will also be saving on car insurance, gas, and maintenance.  Here is my savings breakdown: Car Payment – $300, Car Insurance – $115, Gas/Maintenance – $500.  If you live in an area where public transportation is awesome, USE IT.  Otherwise, invest in a bike and ride it.  Your body and your wallet will thank you.  You can actually look up bike routes on Google maps now.  The reason this option isn't really feasible for me is I have 2 young children still, so it makes more sense for me to keep my car until I actually leave the country.  Total amount saved is $10,980.
WOW I wish I had gotten rid of my car a long time ago!  If you would rather hold on to your car, you can actually rent it out to people that need a vehicle.  Relay Rides is a good place to start if you want this option.
6. Stop eating out – Yes I am serious, and stop looking at me like that!  I pay $15 per 3 months for a subscription to www.thefresh20.com which is budget friendly family meals from 20 fresh ingredients per week.  You can basically eat for a family of four for $100 per week or less depending on where you live, and what's available to you.  It's so worth it, and tastes so much better than eating out.  It's designed with the busy family in mind.  You can also check out www.emeals.com and one of my favorite blogs is www.100daysofrealfood.com which has lots of great ideas for eating healthy on a budget.
Plus, once you go global you can start saving over $5,000 per year on your grocery bill compared to the United States. Once you start shopping locally and avoiding the supermarkets and eating all of your meals at home, you can save thousands.
7. Cash in your 401k – If you have decided that you want to break free from the 9-5, and start living your life now instead of in your 60's, and you have a retirement fund.  Then why not use your retirement fund now?  I know you're thinking, how irresponsible, but seriously, we have no idea if we are going to be alive when we are 60.  Yes, you will have to take a little penalty (don't get me started on that) but at least once you cash it in, it's yours.  And it could be the perfect catalyst to your location independent lifestyle.  Here is more information on how to go this route.
8. Invest in an e-reader – For someone that is addicted to books, my habit gets pretty expensive.  Recently I have started buying more e-books and kindle books.  I personally have a Nexus 7, and I can buy eBooks for a lot cheaper than physical books.  But I think an even more valuable reader would be a Kindle Fire.  The reason being, if you are an Amazon Prime member, you can rent books for free.  Which is awesome!  And think of the money you would save!  Plus you can get your Amazon Prime movies to your device as well.
9. Tax Return –  I know that not everyone has kids.  But if you do have kids, usually you get money back.  I think the child tax credit alone is $3,800 per child this year, not to mention the other deductions.  Last year I got $5,500 back and I expect a similar amount this year!  Make sure you take every deduction you qualify for, even if  you only get a couple of hundred back, that is a couple of hundred you didn't have before.  The program I use is www.turbotax.com. While you certainly might need the money to cover expenses for your children (and that's the reason it exists), if you are considering investing in a life-changing career break or program that will change your life and allow you to build a brand and generate an additional passive income to support a life of travel/location independence…it's money well invested.
10. Find a roommate – This could be beneficial in more ways than one.  Mostly to save on expenses… rent, utilities, internet, maybe even food if you decide to share can be slashed!  Also, if you plan on having a home base from which to travel from, you'll have a live in house-sitter   You can offer a certain amount for rent, and then they agree to pay half of all utilities.  Or you can do something that is all inclusive, which I find to be much easier than trying to split everything down the middle.
There are many other ways to rake in money for your travels if you really dig deep.  Here are some other great resources for long term travel as well:
Professional Hobo: How to Travel Full-Time for $17,000 a Year (Or Less!)
Nomadic Matt's How to Travel the World on $50 a Day: Travel Cheaper, Longer, Smarter
This is the guy that basically changed my life once I read his 2 books.  I highly recommend checking him out. Chris Guillebeau : The Art of Non-Conformity
The Expat Guidebook, which not only has information on how to generate your initial travel fund, but also information on how to build a brand, rank your website, master social media and generate passive income to live around the world on less than $10,000 a year…while maintaining all of your modern amenities and creature comforts.
Wandering Earl's How to Live a Life of Travel, another excellent how-to manual in the same vein as the aforementioned books/posts.
Are there resources you'd like to share?
Let us know in the comments below!
With over 1,500 copies sold, our flagship 568-page eBook is what started it all. Learn how to travel the world like I do: without a budget, with no plans, funded completely by your website and online ventures.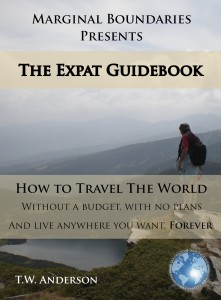 Get Your Copy Today!
Unplug from The System, cure yourself of The Greedy Bastard Syndrome, tap into your universal potential and create your own reality. Build a brand, travel the world and realize your cosmic consciousness.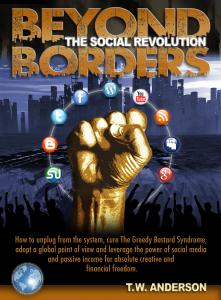 Get Your Copy Today!