Good grief…can it get any more expensive just to live in the United States? How many people are going to willingly keep flogging themselves while trying to climb that never-ending stair of indentured servitude?
In another prime example of why it's so important to cast off the bow lines (as Mark Twain once famously said) and set off to distant shores, healthcare for retired individuals is rising again, with a 4% increase in just a single year. The estimated cost for a couple, age 65, without any nursing homes/assisting living is around $250,000. That's *just* for healthcare. (Men are expected to live until 82, women until 85). Which is on top of your normal cost of living, not to mention other expenses.
If you want or need assisted living (a nursing home) you can expect to tack on between $75,000 and $85,000 a year to that number. Even if you only needed assistance for 10 years, that's still 3/4 of a million dollars…per person! On top of the 250k you need for healthcare. In short…if you have no other options, no family, no investments, no long-term plan for your life, you can expect to need around 2 million dollars in pure, hard cash to handle just twenty years of retirement in the United States.
Oh, and that's assuming you've actually paid off your home and school loans by the time you hit 65 years of age. In short…if you use assisted living you'll need $100,000 per year just for your healthcare costs, above and beyond the cost of living. Without assisted living, and just on healthcare over a span of 20 years, you need $12,500 per year to cover your medical costs above and beyond cost of living.
Ahh, the American Dream!
Meanwhile, the total costs for expats living in Mexico are around $250 per year for access to the universal healthcare plan (USA Today article) that accompanies permanent residency. It gives you unlimited prescription medication, among other things, such as free visits to the public clinics, free dental work, free eye-care and beyond. Colombia has around the same costs, although it depends on which strata you live in, since things are subsidized in that South American country. Bulgaria is the same, as are many other countries around the world. So while you have to pay a few hundred dollars in taxes per year, it's still a far cry from the 12k to 100k per year you fork out to the feds in the U.S.
That's why the medical tourism movement is so popular with Americans…because they can get the same healthcare and better treatment than they ever had back home…and it only costs a few hundred dollars per year compared to tens of thousands of dollars per year. And that's just for retired people. Think about if you could save up all of that money spent on health insurance every year for the previous 10, 20, 30 or 40 years of your life before you got the point where you were retiring.
The average cost of healthcare per year for an average, healthy adult in the U.S. is around $5,000. Bear in mind that the CDC just released information earlier this year stating that 75% of the American population is overweight or obese, so that 5k a year mark is on the low, 25%-or-less-of-the-population end of the scale. 75% of Americans are actually paying between $8,000 and $10,000 per year in healthcare.
Think about that over a 40-year span of time. Even if you are one of the 25%, you shell out around $200,000 over a 40 year career in healthcare costs. Double if you are overweight. And that's not counting out-of-pocket procedures that insurance doesn't cover.
The average cost of a three-bedroom home in major cities in places like Mexico, Bulgaria, Colombia, Uruguay, Paraguay can be found between $35,000 and $50,000. The average cost of a home in the U.S. is $225,000. Think about that for a minute…you can buy three, four, five or even more houses and properties in other countries for the 200k you could save up over the course of your life if you took control of your savings early on in your career and bypassed the thievery of American healthcare entirely. Not to mention, the total cost of living (as detailed in The Expat Guidebook and our immersion guides) in many places around the world never rises above $12,000 a year for upper middle-class lifestyles.
But even if not….$12,000 a year for healthcare costs versus a few hundred dollars per year for retirees = enough to pay for an entire year's worth of living expenses in a coastal city like Cancun, where pensioners can retire on as little as $500 per month for their total costs, including healthcare. And all of this is accomplished through living abroad as a professional expat.
As I'm always saying…this is gradeschool math, people. No matter how you look at it, the savings total up to tens of thousands of dollars per year when you are living abroad utilizing universal healthcare and countries with cheap costs of living. Even a five year old child who can add 1+1 to = 2 can figure out the simplicity in the numbers. When you can have everything you need for pennies in comparison…it just makes no sense to stand there and let them rob you blind.
Unless you simply like being violated on a daily basis without even the courtesy of a reach-around. Personally that's not my thing.
With over 1,500 copies sold, our flagship 568-page eBook is what started it all. Learn how to travel the world like I do: without a budget, with no plans, funded completely by your website and online ventures.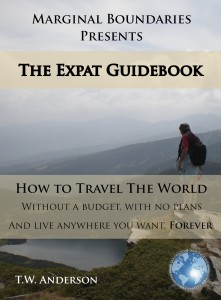 Get Your Copy Today!
Unplug from The System, cure yourself of The Greedy Bastard Syndrome, tap into your universal potential and create your own reality. Build a brand, travel the world and realize your cosmic consciousness.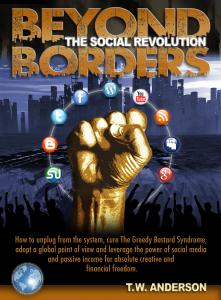 Get Your Copy Today!