One of my favorite parts of traveling is exploring the various foods and drinks of cultures around the world. I'm definitely a foodie, and no matter where I find myself I try to indulge my senses to their fullest potential. The one thing that all cultures share, above and beyond the fact that we are all human beings, is that we all enjoy good food, good wine and good company, regardless if it's the holidays or not.
With that being said, Marginal Boundaries is teaming up with Real Food and Health to bring you another holiday competition. RFH is a rapidly-rising star in the real food community, bringing you health-driven information, recipes and stories from around the world. From the benefits of certain foods and drinks to a celebration of home-brewing methods to showcasing the most basic methods to render your own fat, make your own tonics and enjoy real food at its healthiest level, Real Food and Health is all about stripping food down to its bare, healthy essentials, sans preservatives and sans additives.
The contest is simple. Marginal Boundaries is sponsoring the Eat, Drink and Be Merry holiday festival. Featuring recipes from every corner of the planet, the contest is a way to showcase your favorite foods and drinks from around the world. Whether it is a local delicacy where live or something you came across in one of your travels as a location independent digital nomad, now is your chance to share these delicacies with a group of like-minded foodies. The winner receives a year's subscription to Real Food and Health (which, incidentally, is completely digital and green), as well as a copy of their chosen Live Like a Local guide from Marginal Boundaries (also completely digital and green).
The contest will take place on the Marginal Boundaries Facebook page, with participants sharing their favorite recipe for a food or drink from around the world in the form of a photo and a description plus the recipe. The winner will be the person with the most "Likes" for their particular food or drink.
Here's how it works:
Eating healthy and living longer is something that we should all strive to do. Part of the focus of Marginal Boundaries is educating people on the benefits of the location independent lifestyle, roaming the world as a digital nomad. If you've read the Lifestyle section of posts (available on the upper right hand side of the website), you'll notice that one of the key points I focus on is having more time to prepare healthy, real food. For those of you who have followed along on one of my other blogs, you know that I personally lost 50 pounds following the Mediterranean Diet after I left the States and moved to Sofia, Bulgaria. All of that was by simply changing my diet and getting away from the processed poison that people put inside their bodies every day. If you are someone who appreciates the benefits of health living through real food, this is your chance to celebrate those recipes with your friends and family from around the world, as well as have the opportunity to enjoy some foods and drinks you might have never heard of before!
With over 1,500 copies sold, our flagship 568-page eBook is what started it all. Learn how to travel the world like I do: without a budget, with no plans, funded completely by your website and online ventures.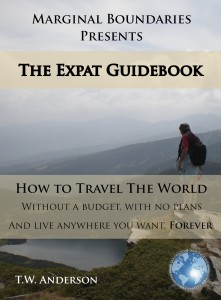 Get Your Copy Today!
Unplug from The System, cure yourself of The Greedy Bastard Syndrome, tap into your universal potential and create your own reality. Build a brand, travel the world and realize your cosmic consciousness.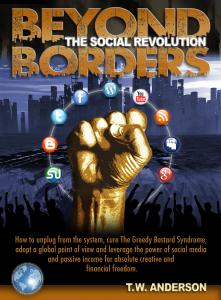 Get Your Copy Today!