"When you travel, remember that a foreign country is not designed to make you comfortable. It is designed to make its own people comfortable." – Clifton Fadiman
A reality that many individuals do not prepare for before they head out the door to spend time in another country as a location independent digital nomad is that laws and rules that exist in their own country do not necessarily exist in other countries. If you want to live like a local and enjoy your time and experience the depths of cultures from around the world you have to be prepared for the fact that things in other countries are not going to be how they are in yours.
This goes beyond simply a difference in cultures and religions. Many substances that are illegal in your home country will not be illegal where you set down roots to live like a local. Let's take a look at alcohol and marijuana, as they are a couple of easily-recognized examples.
First off, let's talk about the United States. You are forced to pay taxes and you can bleed and die for your country all at the ripe age of 18 but you can't enjoy a beer until you are 21, legally. If you look at the overall list of countries in the world and compare that against the legal drinking age you will find that only around 15 of those countries have a drinking age of 21. The other 170+ countries in the world have varying age requirements ranging from 14 years old up to 20, with 18 years old as the most common drinking age for nearly every country in the world. There are only half a dozen that have 20 years old as the legal age, so there are around 20 countries in the world out of 200 who require you to be 20 or 21.
What does that mean? Well, the long and short of it is that when you go to a place like Italy where the legal drinking age is 16 you are going to have to adjust to the fact that there are going to be teenagers drinking beer. You are also going to have to adjust to the act that your children (should you have any and be traveling with them) are within their legal rights to kick back a cold one with their parents, friends or in any other setting…and there's not a thing you can do about it. It's not illegal and it's not immoral. It's simply a beer. And if you can't handle that, you need to go back to the first day of this course and learn to let go, because the customs that exist in other countries are not yours. Just as much as you want other people to respect your customs when they enter your home country, you need to be doing the same for other cultures.
Most digital nomads don't have a problem with this, but there are always a few up-tight rule-nazis who want to ruin the fun of everyone around them and run around with a little flag proclaiming how immoral and wrong it is for a country to let "minors" drink a beer or consume alcohol. Remember….the rules of your home country don't apply in others, and your sense of entitlement will get you nowhere because you aren't in Kansas anymore and your kids aren't minors in places like Italy. They are adults and completely within their rights to enjoy a brew.
The one that really gets some people going is the legality of marijuana and other so-called drugs. This one varies a bit, and while there are a few sticklers who like to claim that marijuana is evil and bad and users should be punished to the full extent of the law, most countries really don't care about personal use of drugs. In fact, many countries such as Mexico, the Czech Republic, the Netherlands, Peru, Portugal, Colombia and beyond have decriminalized marijuana and many other so-called drugs so you can carry around varying amounts of products ranging from marijuana, cocaine, ecstasy, mushrooms, LSD, hash and beyond. In Mexico, for example, you can have up to 5 grams of weed on your person, while in Peru you can have up to a full quarter (8 grams) on your person and not have to worry about the police. In addition you can generally smoke in public without being hassled by anyone. This leads to many foreigners having a conniption fit when they are walking down the street and see someone smoking or taking something that is illegal in their home country.
If you are someone who partakes there are a variety of countries you can live like a local in where you can enjoy your particular favorite without any hassle or issues. If you are a hard-liner who thinks that all mind-altering substances should be made illegal with possession and use punishable, you need to re-think your location independent strategy until you can handle dealing with the fact that things which are illegal in your home country may not be wherever you are planning to go. Learn to let go and you will find your time far more enjoyable. And who knows…maybe if you pull the stick out, kick back, roll up a fat one and burn with the locals you might find yourself enjoying a part of life that you never knew existed before.
With over 1,500 copies sold, our flagship 568-page eBook is what started it all. Learn how to travel the world like I do: without a budget, with no plans, funded completely by your website and online ventures.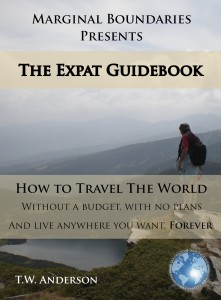 Get Your Copy Today!
Unplug from The System, cure yourself of The Greedy Bastard Syndrome, tap into your universal potential and create your own reality. Build a brand, travel the world and realize your cosmic consciousness.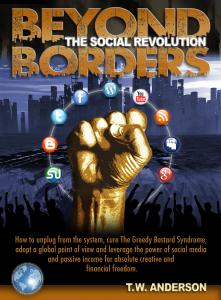 Get Your Copy Today!