I've personally found over the years that you can save roughly 50 percent on your grocery bill by shopping at local markets. When I say local markets I mean the open-air, bazaar-style markets where you wander through an open area of stalls and stands that are set up with the wares being sold. People from the U.S. and the U.K. will recognize these as farmers' markets, and while they can be found in the U.S., and are still fairly common on the weekends in various market towns throughout the U.K., for the most part they are relegated to once a month or once a week, depending on where you live. What you find in many of the other countries of the world is open markets that are open every single day.
Stimulating the local economy is all well and good, but one of the primary reasons to shop at the local markets for things you need is because the prices are drastically reduced. Produce is always significantly cheaper in local markets than it is at the supermarkets, as is local hand-made clothing such as scarves, shirts, sandals, jewelry and more. While you can't find everything you need at local markets (if you want a computer you are still going to need to buy through a retailer; the same with a digital camera), you will generally be able to find all of your necessities via the local markets, allowing you to save money.
You can find a lot of different things at local markets above and beyond simply food, however. If you are keen on blending in than these markets are the best place to find clothing, ranging from hand-made versions of things to cheap knockoffs of designer clothing. Pants, shirts, sweaters, scarves, sandals, shoes and beyond, the clothing will always be cheaper than it is in the retailers, much like groceries are always cheaper at these markets. You can also find knockoff watches, wallets and various other sundries. However, while you can find just about anything you need for your day-to-day living via the local markets, it is the produce and food that make the local markets such a find when you are living like a local as a digital nomad.
Produce in the open markets is almost always local, which means you are getting it as fresh as fresh can be. While some of you may not be sticklers for it, I'm personally one of those people who prefers eating fresh food and produce whenever I can, and I always buy fresh above canned. I've been following the Mediterranean Diet now since January of 2008 and there's just no comparison when it comes to the fresh produce you can get at the local markets for use in salads and other dishes. You can also find breads, cheeses, meats and beyond, always at a discount compared to the supermarkets and always fresher.
To give you an idea of the kind of money you can save, back in Colorado as of 2007 I was spending roughly 250 to 300 dollars per month for groceries, and that was using coupons and shopping for discounts at various supermarkets so I could get the best deals. Since I've been living abroad as a location independent digital nomad I've cut my grocery bill down to around 150 dollars per month. For those of you who have been following along for some time you know that I eat healthy, but I also eat well. When you can pick up a few kilos worth of vegetables for a few dollars versus spending several dollars on a single piece of "organic" produce back in the U.S., you can literally live on three to five dollars a day and yet have three well-cooked meals per day including snacks in between. I eat a lot of fish, chicken, salads, breads, cheeses, yogurt, fruits and beyond, and once or twice a month I'll break down and do some red meat or some lean pork.
It's possible to go even lower than 100 dollars per month if you are a vegan, but it depends on your personal tastes. The point is, part of living like a local is shopping like the locals do, and the more you explore the more you will find that no matter where you go in the world outside of the U.S and the U.K. people are doing the majority of their shopping at the local markets when it comes to the day-to-day things such as food and sundries. When you can save so much money and get the freshest food available while at the same time supporting the local market and economy, you really can't go wrong.
With over 1,500 copies sold, our flagship 568-page eBook is what started it all. Learn how to travel the world like I do: without a budget, with no plans, funded completely by your website and online ventures.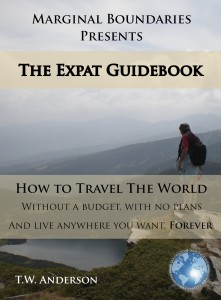 Get Your Copy Today!
Unplug from The System, cure yourself of The Greedy Bastard Syndrome, tap into your universal potential and create your own reality. Build a brand, travel the world and realize your cosmic consciousness.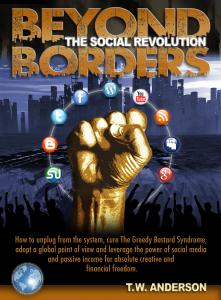 Get Your Copy Today!