Since the advent of the Internet the concept of global has gone beyond just a term and become a reality. Skype, Google, Magic Jack and other VOIP programs have transformed the way we communicate, allowing global communication in an instant. And while the information of the past used to be confined to specific television channels and media publications these days the Internet is a wide open space of free information shared by people from around the world. And while it is true that you might have to sift through that information on occasion to find a nugget of helpful truth, there is a great big world beyond the teleprompter, one that the vast majority of people are unaware exists.
If you have been contemplating making the change to location independent digital nomad there are certainly things you need to know in advance. Transitioning into a digital nomad is not something that can happen overnight. You need time to research countries, cities, to find accommodations, check if the schools are there for your kids, quality medical care for your health, safety and so on and so forth. But just like I showed you in yesterday's post about the real safety numbers that are never advertised on the news for fear of the masses knowing the truth, there is a severe lack of truthful information shown on the television. If you want the real truth you have to be willing to look for it.
The reality with media outlets is that for years they have been a means of controlling the masses. I won't go into all the conspiracy theory stuff here, but the bottom line is that television was (and still is to some degree) for years a means of channeling specific information through to the viewers. Anything people see on the television as told to them by a news source is considered fact. Undeniable, unquestionable and unequivocal. Or at least it was until people were able to start fact-checking the news via the Internet, at which point it becomes glaringly obvious that what they tell you on one channel differs greatly from what is shown on another channel, and across all the channels there are always different versions of the story that are far from what actually happened on the ground or what actually exists in the place the newscasters are telling you about.
Many news journalists who read you the news off their teleprompters are nothing more than mouthpieces. They are paid a wage to read words off of a teleprompter and to look pretty and friendly so that the people watching will establish trust with that particular channel. In many cases these people have never been out of their own city, let alone the country, yet they are reporting on news and facts from around the world as if they are experts on the subject matter. Telling you that places like Mexico City are some of the most dangerous in the world when in fact Mexico City has a lower per/100k murder rate than Denver or New York City, and when you compare its 8/100k to Washington D.C.'s 31/100k murder rate it looks like paradise on earth.
If you want the truth about a destination before you begin living like a local on location you need to look beyond the television and the so-called experts with their perfect hair and makeup and supposed wealth of information funneled through to them from the executives at the top who deem what is or isn't acceptable to be shown on the news. Padding the information you receive and telling you exactly what you want to hear about how safe and perfect your corner of suburbia is. Go to sleep, you have nothing to fear, everything is perfect just where you are right now, there is no reason to leave, no reason to look beyond what we are giving you. Shhhh, go to sleep. Trust us….
Every country does this to some degree, but the beauty of living in the digital age where the sharing of information is on a global scale is that it becomes easy for you to dig up the truth if you are willing to look for it. There are many location independent digital nomads like myself who make a living researching on and sharing such information, plus there are thousands of blogs written by locals and expats, not to mention plenty of sites such as CouchSurfing, TravBuddy and Facebook where you can get the low-down-and-dirty about any destination in the world from people who are living on the ground and can point you in the right direction. With the ability to communicate with anyone, anywhere at the drop of a hat, completely for free with utilities such as Skype, you have no reason to go on living in the dark when it comes to getting information about the city you want to live like a local in.
With over 1,500 copies sold, our flagship 568-page eBook is what started it all. Learn how to travel the world like I do: without a budget, with no plans, funded completely by your website and online ventures.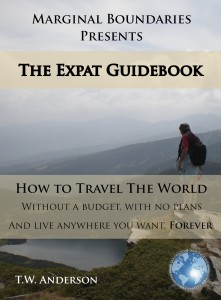 Get Your Copy Today!
Unplug from The System, cure yourself of The Greedy Bastard Syndrome, tap into your universal potential and create your own reality. Build a brand, travel the world and realize your cosmic consciousness.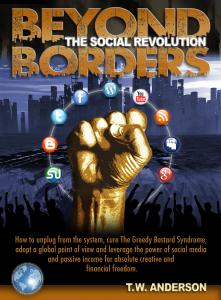 Get Your Copy Today!