While those of you in the United States are accustomed to the fact that if you live anywhere outside of the major cities you are forced into relying on automobiles (and thus the ridiculously high cost of gas combined with insurance and other sundries), for those of us living outside of the U.S. we have another option, one which is not only much cheaper but also more sustainable and more environmentally friendly: public transportation.
The entire world outside of the United States utilizes public transportation to varying degrees, but the key note to remember is that it is the main source of transportation for people in most other countries. And while it is true that occasionally you will run into some rural areas where the infamous chicken buses exist, for the most part pubic transportation is a far cry from the broken-down buses of 30 to 40 years ago.
You can read more on the prices of gas over in my post Public Transportation: The Way of the Future, but one of the main reasons people rely on public transportation as their primary form in other countries is that the cost of gas is extremely prohibitive. And believe me, when you have to pay $150 for a tank of gas just to drive around for a few days you will quickly begin to see why so may people have shunned cars and prefer to simply ride the bus, take the subway or use a taxi. But it's more than just the cost of gas. Once you get rid of having a vehicle you have one less responsibility, which means you have more free time to enjoy things rather than being bogged down with all of the necessary time-consuming aspects of having a car.
A car isn't just a mode of transportation. It's a one-thousand-dollar-a-month (or more) responsibility, just like having a child. You have your car payments, your insurance payments, maintenance on the vehicle, gas, oil and everything else that goes along with it. As you can read in that other post, my girlfriend's mother describes having a car as a man having another wife, because the level of responsibility to own a car is just as high as it is with having a spouse and/or family. So when you can shed that responsibility and the subsequent $1,000 per month surcharge (on average) you suddenly have yourself a hell of a lot of open space in your life because you are having to work that much less.
And just because public transportation in the United States costs an arm and a leg doesn't mean that's the case in other countries. For example, a basic taxi in Cancun or Bogota costs around 2 dollars, anywhere you need to go (within reason; large distances will be more and you will have to negotiate with the cab driver). You can hop on a collectivo for anywhere in the city in Cancun and ride for 6 pesos, which is the equivalent of 50 cents USD, or you can go to the Hotel Zone for about 75 cents. The Transmilenio in Bogota, Colombia is a rapid-transit system that costs around $1 per ticket, and you can ride the metro in Sofia, Bulgaria for about the same amount. Compare that against the New York City subway, where the fares start at $2.25 per ticket for local destinations and go up from there, while the cost of a cash ticket on the London Tubes starts at 4 pounds (although you can get a better deal with the Oyster card) and goes up depending on what zone you are traveling to.
When you take a city like Rome, for example, you have taxis, buses, the metro and motos. Cancun has taxis and buses of varying sizes, from 8-10 man combis to the 30ish passenger cross-country buses. Bogota has taxis, buses and the Transmilenio, while Sofia has a metro, buses, trams and taxis. They are on-time, reliable and most cities operate 24 hours a day so you can get anywhere you need to regardless of how late it is. The buses run a little slow at night, because there are fewer on the road, but you still have plenty of options.
As far as comfort, style and safety goes, just looking at Mexico one of the major carriers is ADO, which has a fleet of buses ranging from the older, no-AC models up to a first-class fleet of transport vehicles that not only have beds, air conditioning and waitresses catering your meals and snacks throughout the trip, but also WiFi and plugins for your electronics. And while the train service in most parts of Europe has been touted for years as being some of the most romantic and scenic in the world, it is also incredibly comfortable and reliable, with WiFi in most developed countries, sleeping cabins, private restaurants and more. So while chicken buses are a reality in some places (just as you can find rickety old Greyhounds in parts of Alabama or Arkansas), the vast majority of public transportation systems are completely modern.
So when you think about transitioning into living like a local somewhere as a location independent digital nomad, think about how much money you can save by taking the bus. Then think about the fact that since there are many people sharing one vehicle you have less vehicles on the road polluting things, such as all those single individuals driving around massive SUVs in the United States. With more money in your pocket and a little sustainability to boot (by sharing transportation and thus lessening the pollution levels) you get the best of both worlds and can enjoy the benefits of less work, a cleaner world and more time to enjoy it.
With over 1,500 copies sold, our flagship 568-page eBook is what started it all. Learn how to travel the world like I do: without a budget, with no plans, funded completely by your website and online ventures.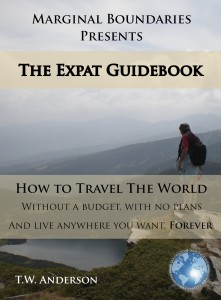 Get Your Copy Today!
Unplug from The System, cure yourself of The Greedy Bastard Syndrome, tap into your universal potential and create your own reality. Build a brand, travel the world and realize your cosmic consciousness.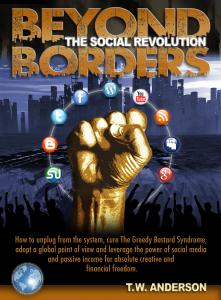 Get Your Copy Today!