Most of the general travel websites tell you to be careful with your money. Everyone talks about money belts and other ways of protecting your money, but there's a lot more to it than the paranoia of unseasoned tourists. Living like a local means you get to see the other sides of the cultures that most people visit only for holiday.
What most people don't realize about tourist destinations is that they are just that: tourist destinations. No matter where in the world you go all cities share this truth. And where there are tourists there are fishermen. For these men you are the fish, and if they can lure you in, if they can get you to be stupid and act like a tourist instead of a seasoned traveler, they will take you for all they can. These guys exist in every major city in the world. Pickpockets, hawkers and fast talkers. And they usually stay in the tourist sections of the city. Which means that when you get out past the tourist trap and into the real city behind the curtain you walk into another world where you go beyond simply visiting and into living the location independent digital nomad lifestyle.
The city behind the veil is always the same as it is anywhere else. Low key, normal people going about their normal lives, tranquil living and no pickpockets, thieves or fast talkers, for the most part anyway. Every city has its dangerous regions, no matter if you are in New York, Dubai, Denver or Cancun. Some sections you just don't go into after dark, but for the most part the residential areas where most people live are completely safe and no different than suburbia anywhere else in the world.
Which means you are completely safe to walk around with your debit card and some cash on you as long as you don't dress like a tourist and act like a tourist. Blend in. Learn how to live like a local. The people will treat you with respect and you can go about your daily business just as you would anywhere else in the world.
A funny thing, which we'll talk about in another post later on, is that I was involved in a debate about safety in Mexico awhile back, and someone said that Cancun was one of the most dangerous cities in Mexico after Juarez. I had to laugh. The Cancun region of the Yucatan, Quintana Roo, has a 2/100,000 murder rate. Denver, in comparison, has 16/100,000. New York City is around 8/100,000. The chances of you getting robbed or hurt while out on the street are less than in Denver and New York City. Bottom line is that if you aren't being stupid and acting like an idiot you won't have any problems, ever.
There are a few rules to pay attention to. Some cities, like Cancun, do have their potential issues. For example, in Mexico it is a good idea to stay away from ATMs on the official paydays of Mexico: the 15th and the 30th/31st of the month. Robberies happen more often on this day because most Mexicans live a cash lifestyle without debit cards, paycheck to paycheck, and they need the cash from the ATMs on payday to go get groceries, stock up on water and so on and so forth. Thieves know this, and there are sometimes issues with brazen thieves mugging people at the ATMs on paydays. However, these cases are extremely rare, but just something you should watch out for.
Secondly, just don't walk alone late at night with a wallet full of cash and a debit card or credit card. And that's true for any city in any part of the world. If you are out past midnight get a cab and if you can, have a friend come with you, and only carry $20-$30 or so.
And thirdly is that you don't flash it around if you have any. I personally only carry between $25 and $30 at any given time. I only take my debit card out of the house when I need cash or I'm buying groceries. In 12 years of traveling I've never been pick-pocketed or mugged but I keep it low key. Don't flash your cash when you open your wallet, just take out what you need and pocket the rest.
In the suburbia areas of foreign places you can act just as you could in suburbia of any city in the world. You can carry cash, your credit cards, debit cards, anything you want. Just travel smart, don't stick out like a tourist, keep a low profile and you will blend right in with the locals and won't have problems no matter where in the world you happen to be.
With over 1,500 copies sold, our flagship 568-page eBook is what started it all. Learn how to travel the world like I do: without a budget, with no plans, funded completely by your website and online ventures.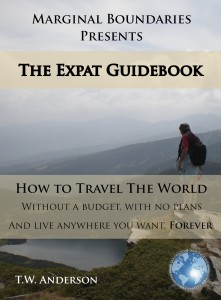 Get Your Copy Today!
Unplug from The System, cure yourself of The Greedy Bastard Syndrome, tap into your universal potential and create your own reality. Build a brand, travel the world and realize your cosmic consciousness.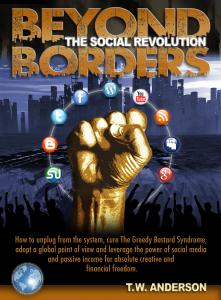 Get Your Copy Today!