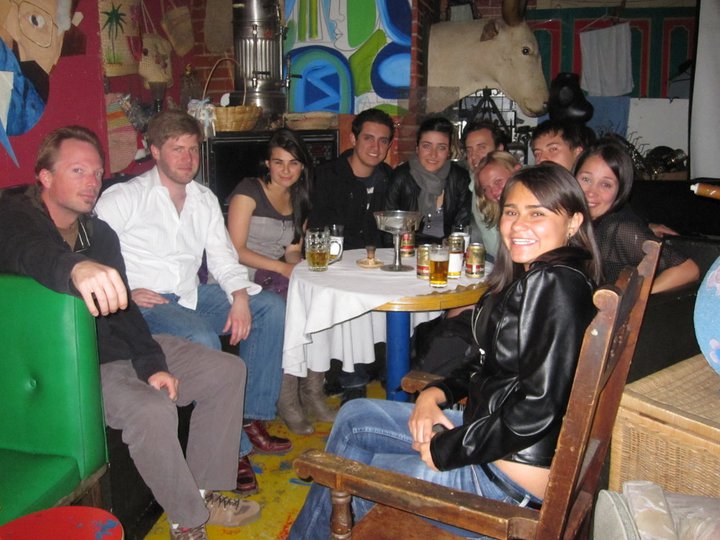 Today was the day I needed to prepare all of my things for going to DAS, the Departamento Administrativo de Seguridad for Colombia. They are basically the gatekeepers for immigration into the country. As a foreigner, for any stays beyond 60 days you are required to go into the nearest office and apply for an extension on your passport; you are allowed to stay up to 6 months out of a year on your passport alone without a visa, but they usually only give you 45-60 day increments unless you are incredibly lucky upon arrival at the airport and can get a nice immigration officer to give you 90 days up front…which I did not, despite having a return ticket. In my case, they only gave me 30 days, so I have to go in this week to file for an extension. Part of that means going to a clinic and getting a piece of paper with your blood type on it, as that is one of the requirements for filing an extension.
So today I spent my morning running around getting passport photos taken, photocopies of everything, and eventually making my way to the local clinic just around the corner from my apartment in Chapinero. After a few information booths, I managed to find where I needed to be, and during one of my investigative queries this little old lady with her grandson stopped me and asked if I needed help. I politely declined, simply because while my Spanish isn't perfect, I can get by and I didn't want to bother her because she was with her grandson. However, she refused to take no for an answer, and since her grandson's appointment wasn't for another hour, I soon found myself on an hour-long adventure with this 72 year old grandma and her grandson.
Not only did she take me all over the hospital and help me find the relevant desks, but she also took me up to the informational booth for the hospital so I could gather all of the information about the medical system of Colombia to include in my guide for Living Like a Local in Bogota, Colombia, plus she proceeded to give me her cell phone, her home phone and her address, and told me that if I needed her to come along with me to the DAS office later this week, she would be more than happy to accompany me since her grandson is on vacation this week from school (he was 7.5 years old, he proudly told me, and watched in awe as I had blood drawn, asking me if it hurt and if I was scared of needles). She also took me around the corner to a nice little restaurant where we had lunch, at which point she tried to pay for everything but I eventually managed to convince her that it just wasn't going to happen (it took a lot of convincing; she wanted to pay for everything). After all of her help, it was the least I could do to pay for her lunch.
I am continually overwhelmed by the friendliness of Colombian people. The rumors of this country being filled with dangerous criminals is by far and large nothing more than more propaganda by other countries who haven't bothered to check the reality of the country, combined with the fact they don't want you leaving your home country to spend your hard-earned money somewhere else. I knew this before I came here, based upon the multiple friends I have who have spent significant amounts of time down here, but it's also extremely refreshing to have such encounters. Sure, you can get robbed on the streets of a city after dark, but that can happen in any country. The days of Pablo Escobar are long behind, and the Colombian people are eager to prove to the rest of the world that their country is beautiful, safe and open to anyone who wants to come here to enjoy a little slice of heaven. This is also not the first time this has happened; my first week here I was asking questions at a local Comcel store about whether or not my Mexican phone could be unblocked, and when the person behind the counter didn't appear to know anything, there was a mid-20s girl standing at the counter who took me by the arm and proceeded to walk down the street with me, showing me some of the local restaurants and plazas and eventually directing me to a technician's store that she knew of, and then waited while I had them look at my phone, chatting away merrily the whole time.
Today's adventure was after a beautiful weekend in Villa de Llevya, which was filled with more stories of beautiful Colombian hospitality, ranging from the people in the pueblo itself to the Colombian Highlands hostel where our group stayed on our little weekend trip and enjoyed nighttime horseback riding followed by a bonfire, as well as multiple cook-outs at the hostel with other travelers and eventually culminating in a waterfall rappelling adventure in a place that was literally only discovered last year by the Ministry of Tourism. For pictures of this amazing place, you can visit the Marginal Boundaries Facebook page to see a little taste of colonial Colombia and the pristine, untouched beauty of the countryside here.
With over 1,500 copies sold, our flagship 568-page eBook is what started it all. Learn how to travel the world like I do: without a budget, with no plans, funded completely by your website and online ventures.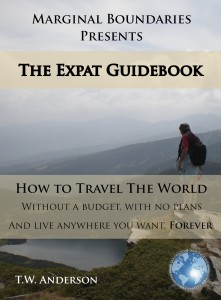 Get Your Copy Today!
Unplug from The System, cure yourself of The Greedy Bastard Syndrome, tap into your universal potential and create your own reality. Build a brand, travel the world and realize your cosmic consciousness.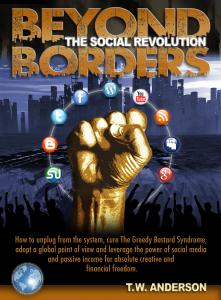 Get Your Copy Today!