While I haven't yet added a "links" section to Marginal Boundaries yet (it's coming, I promise! I'm hard at work wrapping up the Cancun guide, and once it's finished I'll be adding the links section to the website), there are a number of publications I read, not the least of which is the Sovereign Man's website.
Recently, they ran an article on Chile, which is considered one of the most rapidly developing countries in the world, and a seriously happy place if you happen to be of an entrepreneurial spirit. This article had actually escaped my glance until a friend linked it along to me (curse of being too busy; you sometimes miss things), but it was inspiring enough that I felt I would link it here.
The long and short of it is that while places like the United States are putting the crimp on businesses and taxing them into oblivion, or driving them into debt, countries like Chile are giving away money by the bucket loads to foreigners and nationals alike in an attempt to stimulate economic and technological growth in their country. What I found most interesting in this particular article was how much money they are giving away, and how easy residency has become. Needless to say, while Chile has been on my radar for the past 6 months as a place I wanted to go, it is now on my number 2 slot after my trip to Bogota. Now is the time to be in Santiago, and I fully plan on taking advantage of this boom in business.
Obviously I still need to do some more research, but I'm thinking this will be the next Live Like a Local destination after I wrap up things in Bogota. With so many bonuses being given away to entrepreneurs, I think it would be fairly stupid to pass up an opportunity like this.
In any case, I hope you guys enjoy the article! I know things have been a bit dry around here, but I've been busy finalizing my Bogota plans, finishing up the Cancun guide (the physical writing should be done this weekend, which means editing next week and a launch towards the end of the month or early in June), as well as working on a slew of projects over at my main website, Complete Writing Solutions.
In the meantime, stay tuned for this week's newsletter, which will be talking about the crushing price of gas and why you should be considering getting rid of your vehicle, as well as how to live without one.
With over 1,500 copies sold, our flagship 568-page eBook is what started it all. Learn how to travel the world like I do: without a budget, with no plans, funded completely by your website and online ventures.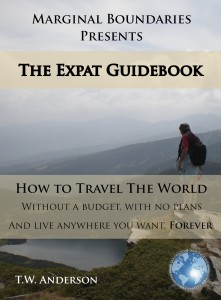 Get Your Copy Today!
Unplug from The System, cure yourself of The Greedy Bastard Syndrome, tap into your universal potential and create your own reality. Build a brand, travel the world and realize your cosmic consciousness.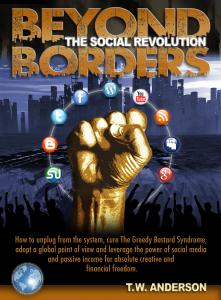 Get Your Copy Today!